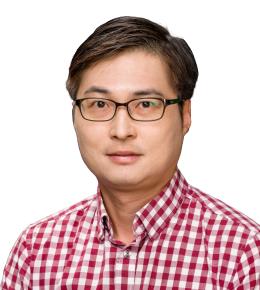 JongSung Yoon
Assistant Professor
PSYCHOLOGY
Teaching Interests:
General Psychology, Cognitive Psychology, and all Cognitive Psychology related fields (e.g., cognitive aging, cognitive neuro, human factors, & the development of expertise)
---
Research Interests:
**Research Areas: Memory, Cognitive Aging, Human Factors, and Development of Expertise ** My research interests focus on 1) the study of aging and 2) the development of expertise. The ultimate goal of my research is to build a bridge between the two different, but closely related, lines of research. One of my research topic is the development of training activities and/or technology-based interventions that can help older adults remain independent in spite of age-related perceptual and cognitive declines. I have also investigated older adults' attitude towards and uptake of new technology and how it is related to other cognitive factors. My research interest is also grounded in the study of expert performance. I am specifically interested in what the essence of deliberate practice is and how to apply the idea of deliberate practice and the expert-performance approach to the study of human performance in various fields. I recently conducted studies that illustrated how the expert-performance approach can be successfully applied to medical education and be combined with brain-imaging techniques. I am planning to expand my research on exceptional performance (e.g., exceptional memory) into the study of neural evidence of deliberate practice and medical education as well as the development of intervention that can offset age-related cognitive decline. I plan to recruit 1-2 graduate students to start in Fall 2021 and 2022. Please feel free to email me if you are considering applying to our psychology doctoral program and have questions.
---
Education:
Ph D, Cognitive Psychology, Florida State University, 2015
MA, Cognitive Science, Yonsei University, 2007
BA, Psychology & Sociology, Yonsei University, 2005
---
Grants:
CBBRe Collaborative Grant: Physiological, Mathematical, & Behavioral Approaches to Understanding Multitasking, Center for Brain and Behavior Research, USD. Grant Role: Co-Principal. (2021 - 2021)
---
Publications:
Citations listed below are presented in a standardized, modified format for display purposes only. They do not necessarily reflect the preferred style and conventions of the faculty member or discipline.
Charness, Neil, Yoon, Jong Sung, and Pham, Helen. Designing products for older consumers: A human factors perspective. In

The aging consumer: Perspectives from psychology and economics

, edited by A. Drolet & C. Yoon , 215-234. Iss. 2nd..
Yoon, Jong Sung, Charness, Neil, and Kohlbacher, Florian. Shaking Confidence in Technology: Effects of an Earthquake-induced Nuclear Disaster on Technology Adoption in Aging Adults. Journal of Applied Gerontology, 2021. (DOI: 10.1177/0733464819895208)
Yoon, Jong Sung, Boutis, Kathy, Pecaric, Martin R., Fefferman, Nancy R., Ericsson, K. A., and Pusic, Martin V.. A Think-Aloud Study to Inform the Design of Radiograph Interpretation Practice, 877-903. Vol. 25. Advances in Health Sciences Education, 2020. (DOI: https://doi.org/10.1007/s10459-020-09963-0)
Yoon, Jong Sung, Harper, Jeremy, Bernat, Edward M., Boot, Walter R., and Gong, Faye. Neural Evidence of Superior Memory: How to Capture Brain Activities of Encoding Processes Underlying Superior Memory. Vol. 13, Iss. 310. Frontiers in Human Neuroscience, 2019. (DOI: 10.3389/fnhum.2019.00310)
Yoon, Jong Sung, Roque, Nelson A., Andringa, Ronald, Harrell, Erin R., Lewis, Katharine G., Vitale, Thomas, Charness, Neil, and Boot, Walter R.. Intervention Comparative Effectiveness for Adult Cognitive Training (ICE-ACT) trial: rationale, methods and baseline characteristics, 76-87. Vol. 78. Contemporary clinical trials, 2019. (DOI: 10.1016/j.cct.2019.01.014)
Charness, Neil, Yoon, Jong Sung, Souders, Dustin, Stohart, Cary, and Yehnert, Courtney. Predictors of attitudes toward autonomous vehicles: The roles of age, gender, prior knowledge, and personality. Vol. 9, Iss. 2589. Frontiers in Psychology, 2018. (DOI: 10.3389/fpsyg.2018.02589)
Yoon, Jong Sung, Ericsson, K. A., and Donatelli, Dario. Effects of 30 years of disuse on exceptional memory performance, 884-903. Vol. 42. Cognitive Science, 2018. (DOI: 10.1111/cogs.12562)
Evans, Jarrett, Charness, Neil, Dijkstra, Katinka, Fitzgibbons, Joanna M., and Yoon, Jong Sung. Is episodic memory performance more vulnerable to depressive affect in older adulthood?, 244-263. Vol. 26. Aging, Neuropsychology and Cognition, 2018. (DOI: 10.1080/13825585.2018.1424314)
Yoon, Jong Sung, Charness, Neil, Boot, Walter R., Czaja, Sara J., and Rogers, Wendy A.. Depressive symptoms as a predictor of memory complaints in the PRISM sample., 254-263. Vol. 74. Journals of Gerontology Series B: Psychological Sciences and Social Sciences, 2017. (DOI: 10.1093/geronb/gbx070)
Ericsson, K. A., and Yoon, Jong Sung. Exceptional memory and expertise. In

The SAGE encyclopedia of theory in psychology

, edited by H. L. Miller , 318-320..
Ericsson, K. A., Yoon, Jong Sung, and Boot, Walter R.. What we know about how experts attain their superior performance: Implications for the use of video games and game training in schools.. In

Learning by playing: Video gaming in education

, edited by F. C. Blumberg , 87-103..
---
Presentations:
Pusic, Martin, Pusic, J, Pusic, L, Yoon, Jong Sung.

A depth approach to learning anatomy: teaching novices to expert levels.

. Presented at the Association for Medical Education of Europe, 2021 Annual Meeting, Glasgow, Scotland. (2021)
Yoon, Jong Sung, Gray, Nicholas, Roque, Nelson, Harrell, Erin R., Charness, Neil.

Post-intervention Effects of ICE-ACT Trial (#NCT03141281) on Older Adult Cognition including Performance of Simulated Tasks of Daily Living

. Presented at the Cognitive Aging Conference, Atlanta, GA. (2020)
Yoon, Jong Sung, Roque, Nelson, Andringa, Ronald, Lewis, Katharine G., Harrell, Erin, Vitale, Thomas, Charness, Neil.

Intervention Comparative Effectiveness for Adult Cognitive Training (ICE-ACT) trial (NCT#03141281).

. Presented at the Poster presented at the 2018 annual scientific meeting for Gerontological Society of America, Boston, MA. (November 2018)
Evans, Jarrett, Charness, Neil, Dijkstra, Katinka, Fitzgibbons, Joanna M., Yoon, Jong Sung.

Is episodic memory performance more vulnerable to depressive affect in older adulthood?

. Presented at the Poster presented at the 2018 Cognitive Aging Conference, Atlanta, GA. (May 2018)
Yoon, Jong Sung, Charness, Neil, Czaja, Sara J., Sharit, Joseph, Rogers, Wendy A..

Frailty moderates the relationship of age and technology use: findings from the center for research and education on aging and technology enhancement (CREATE)

. Presented at the The International Society for Gerontechnology's 11th World Conference, St. Petersburg, FL. (May 2018)
Pusic, Martin V., Yoon, Jong Sung, Ericsson, K. Anders, Boutis, Kathy, Pecaric, Martin.

A cognitive model of learning during practice of radiograph interpretation: implications for the design of deliberate practice

. Presented at the The 2017 annual conference for Northeast Group on Educational Affairs, Rochester, NY. (May 2017)
Yoon, Jong Sung, Charness, Neil, Boot, Walter R., Czaja, Sara J., Sharit, Joseph, Rogers, Wendy A., Fisk, Arthur D..

Depressive affect as a predictor of memory complaints in the PRISM sample

. Presented at the The 2016 annual scientific meeting for Gerontological Society of America, New Orleans, LA. (November 2016)
Yoon, Jong Sung, Harper, Jeremy, Ericsson, K. Anders, Bernat, Edward M., Boot, Walter R..

Development of expert digit-span performance using deliberate practice: behavioral and electrocortical indices of encoding digits into long-term working memory

. Presented at the Poster presented at the 52nd annual meeting of the Society for Psychophysiological Research, New Orleans, LA. (September 2012)