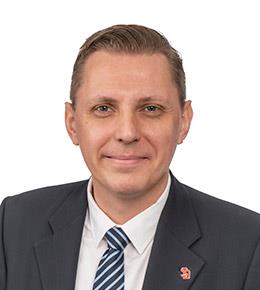 Klaus Beckmann
Assistant Professor
BEACOM SCHOOL OF BUSINESS
Teaching Interests:
Bank Management, Financial Institutions Risk Management, Corporate Finance, Managerial Finance
---
Research Interests:
International Asset Pricing, Banking, Real Estate Finance
---
Education:
Ph D, Business Administration, University of Texas Rio Grande Valley, 2016
MBA, Finance, University of Texas-Pan American, 2013
Diplom-Wirtschaftjurist (Graduate in Business Law), Business Law, Leuphana University, 2008
---
Licensures and Certifications:
Teaching Online Certification, Blackboard Learn
Certified Banker, German Chamber of Industry and Commerce
---
Publications:
Citations listed below are presented in a standardized, modified format for display purposes only. They do not necessarily reflect the preferred style and conventions of the faculty member or discipline.
Beckmann, Klaus, and Ngo, Thanh. ADR and Domestic Equity Offer Performance of Identical Firms. Vol. 20(3). Journal of Accounting and Finance, 2020. (DOI: https://doi.org/10.33423/jaf.v20i3.3015)
Beckmann, Klaus, Huerta-Sanchez, Daniel, and Ngo, Thanh. REIT industry liquidity, valuation, and ownership reactions to ETF inceptions. Applied Economics (fomerly Applied Economics and Finance), 2019. (DOI: https://doi.org/10.1080/00036846.2019.1708859)
Beckmann, Klaus, Escobari, Diego, and Ngo, Thanh. The Real Earnings Management of Cross-listing Firms, 128-145. Vol. 41. Global Finance Journal, 2019. (DOI: https://doi.org/10.1016/j.gfj.2019.04.001)
Beckmann, Klaus, Wang, Daphne, and Ngo, Thanh. The Informational Content of ADR Mispricing, 1-14. Vol. 32-33. Journal of Multinational Financial Management, 2015. (DOI: https://doi.org/10.1016/j.mulfin.2015.03.002)
Beckmann, Klaus, and Jin, Changa. The Impact of REIT Ratings on Stock Price and Shareholder Wealth, 134-146. Vol. 16(2). International Real Estate Review, 2013.
---
Awards and Honors:
Chair in Banking Professorship, University of South Dakota/South Dakota Bankers Association, 2020
MBA Outstanding Student of the Year, University of Texas-Pan American, 2010
---
Presentations:
Beckmann, Klaus, Escobari, Diego, Ngo, Thanh.

The Real Earnings Management of Cross-listing Firms

. Presented at the Financial Management Association Annual Meeting, Boston, MS. (October 12, 2017)
Beckmann, Klaus, Wang, Daphne, Ngo, Thanh.

The Informational Content of ADR Mispricing

. Presented at the Southern Finance Association Annual Meeting, Captiva Island, FL. (November 2015)
Beckmann, Klaus.

Domestic and Global Equity Offerings: Differences in Underpricing and Performance of Identical Firms

. Presented at the Financial Management Association Annual Meeting, Atlanta, GA. (October 2012)
Beckmann, Klaus.

The Strategies of Multinational Enterprises: Regional, Global, or Both?

. Presented at the Academy of International Business, Houston, TX. (October 2011)