A Lofty Mission
The heights of Nepal reach into the heavens. It's a place that inspires reverence and worship, and for Dr. Maynard Seaman '54, it was also a place to spend 25 years of his life serving the medically unserved.
Wednesdays were reserved to meet those suffering from leprosy. Though the disease is not concerningly contagious, local residents in that era could not be convinced of that. They preferred that leprosy have its own special treatment day.
Regularly singling out a place on the calendar in order to treat leprosy sufferers proved to be a scheduling challenge, for Dr. Seaman's non-leprosy patient load was overwhelming, numbering as many as 300-400 patients per day.
An array of other diseases and maladies afflicted residents of the region. Tuberculosis, typhoid, parasitic infestations and pneumonia were serious, ongoing problems, and there were also plenty of traumatic injuries. The Nepalese were an unfailingly cheerful and polite people, reported Dr. Seaman, but their medical problems were daunting. Tuberculosis, in particular, ravaged the local populace, and nearly every Monday was set aside to see TB patients. The relentless pace of attempting to aid patients was non-stop and round-the-clock, and Dr. Seaman and his wife, a registered nurse, became consumed by their mission to help their new neighbors. He happily described the experience as a willing and welcomed preoccupation that gave both of them joy and purpose.
Dr. Seaman's calling to medicine and his desire to undertake a mission in Nepal started, almost unbelievably, while he was yet a teen growing up in South Dakota's Sully County. Nepal was off-limits to all Westerners except those who could deliver needed services, and young Maynard Seaman identified health care as the need he would address. "As a servant of God," explained Seaman, "I would provide health care to the people of Nepal, and I would also share my faith and message about salvation."
After finishing his first two years at the University of South Dakota School of Medicine, Seaman traveled to Texas, where he completed his medical degree from Baylor University College of Medicine, in Houston.
The overseas undertaking for the young physician started at a hospital in rural India in 1960. For eight years, not including a one year break spent back in the United States between years five and six, Dr. Seaman practiced medicine in a remote northern region of the country. His patients were native Indians and Tibetan refugees. Several hundred miles away, Nepal beckoned.
It was a lengthy application process to secure his opportunity to enter and work in Nepal. In December 1968 Dr. Seaman, his wife and their four children, ages 10, 8, 6 and 4, hiked on an
established footpath for five days from their home in India across dozens of steep valleys and along rugged ridgelines to their new home in the Mahakali region of western Nepal.
The family moved into a home made from mud and stone, with heavy beams of rough timber supporting the roof. "It was rather primitive," Dr. Seaman remembered. Their house had been built by a recently departed agricultural missionary, and a nearby spring had been cleverly tapped to provide water for drinking, bathing and a toilet. An open fireplace was used to prepare food. Later, a wood-burning stove was added to provide heat and cooking amenities, and friends improvised a solar system to deliver warmed water.
Seaman's office and clinic were housed in a plain building originally constructed as a hospital for leprosy victims. Lacking many basic medical tools such as X-rays, his health care practice was even more technologically unadvanced than his house. While at Baylor, Seaman had assisted during surgeries as a student alongside several of the most renowned heart surgeons in the world, including Drs. Michael DeBakey and Denton Cooley. In Nepal he conducted examinations and performed diagnosis using only his senses.
It was a level of medical care he had actually been trained for. "Fortunately, I had had professors who taught me to use my eyes, ears and hands," Seaman recalled, "and I learned how to put them to good use."
As time passed, Seaman's reputation grew, and long lines formed each early morning as locals sought treatments and advice. "The people in the local villages started to say that when they came to visit me, they would get better," Seaman related. "We brought a modern, more advanced thinking and approach to their health care, and that differed in a better way from the health care that was otherwise available to them."
Dr. Seaman and his wife, Dorothy, estimated, based on patient records, that they met with and treated some 150,000 different patients during their time in Nepal. Among those patients were 3,000 women who came to him for help delivering their babies, and within that group of patients he performed at least one hundred cesarean sections.
Surgeries – C-sections as well as a number of other general and emergency procedures – were initially conducted with jerry-rigged anesthesia delivery, and a two-person surgery team consisting of Maynard as surgeon and Dorothy as the anesthetist and surgical assistant. As time passed the Seamans trained locals to help them during surgeries.
Dr. Seaman had done a partial surgery residency in Ohio in addition to his medical education and work at Baylor, and he was not uncomfortable tackling that aspect of care. For a physician trained in ultra-hygienic operating suites equipped with the latest in technology operated by highly skilled technicians, the circumstances in his simple clinic and hospital were intimidating when he first began his work in Nepal. "I got used to it in a hurry," said Dr. Seaman, when describing the meager conditions he faced and overcame. "I had to." Amazingly,
very few surgical patients were lost in all the time they performed operations in such unsophisticated conditions, a result, Dr. Seaman believes, from prayer and faith. "We felt we Waiting to see Dr. Seaman Dr. Seaman and Dorothy Seaman attending to a patient The Seaman family Pokrah Hospital and nearby village, 1995 Dorothy and Dr. Maynard Seaman were guided and aided by divine appointment," said Dr. Seaman.
The Seamans lived for most of those many years in Nepal relying on gifts of money, food, medical supplies and other items bestowed on them by patients, neighbors and charitable individuals and organizations from around the world. "After we'd been there awhile we did charge a minimal, modest price for medicines, but just about everything we did was gratis," said Dr. Seaman. "There was a basket beneath my desk in the hospital where patients could put eggs or food, and they did. We lived without creature comforts, but we never felt deprived."
The Seamans left Nepal in 1995, returning to the United States, and continuing to serve remote, far-flung areas. Dr. Seaman contributed his medical skills to people in such places as Haiti, Tibet, China and Kyrgyzstan. For example, he made six separate trips to western China as part of a program to train doctors there. "I was teaching barefoot doctors in rural villages about modern medicine," he explained.
Not surprisingly, each of the Seaman's children was forever impacted by their experiences growing up. The eldest daughter is a nurse, and she is currently in Nepal caring for the sick and elderly. Another daughter is a physician (Dianne Mathews, '85 M.D.), and she is serving school children in Indonesia. Dr. Seaman described his Seattle-based son as "more Nepali than anything else." His youngest daughter works in the airline industry. Travel, adventure and compassion are ingrained in each of them.
The Seamans now reside in Oklahoma, and it has been three years since 85-year old Dr. Maynard Seaman and his wife last visited Nepal. One reason for the latest trip was to accept an award for their work presented to them from Nepal officials. The hospital he so devotedly nurtured is now operated by the government, and local people he helped train continue to provide medical care to area residents. As he encountered old friends and patients in Nepal, he enjoyed conversing with a young man he'd helped deliver into the world 30 years earlier. "This young man," Dr. Seaman said, "has become a doctor, and is married to a doctor, and they're starting a clinic in a remote area of Nepal to serve people who lack access to modern medicine."
This story originally appeared in the Fall/Winter 2014 issue of South Dakotan M.D. magazine. Read the full issue.
AUSTIN, Texas — South Dakota senior guard Ciara Duffy was one of five Division I women's basketball players selected to the Academic All-America first team selected by the College Sports Information Directors of America (CoSIDA). Duffy earns Academic All-America honors for the third consecutive season.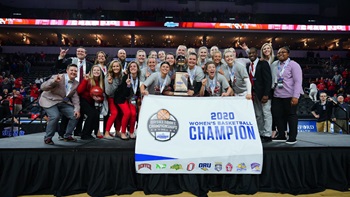 SIOUX FALLS, S.D. — All five South Dakota starters scored in double-figures and the Coyotes completed perhaps the greatest regular season in Summit League history with a 63-58 win against rival and second-seeded South Dakota State in the tournament championship game Tuesday inside the Denny Sanford PREMIER Center.
Two University of South Dakota faculty members are partnering with the University of Nebraska-Lincoln and Sioux Falls agency Call to Freedom to better understand what sex trafficking survivors think about the services they receive — and to learn what services they find most helpful.