Third Academic All-America honor for Duffy
AUSTIN, Texas — South Dakota senior guard Ciara Duffy was one of five Division I women's basketball players selected to the Academic All-America first team selected by the College Sports Information Directors of America (CoSIDA). Duffy earns Academic All-America honors for the third consecutive season.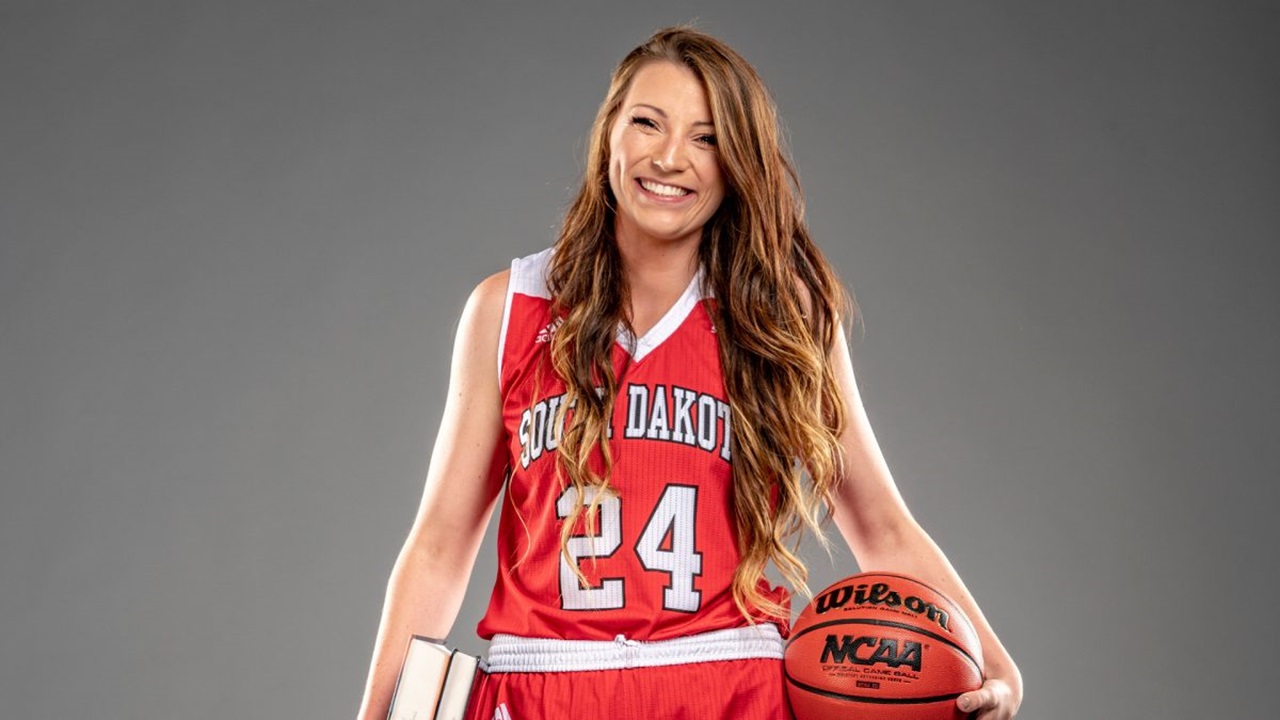 Duffy becomes the first Coyote women's basketball player to garner three Academic All-America honors and the second South Dakota athlete all-time (Jeff Nannen, men's basketball in 1978, 1979, 1980). Her award brings the women's basketball program total Academic All-America honors to 11 since 1980-81.

The 2020 Summit League Player of the Year, Duffy is averaging 17.1 points, 5.6 rebounds and 5.3 assists in her senior season. She's the only player in South Dakota history with more than 1,700 points, 600 rebounds and 400 assists in her career. She sits third on USD's all-time scoring charts behind Mandy Koupal and Nicole Seekamp.

A native of Rapid City, South Dakota, Duffy is a three-time all-Summit League first team guard. She's been in double-figures for 29 of 30 games with five double-doubles this season. Duffy has been the Coyotes' leading scorer for 17 games this year.

Duffy's led South Dakota to a 28-2 season, No. 17 in the Associated Press poll and No. 12 in the USA Today Coaches Poll. The Coyotes ran the table in the Summit League, outscoring league foes by an average margin of 32 points.

In the classroom, Duffy graduated summa cum laude in three years with a bachelor's degree in political science and history. She has carried her 4.00 cumulative grade-point average into her graduate work as she pursues her master's in secondary education.

South Dakota boasts 48 Academic All-Americans in school history who have combined for 61 Academic All-America honors across all sports.

NCAA DIVISION I

CoSIDA Academic All-America® Team Member of the Year:
Brittany Brewer, Texas Tech University

FIRST TEAM
Name School Yr. GPA Major
Brittany Brewer (1) Texas Tech University Gr. 4.00/3.66 Community, Family & Addiction Sciences
Ciara Duffy (1)(%) University of South Dakota Gr. 4.00/4.00 Political Science / History
Erica Ogwumike Rice University Gr. 3.86/4.00 Post-Baccalaureate Program
Mikayla Pivec (2) Oregon State University Gr. 3.93/3.93 BioChemistry / BioPhysics
Sara Rhine (1)(%) Drake University Gr. 4.00/4.00 Elementary Education (UG) / Counseling (G)

SECOND TEAM
Name School Yr. GPA Major
Lauren Cox Baylor University Sr. 3.77 Communication Studies
Kathleen Doyle University of Iowa Sr. 3.83 Journalism & Mass Comm. / Spanish
Ellie Harmeyer Belmont University Gr. 3.87/4.00 Nursing
Becca Hittner (3) Drake University Sr. 3.97 Marketing
Peyton Williams Kansas State University Sr. 3.94 Anthropology / International Studies

THIRD TEAM
Name School Yr. GPA Major
Camryn Brown High Point University Sr. 3.97 Human Relations
Hanna Crymble University of Vermont Sr. 3.81 Biochemistry
Vivian Gray Oklahoma State University Jr. 3.66 Marketing
Chante Stonewall DePaul University Sr. 3.68 Psychology / Sociology
Jocelyn Willoughby University of Virginia Gr. 3.87/3.63 Leadership & Public Policy / Global Development
= 2018-19 1

st

team Academic All-America®
= 2018-19 2

nd

team Academic All-America®
= 2018-19 3

rd

team Academic All-America®
(%) = 2017-18 3rd team Academic All-America®
Nick Kennedy, a history and Native American studies sophomore and Honors student at the University of South Dakota, is one of five undergraduate college students this summer participating remotely in the Native American Undergraduate Museum Fellowship at the Minnesota Historical Society located in St. Paul, Minnesota.
University of South Dakota student JoElla Kleinhesselink has been selected for the prestigious Peter G. Peterson Foundation (PGPF) Fiscal Internship program at the Mercatus Center at George Mason University in Washington, D.C.
Carter Linke, a sophomore political science and media and journalism major, received a Benjamin A. Gilman International Scholarship to study in Germany at the Free University of Berlin.