A Passion for Service
The reasons students choose to study abroad are as unique as each individual. Many know as early as high school they will embark upon that adventure; others don't realize it until they are immersed in collegiate studies.
But all would agree that spending a semester, summer or break in a foreign country has changed them for the better, presenting them with opportunities to push their comfort zones and grow in many different ways, both personally and professionally.
"I like to think study abroad is a powerful catalyst that sparks interest in new opportunities and drives self-exploration, while also fostering a deeper understanding of what it means to be a global citizen and interact with people who are different from you," said Eric Leise, assistant director of USD's Center for Academic & Global Engagement (CAGE).
In today's global economy, it's becoming more important for students to demonstrate they can work well with diverse groups of people, understand how global events shape the economy and succeed in taking on new challenges. Perhaps one of the biggest advantages of travel comes from being pulled out of "cultural bubbles," strengthening a sense of connection with others, and deepening a realization that all humanity is interconnected.
Leise sees firsthand how traveling abroad enhances students' perspectives. "Students mature tremendously during their time abroad, particularly if they choose a longer term program," he said, "and I am almost always able to note a higher level of confidence they have, which often has the snowball effect of leading these students to more persistently explore new ways to creatively develop their talents, skills and abilities."
Here, in their words, three USD alumni share triumphs and challenges of travel—and life—abroad serving with the Peace Corps. Though they may have divergent backgrounds, they share a common connection—powerful USD influences.
Krista Mastel '05 – Mongolia
Forest Lake, Minn. Native Krista Mastel earned a B.S. in anthropology in December 2005
I have to give a lot of credit to Dr. Larry Bradley and Dr. Dona Davis in the anthropology department at USD. They inspired my love of world cultures and planted the seeds that would lead me to find a way to combine wanderlust with service. But it wasn't until after graduate school and working for a bit that I finally decided to try. I knew if ever there was a time to go, that was it. If ever I was going to give something of myself, serve my country, make a difference, that was the time and Peace Corps was the way.
I departed for Mongolia in June 2011. I started my Peace Corps journey as an English education volunteer. After three months of intensive language, culture and technical training while living with a host family in a small, rural village, I was assigned to a large complex school in the fourth largest city, Choibalsan, for my two years of service. There I worked with grades 5–11, team teaching English to students with a Mongolian counterpart. Peace Corps' first goal is to build capacity, so building the skills of my counterparts was central to the sustainability goals of the program. We also participated in culture exchange, meeting Peace Corps' second and third goals. I integrated into Mongolian culture, learned about its rich history, and participated in ceremonies, holidays, and built a strong network of friends.
My secondary work in Choibalsan focused on community health needs. As I built my network, members of the community would ask for assistance on various projects ranging from grant writing for a disabled children's organization to working with a women's organization on a women's empowerment seminar. I also played and coached volleyball.
As I neared the end of my two years of amazing experiences in Choibalsan, I wasn't ready to leave. I had more of myself to give, more skills to share. I extended for a third year, moved to the capital city of Ulaanbaatar, and took on two new roles: health volunteer and Peace Corps volunteer leader. As a health volunteer, I worked with the United Nations Population Fund on youth development initiatives aimed at promoting positive youth development and expanding comprehensive sexual and reproductive health education. I also worked on projects that led me to a remote northern part of Mongolia, accessible only by a five-hour horseback ride, to teach kids about hand-washing and tooth-brushing. As a Peace Corps volunteer leader, I worked closely with staff and volunteers providing peer support.
My third summer in Mongolia, I was offered the unique opportunity to work as the deputy training manager for the incoming cohort of volunteers.
I made lasting friendships and built such strong bonds with the wonderfully kind and generous people of Mongolia. Everywhere I went, I was welcomed with tea and snacks, or even a full hot meal. The overwhelming hospitality of Mongolians made me feel at ease right from the start. I was, and continue to be, profoundly impacted by my personal experiences and relationships with my Mongolian friends.
One of my proudest achievements was founding the Peace Corps Mongolia LGBT task force, together with two other volunteers. We worked with the LGBT Centre, a Mongolian NGO, to develop trainings and resources that could be incorporated into volunteers' work on diversity in their local communities.
I am currently a recruiter for the Peace Corps and am looking forward to continuing this exciting work, sharing my stories of service and inspiring others to apply. In the fall, I will attend the University of Minnesota to pursue a Master of Public Health degree.
Peace Corps service is the experience of a lifetime. Sharing your skills to develop the capacity of others is highly rewarding work. And the skills you gain will launch your career, whether you choose to take advantage of the exclusive graduate school fellowships or federal hiring benefits after completing service, or enter the private sector.
DJ Smith '14 - Tanzania
Dennis (DJ) Smith graduated from USD in 2014 with a bachelor of science in political science and English. The Mitchell, S.D., native has called Tanzania home since February 2015.
Most of my influence to join the Peace Corps came from friends and USD community members. Specifically, Dr. Kim Grieve [VP/dean of student services] was a huge influence. She has been a role model and friend of mine. I remember when I first found out about Tanzania she had so much insight to provide for me! Also, Mary Pat Bierle [political science instructor] probably doesn't remember it, but my freshman year she said to me "DJ, you are going to be a leader on this campus" and that one statement pushed me to do the best in what I was passionate about. Public service has always been huge for me. That statement pushed me, not only at the university level but afterwards.
My first few weeks in Tanzania with my host family I spent a lot of time studying and trying to grasp the language. I looked at my two little brothers and said, "Unanifundisha Kiswahili," or "You teach me Swahili" after failing several times to remember a few words. One of my brothers looked at me and said, "Na unanifundisha kiingariza" or "And you teach me English." It was just heartwarming that they would sit by me, for hours, as I tried to learn this new language. Instead of being frustrated at my pace, they were ready to learn from me just as much as they had been teaching me. It was definitely one of my most memorable moments so far in Tanzania.
The first two months I trained 8 a.m.–5 p.m. six days a week. This training consisted of four days of language training. I'm learning Kiswahili slowly, but after two months of training I feel fairly comfortable. The other two days were technical work learning about the health care needs of Tanzania and different projects I could do. During these two months, I lived with my host family which consisted of my Mama, Baba (father), Bibi (grandmother), Dada wawili (two sisters), na Kaka watatu (three brothers). They are incredibly patient and friendly people, and I look forward to staying in touch with them in the future.
I am still learning how to be on my own in the village and working with members in my community. After my first three months at site (in July 2015) I will be able to start writing grants and creating projects in my community. I am really excited to start a Zinduka project, which combines sports and education to teach about HIV/AIDS. The classroom setting in Tanzania is very formal, and doing something like combining soccer with education is great for the kids.
I am currently a health volunteer in Tanzania, stationed in the region of Iringa. My primary work is to focus on HIV/ AIDS, malaria and food and water security. Right now, and for the next three months, I will be working extensively with my community to determine the needs and where as a team we can focus on sustainable development in those areas. Past volunteers in my village have created water wells or done animal husbandry projects, such as the last volunteer, who received 17 milk goats for people in the community with HIV/AIDS.
Tanzania is a beautiful country with the friendliest people. They are eager to be a part of the Peace Corps program just as much as volunteers are eager to be a part of the community. I love that I was invited as a health volunteer. I expected to be education, as my health background is not as broad as my English background, but it has been nothing short of fantastic every step of the way.
After I serve my two years, I am considering extending for a third year. When done with that I would love to get my Master of Public Policy or Public Administration (or both) and then do some government or public service work.
Being far from home is a challenge. My family and friends have been my biggest supporters for as long as I can remember. Having to start over and create those ties again is much more difficult in a new environment. The language is a challenge, but one I look forward to every day. Cooking for myself after living on USD's campus for four years has also been a challenge. Every challenge is an opportunity that I look forward to. Challenges help you grow as a person!
Anna Wonnenberg '12 – Kosovo
Wonnenberg completed her master's degree at USD in political science and international relations in 2012.
I am from a missionary family and have traveled my whole life, growing up in Mozambique and Zimbabwe. But my home is in South Dakota, where my father's family is from.
I'm proud to be a part of the first Peace Corps program in Kosovo, southeastern Europe. I arrived in Kosovo in June 2014, and after completing three months of intensive training, swore in as a Peace Corps Volunteer in August. My work in Kosovo consists primarily of improving English language instruction at the local elementary school by closely partnering with a local English teacher.
For many Peace Corps volunteers, learning the native language can be a barrier. But for me, patience is a challenge. Some cultural differences have been hard for me. Americans want things fast. What matters most here are relationships. Being on time does not matter, which is very hard for me. If it were up to me everyone would be in the class ready to learn two minutes early. Thankfully, I am partnered with a woman who wants to be different from the cultural norm.
Nutrition is the other thing that has been difficult. I prefer to eat healthily, and fresh produce is sometimes hard to find. But as a Peace Corps volunteer, you have to adjust to wherever you are.
While I was a USD student, I took a very important trip, to Turkey for two weeks. I went with my brother, Micah, who is currently a USD student. Tim Schorn [political science] took a group of students. We decided that since we were already in Europe we'd travel throughout the country. We both had two separate friends who were Peace Corps volunteers in Ukraine, so after our school trip to Turkey, without knowing a word of Ukrainian, we went to Kiev, Ukraine, traveling by a rickety, dangerous train. We made friends, had a blast and stayed with Micah's friend Ryan in a small village in middle of nowhere in Western Ukraine.
After that, we went to Odessa, Ukraine, along the Black Sea. We met my friend Adam, who was on vacation from the Peace Corps. This was very important to me because I got to see how a Peace Corps volunteer lived. I saw the school, met a host family, and got to see firsthand the life of a Peace Corps volunteer. I was so impressed by Ryan's fluency in Ukrainian. I couldn't believe a small-town South Dakotan could speak Ukrainian so fluently.
Then in spring 2012 I took another trip, this time with Tony Molina [former political science professor] as a traveling assistant, helping him with the trip itinerary, routes and meeting with people. I also tutored the USD students in the Italian language before we left so that they knew a few phrases in Italian. Tony Molina was the best influence on me while I was at USD. I took his research methods class. I'm not a math person, but I loved that class. It made sense and was applicable to what I was interested in. Tony made class interesting and fun, and he really cared about students.
On a typical day in Kosovo, I wake up, do some computer work and then go to school. I greet professors and students as they get to school, and then I meet my counterpart. I have one partner for two years, a woman who is fluent in Albanian. My main role is to assist her to become a better English instructor, so we teach classes together. I'm allowed to only teach with her— not alone—because it's more sustainable for her in the long-term.
I've had lots of wonderful experiences here. One of the most touching happened one day after my host family and I went into the mountains, near Gjeravica, the highest point in Kosovo, for a hike and a picnic. On our way back home, we got into our borrowed pickup, but before long stopped on the side of the road. My host dad took out a shovel, and started digging to uproot two small trees and tossed them in the back of the truck. I came home later to find that he had planted the two little pine trees in the yard. One, the larger tree of the two, was planted near the entrance to the property; the other, further back, was planted in front of the balcony of my bedroom. I'll be able to see it every day for the next two years, as I come home, as I look out the window, as I sit on my balcony and drink tea. My host dad told me, "Ajo quhet Analena!" or "I named it Anna Lena!" I was so touched.
AUSTIN, Texas — South Dakota senior guard Ciara Duffy was one of five Division I women's basketball players selected to the Academic All-America first team selected by the College Sports Information Directors of America (CoSIDA). Duffy earns Academic All-America honors for the third consecutive season.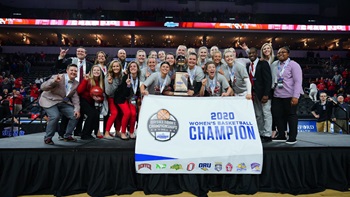 SIOUX FALLS, S.D. — All five South Dakota starters scored in double-figures and the Coyotes completed perhaps the greatest regular season in Summit League history with a 63-58 win against rival and second-seeded South Dakota State in the tournament championship game Tuesday inside the Denny Sanford PREMIER Center.
VERMILLION, S.D. – Two University of South Dakota faculty members are partnering with the University of Nebraska-Lincoln and Sioux Falls agency Call to Freedom to better understand what sex trafficking survivors think about the services they receive — and to learn what services they find most helpful.