A Tale of Two Campaign Managers
Hannah Prentice and Kelsey Webb are nearly mirror images of each other on paper. Both women enrolled at the University of South Dakota as bright-eyed freshmen in 2006, studied political science and Spanish during the four years they spent in Vermillion and graduated in the spring of 2010.
Four years later, the two shared another common thread— or rather, title: campaign manager for a South Dakota gubernatorial candidate.
Prentice, 26, began to work for Democratic State Rep. Susan Wismer nearly a year ago to kick off her gubernatorial run. Webb, 27, had more than three years working as a staff member for Republican Gov. Dennis Daugaard before being asked to run his re-election campaign.
They worked for opposing political parties, but the academic roots to their political careers began in the same class— instructor Mary Pat Bierle's POLS 100, American Government.
Prentice and Webb both decided on USD after attending South Dakota Girls State in Vermillion. They came to campus with the intention to become lawyers, but they credit the political science department, especially POLS 100, for arousing an interest in political campaigning.
"I was so intimidated by Mary Pat as a freshman that I did all the reading and work to stay on her good side. But I realized, after all she did and does as a mentor, that she was opening a lot of doors for us," Webb said.
Prentice credits the political science faculty with providing her with a work ethic that can stand its own with 18-hour days on a campaign trail. Both women said when faced with difficult decisions during the election season, they were able to turn to mentors from the political science department for advice and assurance.
"I may have left USD, but I know I can always ask for help from the people who mentored me as a student. I don't know if a lot of people can say that about their department," Prentice said.
Prentice leaves Portland to manage 'Susan for South Dakota'
Prentice said she fell in love with USD the week she spent on campus as a high school student. The Wessington, S.D., native's decision to be become a Coyote was almost instant, but her path to become a gubernatorial campaign manager was not a direct one.
Prentice said she was hardly involved with campus politics as a USD student besides taking courses to fulfill her major. She spent a year as a member of the Political Science League, a nonpartisan student organization, but said much of her involvement revolved around her sorority, Alpha Xi Delta.
She accepted the first job she was offered after graduation, which was in sales. But Prentice's thoughts strayed back to her political science roots. She began to volunteer for local and state campaigns, including the 2010 re-election campaign of former Democratic Congresswoman Stephanie Herseth Sandlin.
"I started to put in 15 to 20 hours a week just campaigning— plus my full-time job," Prentice said. "I knew I loved campaigning right away."
She first held the position of campaign manager for Democratic State Sen. Angie Buhl in July 2011. Buhl had won the general election unopposed in 2010 and would be re-elected in 2012 with Prentice by her side.
The USD graduate went on to develop fundraising campaigns with members of NARAL Pro-Choice South Dakota until she accepted a finance associate position for Oregon United for Marriage, a same-sex marriage coalition based in Portland. But she would not make it a year in the Pacific Northwest. Wismer and her ambition to become the first female governor of South Dakota made sure of this.
Prentice worked with the state representative's daughter, USD alumna Kelly Wismer, during the Matt Varilek campaign two years earlier in an attempt to oust Rep. Kristi Noem, R-S.D., from office. When Wismer knew she wanted to run for governor, her daughter suggested Prentice for the role as campaign manager.
"As a small town accountant, I'm used to doing everything myself. That part of allowing someone else to be in charge of a campaign was hard," Wismer said. "But I trusted my daughter's judgment."
Prentice said she was genuinely surprised at the time to be asked to be Wismer's campaign manager. But Wismer reassured the 2010 graduate that her reputation was highly regarded among state legislators who knew Prentice's skills and work ethic through previous campaigns.
"It helps that our personalities are similar," Wismer said. "We don't sweat the small stuff. We trust each other to do our own thing."
As of June, the biggest hurdle for Prentice in her role as campaign manager was the Democratic primary. Wismer faced Joe Lowe, former director of the state Wildland Fire Suppression Division, and won the election with 44 counties and more than 55 percent of the vote.
Prentice was not anticipating divisions within South Dakota's Democratic party after the primary, but she said it was a challenge after Wismer's win to encourage Lowe supporters to value party unity.
"As a party, we need to serve and support the candidate that won. And this became more difficult than I thought it would," Prentice said. "We were calling Joe's supporters for days to remind them that Susan still needs their support to win."
Prentice's connection to the University of South Dakota remains strong. She keeps in contact with fellow political science graduates and said they support each other through continually changing career paths.
"I don't know if I considered myself the best student when I was at USD," she said. "But the information I learned and the connections I made through the political science department stayed with me when I left Vermillion, which is huge."
Even though she is no longer her student, Prentice said she still reaches out to Bierle on occasion for campaign advice.
"She's one of the people my whole time there, when I had problems, I would go to her," Prentice said. "I think it speaks a lot to the quality of professors in the department that they are able and willing to give advice once you leave campus."
From keeping schedule to campaign manager
Webb, a Belle Fourche, S.D., native, thought she would go to law school when she started at USD, but soon realized she harbored a passion for politics and took up leadership roles in student organizations that included the Political Science League and College Republicans. She also interned with a lobbying firm in Washington, D.C., and worked as a legislative intern for Republican State Sen. Dave Knudson, who was majority leader at the time.
It was during her time in Pierre that Webb met Dusty Johnson, a mentor and fellow USD graduate who would help guide her to become the governor's campaign manager. Webb joined Johnson's campaign for the Public Utilities Commission (PUC) after graduation in 2010. Johnson said Webb came to his campaign as a "driven, thoughtful and organized" individual, and said she worked 18 hours a day for nearly 150 days. Webb said she learned from Johnson how to run an effective and efficient campaign, especially in a race where not many people are familiar with the office.
"It wasn't a high profile race, but it taught me the value of hard work because we had to work to inform voters about why PUC mattered," she said.
Webb became director of constituent services for the governor's office in November 2010. But for almost three years, Webb has held an even more significant role for the governor as his scheduler. She had to know where the governor was and needed to be throughout the day and that he had what he needed to be prepared for each event.
"I got to know the governor and first lady very well because that was part of my job," she said. "When I was approached to be campaign manager, that was one of the main reasons they said they wanted me for the position."
Webb had to take a leave of absence from the governor's office to run his campaign. She had offices in Pierre, Sioux Falls and Rapid City, and typically spent four days of the week on the road, three days in Pierre. The constant juggling required hard work on Webb's part but that is one of the reasons Daugaard said he wanted her to run his campaign.
"She is bright, enthusiastic and organized, and I trusted her to manage my campaign for re-election because she shares my values," he said. "Linda and I are so appreciative she agreed to help."
The 2010 graduate said USD taught her how to manage a busy lifestyle. Webb said her political science professors and classes showed her the value of working hard, being an efficient communicator and how to be a professional and responsible individual.
Johnson said Webb has left a remarkable impression in each position she has held in the past four years. "I am buying as much Kelsey Webb stock as I can get my hands on. If she wants to be successful in business, she will be. If she wants to be successful in politics, she will be. If she wants to be president of a university, President Abbott better watch out," Johnson said.
26 days and counting
Webb and Prentice were back in Vermillion Oct. 9 during the 100th anniversary of Dakota Days, but not to reconnect with fellow graduates and reminisce about their years as a Coyote. They were preparing their candidates instead for a live debate on South Dakota Public Broadcasting.
The months of campaigning were beginning to show. Both women questioned whether they would ever consider running a campaign of that scale again.
"You have to be a little crazy to want to campaign all the time, but people do it because they love that feeling and that pressure. But you lose a lot of control and you have almost no free time. It would be a hard lifestyle to live," Webb said.
Dealing with public scrutiny and media coverage is a tactful part of the job that both women said they have had to develop on the fly at times. Webb said she thought the gubernatorial race was almost overshadowed by the competitive U.S. Senate race in the state, but her goal was to not leave people waiting for answers.
As the final election date neared, both graduates said their focus was on making sure their candidate's name and values were known by as many South Dakotans as they could reach.
Life after election season
Prentice smiled as she stood next to Wismer during her candidate's concession speech on election night. Daugaard, the incumbent, had won re-election with 70 percent of the votes, but Prentice said she was proud of the campaign she ran and the candidates she supported for governor and lieutenant governor.
She and Webb used November as a month of recuperation and election clean-up. Prentice spent time with family in Wessington through the holiday season and is continuing to work with the Democratic party as it gets closer to the 2016 election cycle.
"We knew going in it was a big uphill battle, and it was disappointing to lose, but I'm optimistic about the next two years," she said.
Webb returned to the governor's office in early December as a deputy policy adviser. She will be working on issues on a federal and state level, and said she sees the advanced role as an opportunity to "improve on good policy already in place."
"I want to get back to the capital, because the people in the governor's office — they're like family. I've been gone for eight months and I'm ready to go home," Webb said.
This story originally appeared in the Winter 2014/15 issue of The South Dakotan alumni magazine. Read the full issue.
AUSTIN, Texas — South Dakota senior guard Ciara Duffy was one of five Division I women's basketball players selected to the Academic All-America first team selected by the College Sports Information Directors of America (CoSIDA). Duffy earns Academic All-America honors for the third consecutive season.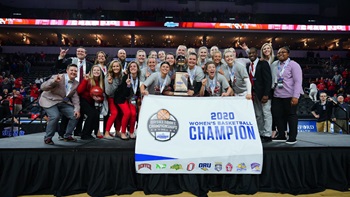 SIOUX FALLS, S.D. — All five South Dakota starters scored in double-figures and the Coyotes completed perhaps the greatest regular season in Summit League history with a 63-58 win against rival and second-seeded South Dakota State in the tournament championship game Tuesday inside the Denny Sanford PREMIER Center.
Two University of South Dakota faculty members are partnering with the University of Nebraska-Lincoln and Sioux Falls agency Call to Freedom to better understand what sex trafficking survivors think about the services they receive — and to learn what services they find most helpful.