Ascending to Serve
Surgery Department Chair Dr. Gary Timmerman's contributions to the American College of Surgeons delivers benefits to USD Sanford School of Medicine students
Dr. Gary Timmerman's impressive climb through the leadership ranks of the prestigious American College of Surgeons has been a highly gratifying experience for the Sioux Falls-based surgeon. It has also benefited students at the University of South Dakota Sanford School of Medicine.
Timmerman, chair of the University of South Dakota Sanford School of Medicine surgery department, recently concluded a one-year stint as chair of the College of Surgeons' Board of Governors.
That appointment – to lead the Board of Governors – followed a 20-year commitment to the organization that involved an array of demanding and meaningful assignments and positions. He'd been president of the College of Surgeons' South Dakota chapter, and had served on numerous regional and national committees helping the College of Surgeons launch initiatives and advocate for policies and programs. All of Timmerman's service to the organization has been voluntary.
Founded in 1913, the American College of Surgeons initially set standards for surgeons and hospitals, but quickly evolved to address a more comprehensive set of essential aspects of surgery and health care, such as establishing criteria for certifications, residencies and treatment programs. Methods of collecting blood, dealing with trauma, developing military medicine practices, transplant procedures and health care political advocacy are other important issues that have been influenced by the American College of Surgeons. The organization's 85,000 members are from every state in the United States, as well as many foreign nations. It is, behind the American Medical Association, the second largest organization of physicians in the world.
In early November 2014, Timmerman presided over the College of Surgeons Board of Governors' annual meeting and banquet. From the elevated vantage of a smartly decorated stage, where Timmerman was seated at the middle of a long table, he looked across a vast ballroom in a San Francisco hotel. There was a sea of people and the din of conversation. He greeted well-wishers, shaking hands and hugging friends. Helping to organize this gala, and acting as its host and master of ceremonies, would be one of his last official acts as chair of the Board of Governors.
Timmerman's work with the College of Surgeons had started years before while he was a young surgeon on staff at Prairie Lakes Hospital in Watertown, S.D., the community where he had grown up. Even in that lavish San Francisco ballroom, surrounded by fellow surgeons from all over the country, Timmerman couldn't help but harken back to his childhood and to his roots, as they are constant touchstones in his life. He thought about his dad and his family, and he
remembered a moment three years earlier when he told his father that he'd been selected as chair of the surgical department at South Dakota's only school of medicine. "My dad was so proud of me," Timmerman said. "He was a teacher, and he loved to teach. For years he ran Lake Area Vo-Tech in Watertown. He told me that my work as a teacher would be special for me, and I would always cherish it. He was right, of course. I feel that way about my work with the medical school, and I also feel that way about my work with the College of Surgeons."
The American College of Surgeons is guided by two leadership boards, the Board of Regents and the Board of Governors. Regents formulate policy and direct affairs for the college. The governors serve as an administrative channel through which various chapters (some 270 of them) and the organization's many members deliver their concerns and suggestions to the organization. It is the grassroots component of the organization, the activist aspect. "The Board of Governors," explained Timmerman, "is the voice of the College of Surgeons."
Immediately prior to Timmerman's service as chair of the Board of Governors he served for two years as the board's vice chair. In both capacities he attended all meetings of the Board of Governors and the Board of Regents.
During Timmerman's terms as chair and vice-chair the Board of Governors completely re-organized and re-structured. The intention, explained Timmerman, was to provide a stronger focus on critical areas within the surgical profession. There are now five pillars, each with several work groups, and each work group has regular deliverables.
Timmerman also oversaw an ambitious collection of other initiatives, including standardization of recommendation letters for residency applicants, improvements in the preparation of surgeons through enhanced training, and more attention to issues related to substance abuse within the profession.
Don't think for a minute that Timmerman was recruited into the role of helping lead one of the world's most important medical organizations by quirk or accident. His accomplished and demanding colleagues from around the country wanted him there, and Timmerman's work as chair has been well reviewed.
"Gary has been a terrific leader," said Dr. Patricia Turner, a Chicago-based surgeon who also directs member services for the American College of Surgeons. "He brought stability and strategic thinking to this important position. He participated in high-level decisions and contributed to the very significant conversations we have about critical issues facing surgeons all across the country, even the world. We are highly appreciative of the significant work he has done. His has been one of the most important voices for 85,000 surgeons." Turner also pointed out that Timmerman was the first South Dakota surgeon to lead the organization's Board of Governors.
At his office on the campus of Sanford Hospital in Sioux Falls, just several days after returning from numerous meetings and the national gathering in San Francisco, Timmerman admitted he was still trying to fully recover from the intense whirlwind of activities that surrounded his final week as chair. He shared a thank-you note he had just received via email from the chair of the College of Surgeons' Board of Regents, and he scrolled through a collection of digital photos of him and fellow board members at the banquet. He then held up a handsome plaque given to him by the College of Surgeons commemorating his many years of service, and listing a long roster of committees and leadership roles he has held. "What a humbling experience it's been," he said. "I've been able to work with some extraordinary people, and I've learned that so many of my colleagues, my fellow surgeons, are dedicated to medicine, surgery and to the patient. It's been an honor and a privilege to be part of the organization. And that doesn't mean that I'm not going to be active in the organization in the future."
One of the benefits of Timmerman's national posts is his exposure to and relationships with surgeons and medical school professors and deans from around the country. That translates into better opportunities for University of South Dakota Sanford School of Medicine graduates seeking surgical residencies. It also translates into greater visibility for the surgical residency offered by the school of medicine here in South Dakota.
The surgical residency program at the University of South Dakota Sanford School of Medicine is in its infancy, and reviewed its second cycle of candidates in fall 2014. The program has been approved for three residents per year.
Timmerman played a key role in reestablishing the medical school's surgical residency program, a program that had been discontinued in the 1980s, after it had been administered through the medical school and Sacred Heart Hospital in Yankton. His work on the residency issue actually started before he became chair of the surgical department.
"Dr. Timmerman spearheaded the effort to re-establish the surgical residency program," said Dr. Melissa Johnson, associate program director for the University of South Dakota Sanford School of Medicine surgical residency program. Johnson, a graduate of the USD Sanford School of Medicine and a practicing general surgeon at the Veterans Administration Hospital in Sioux Falls, described the value of having such a residency in South Dakota. "It is very important to have this residency program because a majority of residents end up practicing where they do their residency," explained Johnson. "We want to train them here to keep them here."
Johnson also noted that Timmerman's high profile work at the College of Surgeons has attracted new attention to the University of South Dakota Sanford School of Medicine. "He made meaningful contacts by virtue of his important work there, and he has become well-connected to leaders in the surgical field from across the nation," she explained. "Not only are we witnessing this as we review the applications of those who want to be surgical residents here, we're also seeing this as our students seek residencies elsewhere."
Johnson explained that prospective residents desiring to do a residency in South Dakota often cite references who know Dr. Timmerman, and USD students seeking residencies elsewhere meet teachers and surgeons at places like Harvard, Cornell and Johns Hopkins, who respect their general surgery training because they were students of Dr. Timmerman.
Through his experience leading the Board of Governors and in his work as chair of the University of South Dakota Sanford School of Medicine surgery department Timmerman has discovered his own career has been boosted. "Before I got so involved in leadership at the College of Surgeons and the medical school," he explained, "I had a satisfying and challenging career as a surgeon serving patients. Now I serve patients, the community of surgeons and the medical school. The experience of service – serving education, for example, and creating a new generation of well-prepared surgeons – has been a real gift for me. It has completely reenergized me."
The Timmerman File
A graduate of Watertown High School, Dr. Gary Timmerman attended South Dakota State University for three years before his acceptance into the University of South Dakota School of Medicine. He earned a B.S. in medicine in 1982 before transferring to Washington University School of Medicine in St. Louis, Mo., and completing his M.D. degree in 1984.
Timmerman performed a general surgery residency at Rush Presbyterian St. Luke's Medical Center in Chicago, Ill., and then opened a surgery practice in Watertown in 1990. From 1994 to 1998 he served as chair of the Department of Surgery at Prairie Lakes Hospital in Watertown.
Timmerman relocated to Sioux Falls, S.D. in 1998, and joined the staffs at Sanford University of South Dakota Medical Center and Avera McKennan Hospital and University Health Center.
He served as associate professor of surgery at the University of South Dakota Sanford School of Medicine from 2006 – 2012, and became chair of the Department of Surgery in 2012, a position he continues to hold. Timmerman also maintains a teaching schedule as an associate professor in the Surgery Department at the University of South Dakota Sanford School of Medicine.
His medical practice as a surgeon has come to involve and emphasize surgeries related to cancer, including complex esophageal, pancreatic, thyroid and parathyroid surgeries. He was the first surgeon in the upper Midwest to robotically perform a trans-hiatal esophagectomy.
"These can be complex and time-consuming surgeries," Timmerman explained. "And there can be much sadness in the area I work in. But my patients give me strength and purpose. I
treat my patients like extended family. I establish a close relationship with each one of my patients."
In 2013 Timmerman received the Warren L. Jones award for service as a member of the academic faculty of the University of South Dakota Sanford School of Medicine. South Dakota State University awarded Timmerman an honorary undergraduate degree – with highest honors – in 1984.
This story originally appeared in the Fall/Winter 2014 issue of South Dakotan M.D. magazine. Read the full issue.
AUSTIN, Texas — South Dakota senior guard Ciara Duffy was one of five Division I women's basketball players selected to the Academic All-America first team selected by the College Sports Information Directors of America (CoSIDA). Duffy earns Academic All-America honors for the third consecutive season.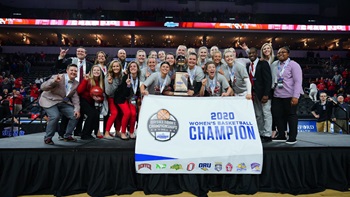 SIOUX FALLS, S.D. — All five South Dakota starters scored in double-figures and the Coyotes completed perhaps the greatest regular season in Summit League history with a 63-58 win against rival and second-seeded South Dakota State in the tournament championship game Tuesday inside the Denny Sanford PREMIER Center.
Two University of South Dakota faculty members are partnering with the University of Nebraska-Lincoln and Sioux Falls agency Call to Freedom to better understand what sex trafficking survivors think about the services they receive — and to learn what services they find most helpful.