Brian Gramms Sunny Epiphany
Never underestimate the power of good will when considering the many different and often inexplicable inspirations for starting and continuing a business.
Brian Gramm wasn't seeking some enlightened purpose when he noticed the absence of portable generators aiding tailgaters at a University of South Dakota football game. "I wondered why we couldn't watch a football game on a plasma TV while we were tailgating," he remembered.
At the time—several years ago—portable generators were rarely used in the tailgating area near the DakotaDome because gas generators create fumes and noise. Gramm later attended the game and forgot about his unfulfilled desire to watch football on television as a tailgater.
A couple weeks later he was jogging near his Sioux Falls home. He's not a regular runner, but he'd discovered that running clears his head and energizes internal deliberations.
When he needs to evaluate a challenge or solve a dilemma he'll go for a run. Gramm was between assignments as a business consultant, and was contemplating appealing opportunities including a couple offers to manage start-up enterprises. He was relaxed, comfortable, and was cruising along at a leisurely pace.
Suddenly, without warning, a collection of images started to flow through his imagination. "They were crystal clear, and I have no idea why they started and continued," he said later. In that series of thoughts he saw a solar panel folded into a black, suitcase-like apparatus, with a shoulder strap for transport. Gramm—possessing little technological knowledge—even envisioned the particulars of how the portable energy device and the single folding solar panel would function.
"The pictures I was imagining were completely life-like," Gramm recalled. "The realism was startling. It felt like it was a message from a higher power."
During that set of mysterious images Gramm not only visualized a new product, a portable solar generator, he also imagined its applications to developing nation populations needy for connections to electricity. "Those visions immediately and strongly conveyed to me that such a device had important applications to people who were desperate for access to power,
for people who lived far from the grid," he explained. "I was seeing images of this portable solar device powering small refrigerators cooling vital vaccines in isolated locations. I saw residents of developing nations powering and charging laptop computers. I saw health care workers using it to serve the sick, and street corner vendors using it to charge cell phones and hand-held devices. I saw a business opportunity vividly presenting itself."
The alternative energy industry had already been part of Gramm's life. As a business consultant, the USD Beacom School of Business graduate had dealt closely with a solar firm based in Ohio. But that company produced larger solar panels, not the small ones he'd seen in his vision.
No one has ever accused Brian Gramm of procrastination. The Parkston, S.D. native is a doer, a maker, a guy who can work comfortably with both high-level financiers and handson engineers. He describes himself as a serial entrepreneur. Within weeks, his portable electrical generator vision was moving toward reality. He'd already investigated the competition, and learned that other than clumsy, build-it-yourself solar kits brimming with problematic characteristics and inadequate power output, there wasn't any.
He came up with a name for his company—Peppermint Energy, so chosen because he viewed his yet-to-be-developed product as reflecting a clean, fresh source of energy. And he sought help from the state of South Dakota, through its office of economic development. He then snatched up a couple of capable employees, solicited and convinced supportive investors, and moved his fledgling enterprise into the South Dakota Technology Business Center in Sioux Falls. After a year at the tech center, he and Peppermint's growing team of employees moved into their own offices in southern Sioux Falls.
Dr. Mel Ustad is a commercialization expert for South Dakota's Governor's Office of Economic Development. In 2011 he began helping Gramm piece together expertise to create his product and launch his business. "We helped Brian use two important programs," said Ustad. "The EPSCoRE program, a National Science Foundation program, helped Brian identify and utilize South Dakota-based experts in the areas of electronics and photovoltaics in order to create his product. And we also helped him with the Dakota Seeds program, and that helped him hire skilled graduate students who could work with Brian to advance his product and business."
Gramm also attracted vital seed money for Peppermint using an online forum called Kickstarter. Gramm's financial objective through Kickstarter was met and exceeded in just several days, and that affirmed the basic appeal and potential value of his idea. A compelling, short film created by a local Sioux Falls advertising firm and posted on the Kickstarter website was a key feature of the highly successful Kickstarter fundraising campaign.
The technology and hardware aspects of the invention moved forward at a slow but steady rate. Over several years, as many as 100 engineers and designers played a role in product development. The portable, solar-powered generator initially conceptualized by Gramm was
slightly smaller than the technology that eventually came to fruition. Originally, he pondered creating a smallish, 20-pound device; the finished product—formally named Forty2—remains relatively compact, lightweight and easily toted. It grew larger, said Gramm, so it could offer greater energy for more uses, including powering refrigeration. There are now three closelyrelated versions, with power storage via battery capability as the feature that distinguishes the different models. Weight ranges from 60 to 75 pounds. Each model measures 30 inches by 33 inches and is about five inches thick. A strong shoulder strap fastened to either end of the generator's top edge—just like the strap Gramm saw in his dream—makes for easy transport by a single person.
Responding to a question about the product's durability, Gramm opened the slender, black, suitcase-like device, laid it open on the floor, and stepped onto the flat, shiny solar collection component. The panel is dark with what looks like skinny wires visible inside the panel. And it's rugged. That attribute was reinforced when Gramm jumped up and down on the panel—there was not a trace of damage. After he re-folded the case, snapping it shut like a laptop computer, he forcefully smacked his closed hand several times against the thick, hard plastic covering the generator's exterior skin. "We make them extremely durable and mostly foolproof," Gramm proudly explained. "We also make them simple to use, so just about anyone can use it without having to read directions."
Tapping into the clean power of the Forty2 is indeed simple: Grasp the male end of a power cord or plug and insert it into the generator. There's no churning of gears, no whirring of a motor. The power is created and delivered silently.
The Forty2 produces 160 watts of electricity, offering 24 volts of DC voltage and up to 1,000 hours of service. The all-important power storage system uses lithium ion batteries, similar but much smaller than the type of batteries used in a Tesla automobile. Users can plug in and run electrical devices immediately. The unit's potent storage system ensures that users can enjoy electricity long after the sun goes down. Cost ranges from $1,750 for the basic Forty2, to $2,250 for the Forty2 pro, to $2,750 for the Pro+. Each unit has two AC outlets and a single USB port.
Gramm's idea of helping others by providing them with clean, portable electricity is nuanced and respectful. "When we go to people in a developing nation we do not tell them what to do or what they're missing by not living in a socalled developed nation," he explained. "The people we meet in places like Haiti or Sierra Leone don't view themselves as living without things we call amenities. We respect that. We simply show them the Forty2 and ask them if they can think of what they might be able to do if they had our product. We ask them to define their need and use, and they always do."
Approximately 85 percent of Peppermint's sales are to overseas customers, with a good share of that business coming from foreign governments. During the same week he was interviewed, Gramm and Peppermint entertained visitors from three African nations interested in
purchasing the company's portable electricity generators. Gramm is working to broaden the company's customer base to include more charitable organizations, such as the Bill and Melinda Gates Foundation. A number of non-profit organizations have acquired generators not only to serve their own power needs, but also to serve the needs of people in areas served by their missions. "We can definitely help charitable organizations pursue and satisfy their missions to help people," said Gramm, before noting that more than one billion people lack access to electricity. "There is no shortage of prospective users," he explained.
Indeed, sales are steadily increasing, Gramm declared, as more NGOs, governments and agencies, and other types of customers learn about the product. As of mid-October 2014, Peppermint had sold about 1,500 Forty2s.
Pam Plasier is executive director of Mission-Haiti, an evangelical organization that administers programs for the elderly and for general medical and educational purposes, as well as providing a ministry and missionaries in Haiti.
"We have been using Forty2s for more than a year now," said Plasier. "In Haiti, we can go days without the government giving us electricity so we use them for things as simple as charging our cell phones, as well as other purposes such as supplying electricity for the keyboards in our music classes and powering our water treatment machine. In the future we hope to use them to run our Aquaponic system, and in 2015 we plan to use them our school's computer classrooms."
Not only is Peppermint revolutionizing portable power, Gramm's business model for his company is unique, matching the charitable, heartfelt mission of its founder and CEO.
Plasier described the genuine interest shown by Gramm and Peppermint in the work pursued by Mission-Haiti. "We have a meaningful relationship with them," said Plaiser, referring to the company and its CEO. "Peppermint Energy and Brian have been a wonderful blessing to our efforts in Haiti," she explained. "They are making a huge difference in the lives of those we serve, and I think we have just scratched the surface of how the Forty2s will change life for people in Haiti."
It's the perfect application for Gramm's products and business. "We're a for-profit business, of course," explained Gramm, "but the principle driver for us is to help people. And I'm sincere about that."
Gramm discovered that others in the business and high-tech community found his hybrid business model perplexing. "I spent some time in Silicon Valley discussing our business model with people there," Gramm related. "They said, 'you're either for-profit or you're not.' But I counter that by saying that it's not that simple. You can define success in many different ways. You hear the phrase 'second bottom line' or 'third bottom line.' That refers to ways other than
just making money to define the success of a business. Peppermint Energy needs to earn a profit, but we also need to do good things for people."
Another admirable aspect of the Gramm philosophy is to grow his company and extend its successes to Sioux Falls and South Dakota. "We're homers," he declared. "Most of our product is manufactured or fabricated right here in Sioux Falls or in the Sioux Falls area. We aren't interested in out-sourcing. Seventy-five to 80 percent of the costs in the product are traceable to the input of South Dakotans and South Dakota companies. One of the great rewards of this business is to partner with people I've known for many years. Some folks said I was foolish to not relocate this business to other places with bigger reputations for high-tech capital and expertise. But we have done very well with the resourceful know-how and generous investment right here in Sioux Falls and this area. I'm grateful and pleased with the interest shown by so many in helping us not only to grow, but also in helping us satisfy our mission of helping people in different parts of the world who benefit from our products. Our Midwestern investors genuinely care about that part of our business model."
Gramm does not see himself as an ambassador for new energy, though he has come to recognize the value of clean, renewable energy sources.
"Is it better to replace a coal plant with a solar farm?" he asked. "Probably. But that's not our cause," he answered. "We're using this form of green energy because it can help people who are off the grid. We're relying on solar energy because of its portability. We can offer electricity to people who don't have access to a big power plant or to the grid. We view our product not so much as alternative energy but as a solution to the problem of many people who don't have access to conventional electricity. Our product offers electricity immediately. Without our product many people have no alternative; they cannot access electricity. The solution to their problem has less to do with offering them green or clean energy, and more to do with simply offering them a source of power. Solar makes that possible. Our product makes that possible."
The impending importance of solar energy, as well as the varied and new sources and uses of electricity are merging in the life of Gramm. He excitedly describes his new car— a Chevy Volt—and how he notices other electric vehicles around Sioux Falls.
Expect to see and hear more about Brian Gramm and Peppermint Energy. Gramm's altruistic attitude, his savvy business sense and the lifestyle and cultural impact of Peppermint products portend big things for this Sioux Falls businessman and his company. The paradigm shifts he is contributing to and participating in loom as significantly impactful on several important fronts.
This story originally appeared in the Winter 2014/15 issue of The South Dakotan alumni magazine. Read the full issue.
AUSTIN, Texas — South Dakota senior guard Ciara Duffy was one of five Division I women's basketball players selected to the Academic All-America first team selected by the College Sports Information Directors of America (CoSIDA). Duffy earns Academic All-America honors for the third consecutive season.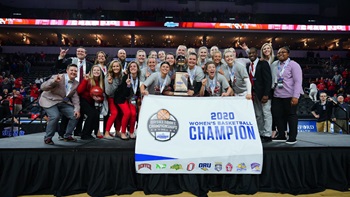 SIOUX FALLS, S.D. — All five South Dakota starters scored in double-figures and the Coyotes completed perhaps the greatest regular season in Summit League history with a 63-58 win against rival and second-seeded South Dakota State in the tournament championship game Tuesday inside the Denny Sanford PREMIER Center.
Two University of South Dakota faculty members are partnering with the University of Nebraska-Lincoln and Sioux Falls agency Call to Freedom to better understand what sex trafficking survivors think about the services they receive — and to learn what services they find most helpful.