CSPAN founder chairman and CEO Brian Lamb to receive Al Neuharth Award at USD on Oct 6
VERMILLION, S.D. -- Journalist and media innovator Brian P. Lamb, founder, chairman and chief executive officer of C-SPAN, will be honored as recipient of the Al Neuharth Award for Excellence in the Media, Thursday evening, Oct. 6, at The University of South Dakota.
Lamb is the 25th individual selected by the university and the Freedom Forum since the Al Neuharth Award program began in 1989. The award, recognizing lifetime achievement, is named for USA TODAY and Freedom Forum founder Al Neuharth, a South Dakota native and 1950 USD journalism graduate, who will be on campus to make the presentation.
The event, which is free and open to the public, will begin at 7 p.m., Oct. 6, in the recently renovated Robert L. Slagle Hall Auditorium on the USD campus, 414 East Clark St., Vermillion. Doors will open at 6:15 p.m. No tickets are required for general seating, available on a first-come, first-served basis. Free tickets for preferred seating may be requested until Oct. 3 by calling 605/677-6060 or sending an e-mail to jharris@freedomforum.org. Specify ticket quantity (up to six), name and address.
The 90-minute program will be telecast live on South Dakota Public Broadcasting.
"For three decades, Brian Lamb and his colleagues have pulled back the curtain on our democratic system, resulting in a more informed electorate and making the USA a better nation," Neuharth said. "The C-SPAN networks, created under Brian Lamb's leadership, allow millions of interested citizens to be watchdogs of Washington through the fair, unfiltered and comprehensive coverage of government and the political process."
More than 30 years after C-SPAN's inaugural broadcast in 1979, the network today includes three 24-hour cable television networks, a radio station, C-SPAN.org and 15 other websites and a social media presence that includes Twitter, Facebook, Foursquare and YouTube. C-SPAN provides coverage of the day's most important news events online and to cable and satellite customers and radio listeners across the nation, helping ensure a more engaged and informed citizenry.
Lamb's interest in broadcasting began at an early age. Working at various Indiana radio and television stations during his high school and college years, he became something of an industry renaissance man, serving as a disc jockey, media buyer and eventually host of the popular local television program "Dance Date."
Following his graduation from Purdue University, Lamb signed up for a tour of duty with the Navy. His enlistment included a White House assignment in President Lyndon Johnson's administration and the Pentagon public affairs office during the Vietnam War.
After briefly returning to Indiana in 1967, he moved back to Washington, D.C., where he worked as a freelance radio reporter for United Press International, a U.S. Senate press secretary and a White House telecommunications policy staffer.
Less than 10 years later, Lamb secured a job as the Washington bureau chief for Cablevision magazine and began publishing his own biweekly newsletter called The Media Report. During that time, inspired by his work in the fields of broadcasting and journalism, he started to craft his vision of a public affairs network delivered nationally via satellite.
By 1977, Lamb had begun to make that vision a reality. His concept for a news channel that would offer viewers gavel-to-gavel coverage of the U.S. Congress was well-received by cable industry executives. With their support, Lamb established the newly named Cable-Satellite Public Affairs Network — C-SPAN — as a not-for-profit company and built one of D.C.'s first satellite uplinks.
On March 19, 1979, C-SPAN was made available to 3.5 million households around the nation. Broadcasting the first televised session of the U.S. House of Representatives, the network ushered in a new era of journalism and a new understanding of objectivity.
C-SPAN had a staff of four at the time of the inaugural 1979 broadcast. Today, C-SPAN has a staff of 275, and its round-the-clock programming is available to 86 million TV households via nearly 7,900 cable systems.
C-SPAN2 — broadcasting U.S. Senate proceedings and the popular Book TV, featuring 48 hours each week of nonfiction book programming — was launched in 1986, and C-SPAN3, featuring public affairs events from Washington and around the country, made its debut in 1997. Overnights and weekends, C-SPAN3 spotlights American history with features from award-winning history series. C-SPAN Radio can be heard nationwide on XM Satellite Radio, and worldwide at c-span.org.
Lamb also was C-SPAN's first on-camera interviewer, hosting the network's first viewer call-in program in October 1980. Over the years, he has interviewed Presidents Nixon, Ford, Carter, Reagan, George H.W. Bush, Clinton, and George W. Bush, as well as many world leaders such as Margaret Thatcher and Mikhail Gorbachev. For 15 years, beginning in 1989, he interviewed 800 nonfiction authors for the weekly program "Booknotes." Four books of collected interviews have been published based on this series. Currently, Lamb hosts "Q and A," an hour-long interview program on Sunday evenings with experts in politics, media, education or technology.
Lamb and his wife, Victoria, are longtime residents of Arlington, Va., and will be together on their visit to Vermillion and the USD campus.
A photograph of Brian Lamb is available for download at www.usd.edu/press/news/images/releases/Brian_Lamb.jpg.
Past Al Neuharth Award recipients include Walter Cronkite (1989), Carl T. Rowan (1990), Helen Thomas (1991), Tom Brokaw (1992), Larry King (1993), Charles Kuralt (1994), Albert R. Hunt and Judy Woodruff (1995), Robert MacNeil (1996), Cokie Roberts (1997), Tim Russert and Louis D. Boccardi (1998), John Seigenthaler (1999), Jim Lehrer (2001), Tom Curley (2002), Don Hewitt (2004), Garrison Keillor (2005), Bob Schieffer (2006), John Quinn and Ken Paulson (2007), Charles Overby (2008), Katie Couric (2009) and Cathie Black and Frank Vega (2010).
AUSTIN, Texas — South Dakota senior guard Ciara Duffy was one of five Division I women's basketball players selected to the Academic All-America first team selected by the College Sports Information Directors of America (CoSIDA). Duffy earns Academic All-America honors for the third consecutive season.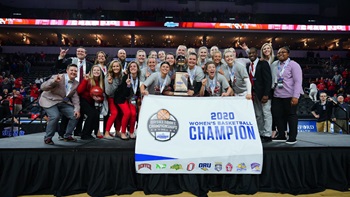 SIOUX FALLS, S.D. — All five South Dakota starters scored in double-figures and the Coyotes completed perhaps the greatest regular season in Summit League history with a 63-58 win against rival and second-seeded South Dakota State in the tournament championship game Tuesday inside the Denny Sanford PREMIER Center.
Two University of South Dakota faculty members are partnering with the University of Nebraska-Lincoln and Sioux Falls agency Call to Freedom to better understand what sex trafficking survivors think about the services they receive — and to learn what services they find most helpful.