Extreme Healing
When Stuart Fromm,'90 M.D., told a television executive about his plans to make a winter outdoor adventure film that also promotes the proper use of safety gear, the CEO's response was cooler than freshly fallen powder.
"He told me not to do that, and that it was like selling broccoli," said Fromm, recalling the conversation. "It's good for you, but nobody's going to buy it." The executive then tried to redirect Fromm's focus to the more thrilling aspects of extreme winter sports (think back-country skiing, jumping out of helicopters into remote areas and snowmobiling).
Such a reaction from a film industry leader would have stopped most people dead in their tracks, or at least cause them to seriously reconsider their approach, but to Fromm, it sounded less like a warning and more like a challenge—and the more one understands about the man known in some circles as "The Indiana Jones of the O.R.," the less one doubts that he's up to the task.
Fromm, a Rapid City, S.D.-based orthopedic surgeon, winter sports enthusiast and budding adventure filmmaker (his debut film has already made the rounds in the adventure film circuit, where it was well received), is as adept at blazing trails through rugged, mountainous backcountry as he is when traversing the bleeding edge of new medical frontiers. He intends to combine the best of what he does in the medical arena and the most exciting aspects of outdoor adventure filmmaking to create a project that will have a higher purpose and a cause—namely, saving lives.
"I want to see if I can do it," he said. "I want to change the stigma about [using safety equipment]—from broccoli to something cool."
Back Country
The story of how Fromm developed passions for both medicine and extreme winter sports is relatively straightforward. As for medicine, it's literally in his blood. The Rapid City, S.D. native comes from a family of physicians. His father and all of his siblings graduated from USD's school of medicine and have gone on to practice medicine. In fact, if you count his sister-in-law, along with his niece and nephew, that's nine Fromm doctors—all of them Coyotes (and most of them practice here in South Dakota).
Fromm says growing up with the Black Hills nearby helped to instill within him a love of the mountains, and a particular enthusiasm for skiing—especially backcountry skiing, in which he began to explore remote areas beyond the groomed slopes of Terry Peak.
After completing his medical education in Vermillion, Fromm did his fellowship in Lake Tahoe, a world renowned skiing and snowboarding destination.
"I was the ski doc at Kirkwood Ski Resort," Fromm explained. "I loved that job. I would just go and open up the clinic, grab a walkie-talkie and then go skiing. I'd ski the back country, so that's when I really got into back country skiing." When it came time to settle into his practice and raise his family, Fromm returned to the Rapid City area, and it didn't take long for his three sons to embrace the rich outdoor experiences available throughout the region, just as their father had. As they became skilled at both skiing and snowboarding, Fromm began toting a video camera along on their excursions. Eventually, they decided to make a film for the fun of it, but their ambitions for the project quickly surpassed their original intentions. Eventually, the project came to fruition as Fromm's first serious foray into outdoor adventure filmmaking, a piece entitled Undiscovered Winter, which serves to shine a light on the opportunities available in his beloved home state.
"You know how people are; they think South Dakota is in Siberia, and they don't know we have mountains here," Fromm said. "The film evolved to show off what we have here in terms of winter sports."
Encouraged by the positive reaction to the film on the regional festival circuit, Fromm says he felt inspired to establish Sun Dog Studios, L.L.C., as a vehicle to apply what he'd learned beyond the borders of South Dakota and create a film on a worldwide scale. During his promotion of Undiscovered Winter, Fromm had observed that the films which gained the most attention and acclaim connected a compelling message and a story to exciting footage of outdoor adventure. Given his background in winter sports and orthopedic medicine, Fromm's decision to take the best of what he did in the operating room and combine it with footage that features the latest in safety technology felt like a natural one.
"It's become frustrating over the years seeing so much trauma that could have easily been prevented," he said. "Lives could have easily been saved by putting on an avalanche backpack, a helmet or seatbelt. It just blows me away that people aren't using those devices."
Fromm noted disturbing trends that suggest while safety technology for winter sports has evolved greatly over the past few decades, deaths and injury rates have remained relatively high.
"People just kind of blow it off; they don't use this stuff," he said.
To this end, he has been working for more than a year on developing the film– compiling footage, building partnerships and putting his feelers out in order to gauge interest levels. On the strength of Fromm's efforts thus far several worldwide organizations, including ESPN, have expressed great interest in his work.
"I also have some very high-powered athletes making a pitch for how they don't just go out into the back country," Fromm added. "They have their safety gear with them—their beacons, their helmets, their ABS airbags. They know avalanche conditions. They don't just head out willy-nilly."
Additionally, Fromm has engaged in talks with the American Academy of Orthopedic Surgery, a group he says has some lofty goals for the film.
"They want to see everything from maybe an hour-long film to a 30-second public service announcement and everything in between," he explained. "They want to get this film out to first responders, hospitals, ERs, highway patrol, classrooms. You name it."
And, despite some voices who have expressed doubt about the film's marketability when it comes to selling a message about safety, Fromm intends to continue forward by doing things his way and staying true to his original intent.
"Hopefully I'll make an exciting adventure film that still captures peoples' interest while subtly putting in a pitch for safety," he said. "Hopefully, I can pull it off."
Fromm says he hopes to have a working draft of the film done by August of this year, with the full version's completion scheduled for early 2014.
Innovation Engine
Fromm's innovative nature has also driven him to become a creative force within the operating room, from the earliest days of his career. While still a resident, Fromm created a positioning triangle (a device that keeps a patient's limbs in position during surgery) that was such a success that his colleagues quickly began using it for their own procedures.
"When it came time for me to graduate and move, I wanted to take the triangle, but they wanted to keep it," he said. "So, I contacted a company [Innomed Trauma Instruments] to make one, and they said, 'Sure, but do you mind if we make it, sell it and market it?'"
According to Fromm, the device is still Innomed's best-selling product throughout the world. "If there's a surgery out there that I think is harder than it needs to be, or the success rate isn't as high as it should be, I'm always thinking of a better way to do it," he added.
Other techniques credited to Fromm include the RAPIDLOCK® and OMNISPAN™ Meniscal Repair Systems, "all inside" repairs that allow for greater ease of operation and quicker patient recovery, due to their minimally invasive natures. Fromm also developed the Endobutton CL BTB, a technique for reconstructing Anterior Cruciate Ligaments (ACL's) in the knee, used worldwide. The procedure was used during the repair of Tiger Woods' knee (though Fromm did not perform the surgery) and, according to Fromm, is quite popular in Alpine countries.
"I had the opportunity to discuss [the Endobutton CL BTB] with many sports surgeons of Austria when I was talking about this at a conference in Germany," Fromm said. "They love the technique for their downhill ski racers because there is so much pressure to get them back racing as quickly as possible— it is their career and their career is everything for them."
Most recently, Fromm has developed the Knotilus technique through Stryker, an arthroscopic shoulder stabilization method, which has been available for about a year. According to Stryker, the procedure has become the most popular technique in the shortest amount of time in the history of the company.
Undiscovered Ventures
As for the months ahead, Fromm plans to promote the new film at high-profile festivals like the Banff Mountain Film and Book Festival, held in Alberta, Canada, as well as several stateside, including the Telluride Film Festival.
Fromm remained understandably elusive when asked about the details of his forthcoming research projects, but he did share an interesting piece of information regarding developments that might speed patients' healing processes—a potentially revolutionary advancement in surgical medicine.
"Whenever you sew tissue to bone, no matter where it is in your body, like an ACL or a rotator cuff repair, it takes four to six months to heal," he said. "I'm developing a way, if all works out well, that it could take half that time, so it's a dramatic decrease in healing time. So you can imagine it's a much quicker return to sports and to work."
Perhaps the most surprising thing about Fromm's life isn't the degree of his success, or the extreme nature of his outdoor passions, but the uncommon level of groundedness and the genuine gratitude he maintains in the midst of decades of serious achievement. It would be difficult to blame him, if he felt a swelling of pride at such a diverse and storied career, but speaking to Fromm yields a distinct sense that he understands the fleeting nature of success and that his highest concern isn't making waves with film executives, or reaping the financial rewards from his various inventions, but making the greatest positive impact in peoples' lives.
"It's hard for me to talk about this stuff, because I don't want to sound cocky," said Fromm, reflecting on his career. "I do try to live my life humble and thankful."
This story originally appeared in the Spring/Summer 2013 issue of South Dakotan M.D. magazine. Read the full issue.
AUSTIN, Texas — South Dakota senior guard Ciara Duffy was one of five Division I women's basketball players selected to the Academic All-America first team selected by the College Sports Information Directors of America (CoSIDA). Duffy earns Academic All-America honors for the third consecutive season.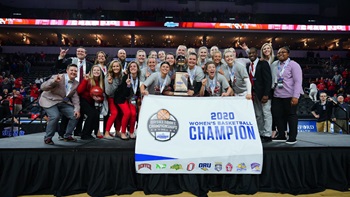 SIOUX FALLS, S.D. — All five South Dakota starters scored in double-figures and the Coyotes completed perhaps the greatest regular season in Summit League history with a 63-58 win against rival and second-seeded South Dakota State in the tournament championship game Tuesday inside the Denny Sanford PREMIER Center.
Two University of South Dakota faculty members are partnering with the University of Nebraska-Lincoln and Sioux Falls agency Call to Freedom to better understand what sex trafficking survivors think about the services they receive — and to learn what services they find most helpful.