From Serving Coffee to Giving Back, Travis Rhoades Believes in 'Being the Good'
He had never even had a sip of coffee when he decided to purchase his first Scooter's Coffee franchise. Now, as the owner of 16 store locations throughout South Dakota and Nebraska, University of South Dakota alumnus Travis Rhoades '07 can't imagine doing anything other than improving people's lives through signature coffeehouse drinks.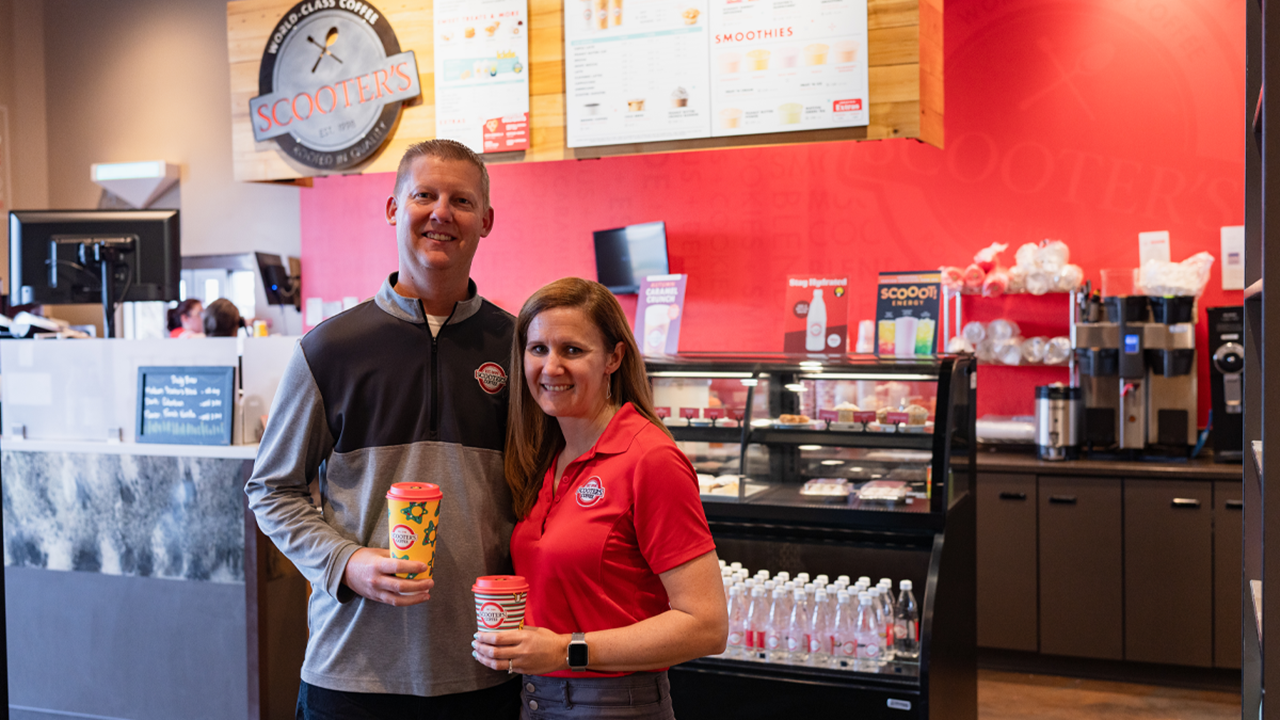 Travis Rhoades' entrepreneurship journey began long before he decided to build a coffee drive-thru empire. In his first post-college job as a digital sales coordinator for the Argus Leader in Sioux Falls, he remembers hearing about clients who were interested in online advertising but didn't have a reliable website. So, the aspiring entrepreneur reached out to his college roommate with the idea of starting a website company.
"He and I had stayed in touch, and I reached out to him and said, 'We should start a website company where we build websites for businesses that don't want to spend the dollars to go to a really large agency,'" Travis Rhoades recalled. "So, in May of 2010, we quit our jobs and started a website company called Web Concentrate."
By June 2010, Travis Rhoades and his former-roommate-turned-business-partner Daniel Letsche '05 had launched Web Concentrate. For 11 years, Travis Rhoades – who has a background in business and marketing – focused on sales and wrote web content, while Letsche was responsible for programming.
Shortly after Web Concentrate took off, Travis Rhoades embarked on another entrepreneurial adventure – one that was a bit more unpredictable. At the time, he was a member of the Sioux Falls Chamber of Commerce. The Commerce expressed that Scooter's Coffee wanted to expand into Sioux Falls, and the seasoned business owner jumped on the opportunity.
Looking back, Travis Rhoades acknowledges that he might not have been the most qualified person for the job. Neither Travis Rhoades nor his wife Kristen Rhoades '07, '08 "had ever drank coffee before," and when Travis Rhoades filled out the interest form, he admits that he "kind of exaggerated a little bit."
"It had different income requirements and cash requirements, and I just said yes to all those boxes," he said. "They called back within 30 minutes of me filling out the form, and I came clean saying 'I don't quite meet all the financial requirements that you're looking for, but I do think we would be good operators of these stores if we can continue this conversation.'"
Travis Rhoades' leap of faith was successful, and it changed his and his family's lives forever. In September 2012, he and Kristen Rhoades signed a five-store franchise agreement to open stores in Sioux Falls, and the first store's doors opened in June 2013. From there, the doors continued to open, and open and open...

Today, the couple owns 16 Scooter's locations scattered across South Dakota in Sioux Falls, Brookings, Madison, Vermillion, Brandon and Tea. The Rhoadeses also own a location in Blair, Nebraska, where the couple grew up together.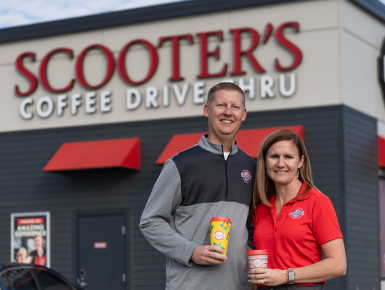 "When we signed our first five-store agreement in 2012, I had no idea that this is where it would take us," said Kristen Rhoades. "Most days, it's just our job and what we do, but when I stop to think of how quickly it grew from one store to 16 over the course of 10 years, I honestly can't believe it. It's been the privilege of a lifetime to get to be the Scooter's Coffee franchisees for the Sioux Falls area and beyond."
Managing 16 store locations and over 350 employees is certainly an impressive accomplishment, but when Travis Rhoades reflects on the work he and his wife do, the thing he is the proudest of is the work environment they have created for their team members.
"The team we have really enjoys wearing a Scooter's apron and serving amazing drinks to amazing customers," said Travis Rhoades. "It's a fun product, and we truly have the opportunity every day to improve someone's day. I'm really proud of the fact that a majority of the people who work for us at Scooter's align with that, and they see that as their favorite part of the job, too.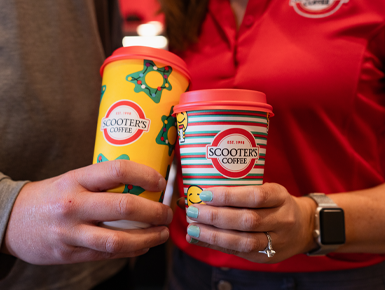 "It's a lot to make sure all our team members have the same goal in mind of delivering an amazing experience, but we have a really great leadership team that helps us do that," he continued. "That's what I'm most proud of – the team that we have that we get to work with every day."
Outside of the business, Kristen Rhoades said she is proud of the way they are able to give back to the community. The business owners host annual "Days of Giving" at each of their locations, donating 100% of their sales that day to an organization near and dear to their hearts.
"These days are my favorite days of the year," Kristen Rhoades said. "I love seeing the excitement in our teams and from our customers, and I love being able to financially contribute to the cities and towns that our stores are in. Our communities are better with these organizations, and we are honored to be in a position to give back to them."
Last year, during USD's annual giving day, Unite for USD, Travis and Kristen Rhoades pledged to give 100% of the Vermillion location's sales back to the university – specifically to Charlie's Cupboard, a campus resource that alleviates food insecurity by providing students with free food and personal care items. During the 24-hour fundraising period, Scooter's raised $4,841.09 to give back to students in need.
"There is no shortage of nonprofits doing amazing work in the Vermillion community, which can make it a challenge to select which organization to partner with," Travis Rhoades said. "Food pantries such as Charlie's Cupboard make an immediate impact directly on campus and within the community of Vermillion. Cash donations can go a long way with food pantries as they are needed to purchase perishable items that often can't be donated.
"USD's active role in improving the lives of its students and community is one of the several reasons it's an amazing place," he continued. "I'm proud that Kristen and I are able to give back to the university that gave so much to us."
Building a Scooter's empire, as Travis Rhoades has done, has been no simple feat, but he said his time at USD well-equipped him for the challenge. Holding a bachelor's degree in marketing, Travis Rhoades' skills and expertise stretch far beyond what he learned in the Beacom School of Business.
He came into USD with a scholarship through the media and journalism department, a department outside of the state's leading business school. The opportunity to pursue cross-disciplinary and comprehensive education is exactly why Travis Rhoades loved USD. "It felt like I didn't have to decide if I wanted to pursue business or pursue journalism – I could do both," he said.
During his time as an undergraduate student, Travis Rhoades was involved with the college newspaper, The Volante, while simultaneously taking classes like microeconomics and marketing. The combination of business knowledge and writing expertise propelled Travis Rhoades into being the successful leader he is today.
"I might sound a bit old-fashioned saying this, but the ability to succinctly communicate something in a written message is becoming a bit of a lost art," he said. "I remember being taught in journalism: 'I would've made it shorter, but I didn't have enough time.' It's challenging to communicate with brevity and still be able to get your message across.
"The ability to be a storyteller through writing and photography helps when you're trying to lead a team of people by making sure that they understand the message you're trying to convey. That was something that was certainly pulled out of the journalism school."
As both a storyteller and business owner, Travis Rhoades is always finding ways to bring meaning into his work by "being the good."
In his living room, there is a sign that reads, "Believe there is good in the world," with the letters spelling "Be the good" highlighted. For Travis Rhoades, that mantra is something that guides both him and Kristen Rhoades in everything that they do.
"That's what we try to live by," Travis Rhoades said. "It doesn't mean we nail it every day, but I think more times than not, we're hopefully making decisions that would be considered 'the good.' We just want to make something that we can be proud of and that our kids can be proud of.
"We want Scooter's to be something that's positive for the community, for its customers and for the people who work there," he continued.