Graduate School Alumna Selected for USD's 2024 Distinguished Master's Thesis Award
Kaia Brose, who graduated with her M.A. in history in May 2023, received the 2024 Distinguished Master's Thesis Award from the University of South Dakota Graduate School.
As the USD award winner, her nomination was sent in for the 2024 Midwestern Association of Graduate Schools (MAGS) Distinguished Master's Thesis Awards.
"It is a great honor to be selected as USD's Distinguished Master's Thesis Award winner," said Brose. "I am grateful to my advisor, Clayton Lehmann, those in the history department and the wider USD community for recognizing my work."
The purpose of the annual MAGS/ProQuest Distinguished Master's Thesis Awards is to recognize and reward distinguished scholarship and research at the master's level. These awards are presented in two of four categories that alternate every two years. The 2024 cycle categories are Biological/ Life Sciences and Humanities.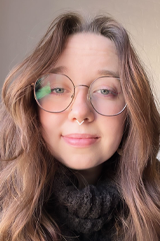 Brose will represent USD in the Humanities category for her thesis titled, "The Sanctuary of Demeter and Kore: The Portrayal of Corinthian Gender Ideologies in Ritual Landscape."
Her thesis primarily uses the archaeological record at the Sanctuary of Demeter and Kore on Acrocorinth to study class and gender ideologies present at the sanctuary and wider region of Corinth in the sixth century BCE. Through Brose's internship at a museum in Ancient Corinth in the summer of 2022, she was given direct access to the sanctuary and its materials housed in the museum.
Clayton Lehmann, Ph.D., professor of history, nominated Brose for the award this fall. "This hard work and long planning has borne magnificent fruit in her thesis," he said. "A remarkably close analysis of certain classes of pottery found at the Sanctuary of Demeter at Corinth, shows how class and gender ideologies appeared in this important sanctuary in the sixth century BCE. The thesis brings gender analysis theory to bear on the material culture in order to show how activities in the sanctuary –accessible to us only through the material culture generated by such activity since no documentary evidence for the sanctuary exists – enhanced fertility and feminine virtue within the community that used it."
If selected as a winner at the MAGS awards, Bose will receive a $750 honorarium and a trip to accept the award at the MAGS 80th Annual Meeting in Clayton, Missouri, April 3-5, 2024.