Graduate Sustainability Student Wins USD 3MT Competition, Advances to Regional Competition
Khushboo Jain, a Ph.D. sustainability student at the University of South Dakota, received first place at the sixth annual USD Three Minute Thesis (3MT) Competition held on March 1 in the Al Neuharth Freedom Forum.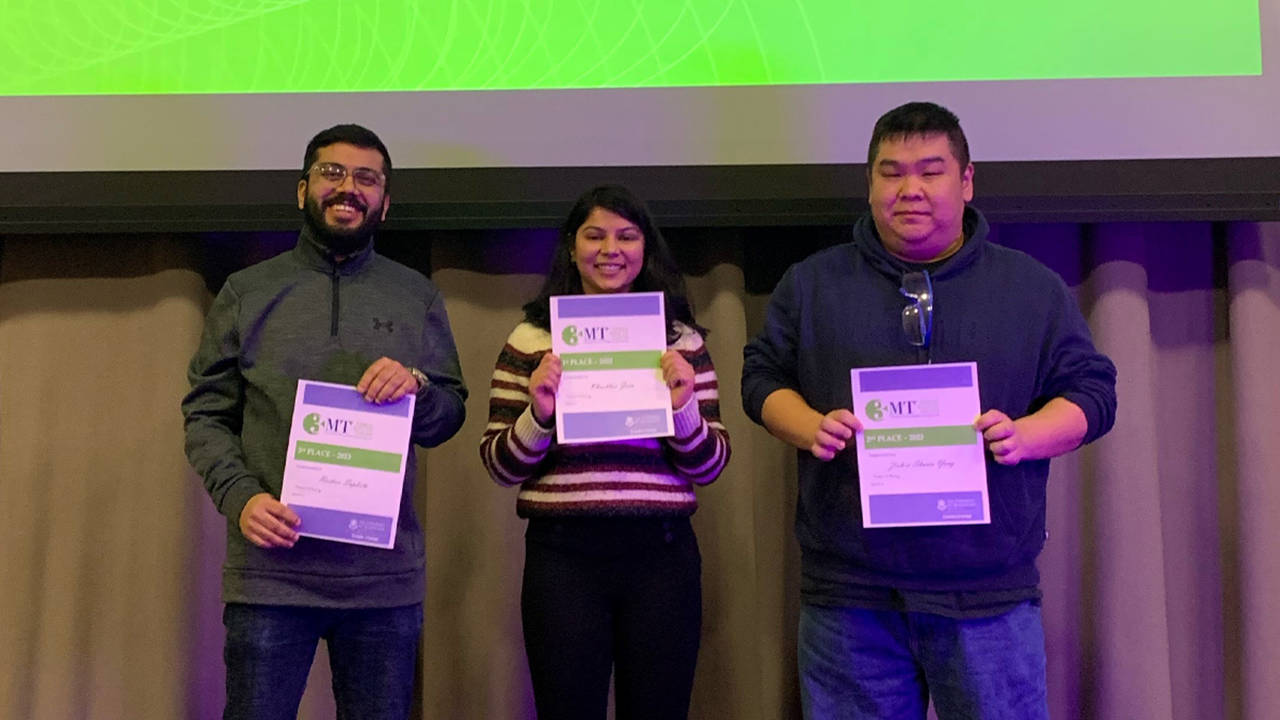 Jain was awarded $350 and will advance to the Midwestern Association of Graduate Schools (MAGS) Regional Competition in Chicago on March 31. Jain's presentation is titled, "Impacts of Diverse Agricultural Management Practices on Crop Productivity in Eastern South Dakota."
"I feel honored and excited to represent USD at the 3MT competition in Chicago," said Jain. "Agriculture is at the core of the U.S.'s economic growth, and our farmers and ranchers need climate-smart practices that reduce emissions and protect the environment. My research has helped me develop a different outlook toward this community, and I believe representing USD at MAGS can help me bring my research to a wider public."
USD held the preliminary round of the 3MT Competition on Feb. 15 in the MUC Ballroom where 13 students participated. The panel of judges chose the top six participants to advance to the finals on March 1.
Zishen "Shawn" Yang, a Ph.D. material chemistry student, was the second-place winner and was awarded $250 for his presentation titled," "Not just fiction: Spider-man's Webbing Technology for Cleaner Water."
Roshan Sapkota, a M.S. biomedical engineering student, took home third place and $150 for his presentation titled, "Road Map for Medical Product Development Success."
The USD Three Minute Thesis (3MT) competition celebrates research being done by students at USD. The Graduate School hosts the annual 3MT competition and provides graduate students with an opportunity to communicate the significance and impact of their research project to a non-specialized audience in just three minutes with only one PowerPoint slide. The Three Minute Thesis (3MT) is an academic research communication competition developed by the University of Queensland (UQ) Australia.