Meet Jay Wilson, New USD Foundation President & CEO
Jay Wilson shares what drew him to USD and what he's excited about as he joins the Coyote Community.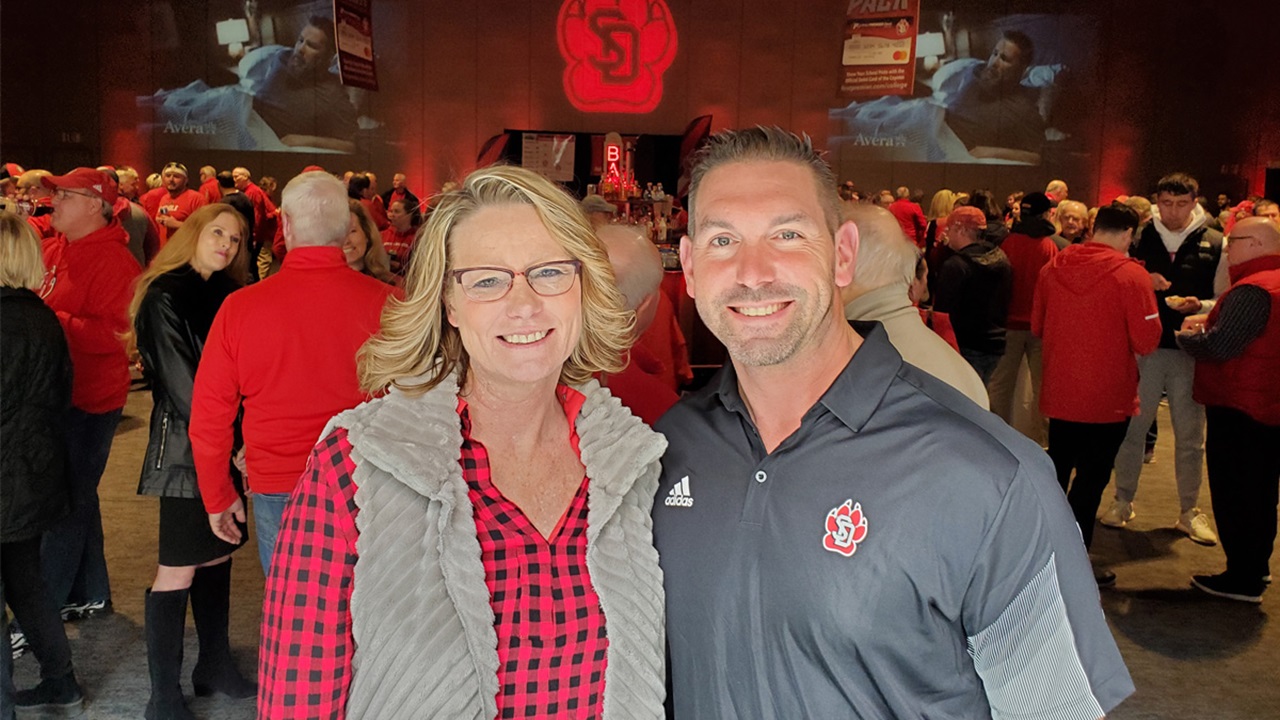 If there's one thing visitors take away after visiting Vermillion and the University of South Dakota campus, it's the sense of community. The Coyote community is known for its passion, support and kindness, so it's not surprising that those were contributing factors for Jay Wilson when he decided to apply for and, after a national search and interview process, accept the position of USD Foundation president and CEO.

Wilson, a Sedalia, Missouri, native graduated with a bachelor's degree in political science and a minor in speech communications from the University of Central Missouri (UCM). He earned his master's degree in public affairs from Park University in Parkville, Missouri. He joins USD after a decade of leadership at the University of Missouri – Kansas City Foundation (UMKCF).
Q: How long have you worked in philanthropy? What drew you to this line of work?
I've been in this field now for the last 17 years. I started out in a small non-profit in Kansas City in 2005 after getting back from the Navy. In some ways, I stumbled into the fundraising field, but in many ways the work I did in college was where I really got a feeling for this industry. I worked on a number of political campaigns as an undergrad student, and then also spent two years working for the late Missouri State Senator, Jim Mathewson, from my hometown. Jim is a legend in Missouri, and if you spend much time around politics, then you know there's a lot of time dedicated to interaction with constituents and donors, as you are always raising money for something or someone.

I also had a wonderful opportunity my last two years in college to serve as the student governor for the UCM Board of Governors. During that time, I also met Dr. Paul Page, who had been hired by UCM to be the vice president of development. I can still remember talking with him at a football game and asking him what he did. When he explained it, I just thought to myself, "That's a really cool gig!" If you would have told me that, 20 years later, I'd have a chance to be like Paul, I don't know if I would have believed you.

Q: What interested you about USD/the USD Foundation?
There were a number of things that immediately came up when this opportunity was shared. I have quite a few friends who are from South Dakota, and some who had gone to USD. The campus is awesome, and I love the way the community embraces USD, as well as the way that the students and alumni maintain the passion for being a Yote. Vermillion isn't that far from Kansas City and so there are a lot of people from this area that end up in South Dakota, and vice versa. I say this all the time, but I love the Midwest. I'm a Midwest guy through and through. So, for me, South Dakota, the people and the places feel like home.

Q: What is the role of the USD Foundation, and how does philanthropy impact students, faculty and the success of the university?
You hear USD and then you also hear the USD Foundation, and some folks say, "What's that?" I like to keep things simple, so when someone asks, I'll just say this: "The USD Foundation is the fundraising arm of the university. We raise money to help build new buildings, fund student and faculty initiatives, create scholarships and keep the university moving forward."

Q: What sort of trends are you seeing in higher education philanthropy? What are the biggest opportunities for the USD Foundation?
There were emerging trends before the entire world got flipped upside down in 2020, but if anything, donors – both individual and corporate – are becoming much more direct and intentional with where they want their dollars spent and directed. This is something that we need to be extremely mindful of because these are people who want to make an impact that will directly benefit the success of not only USD, but also the outcomes of the students who choose to pursue their higher education at USD.

I think the foundation has the opportunity in the next few years to help guide USD in launching its next capital campaign and increasing the exposure of the university throughout the state of South Dakota, and to the entire Midwest region. We know there a lot of USD alumni living in the state and we want to work as hard as we can to earn their support. At the same time, we also know there are thousands of alumni who live outside of the state – it's just as critical and important that we reach that audience as well and continue to build for the future.

Q: What are you most excited about in your new role?
First and foremost, I am honored to have this amazing opportunity to come and be a part of Yote Nation. I'm excited to have the chance to work with President Gestring and the USD leadership team, as well as the awesome folks we have at the USD Foundation.

Q: Coming from a large metropolitan area, what are you most looking forward to as you join the USD/Vermillion community?
I'm looking forward to getting to know people and building relationships in the Vermillion community. For me, Vermillion is a lot like the town where I grew up, so while I have lived in the greater Kansas City area, I'm still a small-town guy at heart. I'm excited for the change of pace, but at the same time, in this line of work, there's a LOT of work to do regardless of where you are.

Q: What do you do for fun outside of work? What are your outside interests?
I enjoy spending time with my family. Natalie and I have four kids. When we are all together, it's a total circus with two 11-year-olds and two 8-year-olds, but it's fun. I enjoy traveling and seeing new places, working out, reading and of course, sports. It's a rare day that I'm not watching a game of some sort. I love baseball, but I adore Saturdays in the fall during football season!

Q: What is something the Coyote community should know about you?
I don't take myself too seriously. I love to laugh and have a good time, and I enjoy being around good people. I think I'm approachable, so don't be a stranger. I look forward to meeting as many people as possible and making a lot of new friends here.