President's Senior Leadership Institute Puts Students on the Fast Track to Success
The President's Senior Leadership Institute (PSLI), a program promoted by the University of South Dakota's Opportunity Center, supports students in reaching their full potential while at USD and after graduation.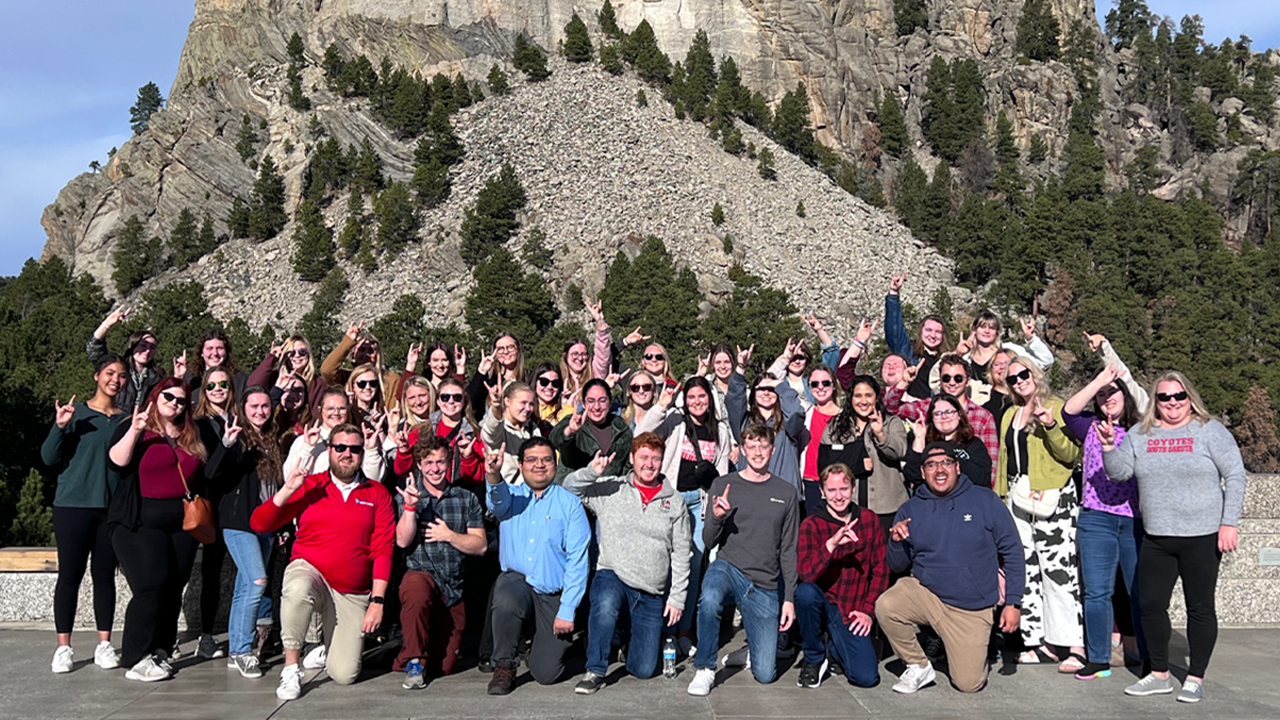 PSLI is a yearlong leadership development program designed to help prepare senior-level students for leadership roles after graduating from USD. Through pre-professional preparation activities, the students develop essential skills and academic knowledge necessary to be young professionals and leaders in the state of South Dakota and beyond.
"Students that complete the PSLI program gain a better understanding of what it means to be a leader," said Jordan Bonstrom, director of the Opportunity Center. "No matter what field they choose to pursue after graduation, we hope that students come out of this program feeling confident and inspired to utilize the skills they were taught at USD to go on and make a difference."
Current PSLI student Cameron Klug, a senior majoring in medical biology, said that the institute has furthered his professional development
"I have learned more about my values and strengths, which will better me as a medical professional," Klug added. "I have also networked with many USD alumni, faculty and staff, which is crucial for personal and societal success."
Participating students focus on the areas of group dynamics, personal strengths, personal values, financial literacy, responsible citizenship and professional etiquette.
"Through PSLI, I gained a number of techniques necessary to connect what I gained through my liberal arts education to the workplace of today," said Carson Sehr '22.
Travel opportunities through the institute help students build a greater understanding of the economic, political and geographic impacts of the state of South Dakota.
"Through the generous support of the USD Women in Philanthropy group, our students have the chance to participate in a statewide tour and join other university leaders at USD Day at the Capitol," said USD President Sheila K. Gestring. "This provides an opportunity for our students to gain a greater appreciation for the cultural and social dynamics that make South Dakota unique and places them on the fast track to success as they prepare to join the workforce or wherever life takes them next."
Near the end of October 2022, PSLI students traveled across South Dakota to expand their knowledge of the state. The trip included a community identity tour of the Rosebud Reservation lead by Damon LeaderCharge, USD's director of tribal outreach, a breakfast discussion with alumni in Rapid City and a visit to the Black Hills and Mount Rushmore.
"I had fun on the PSLI trip across the state and gained an immense amount of knowledge about the state I now call home," Klug said. "Sometimes I forget, spending most of my time in Vermillion, the abundance of culture across the state. I learned so much in the short time we traveled."