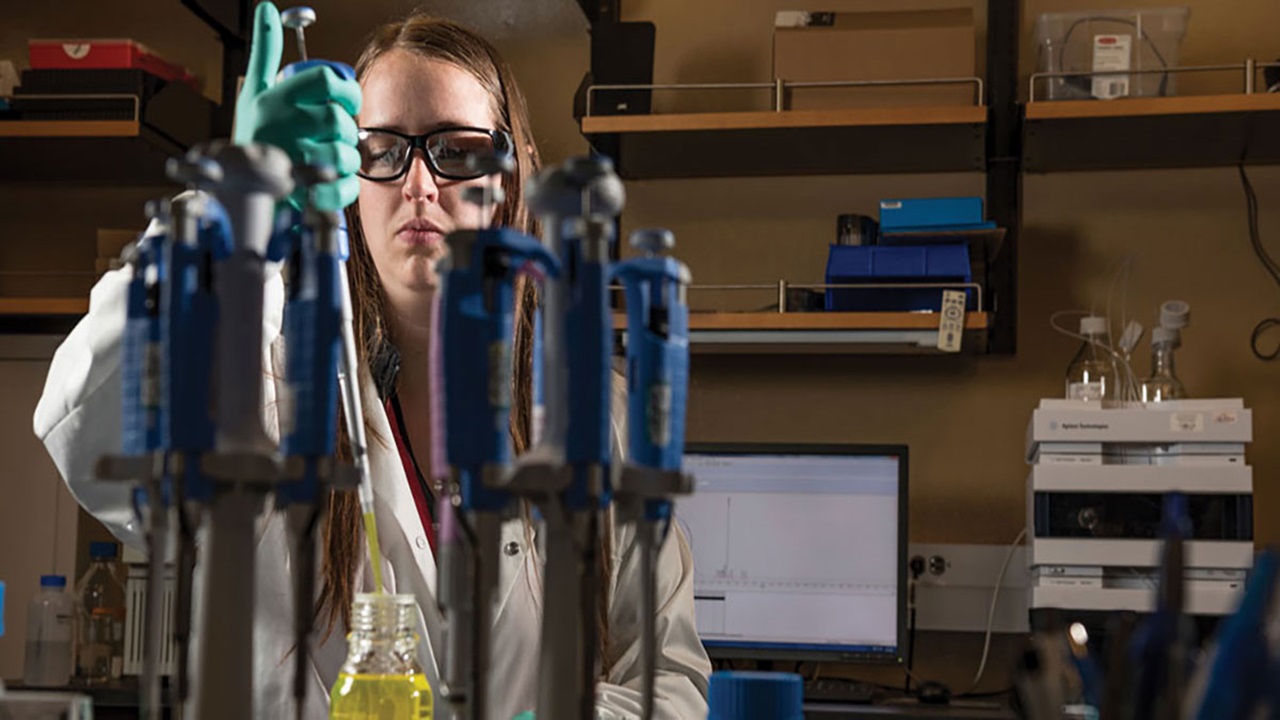 "Don't be a science project."

This is the advice the leaders of Alumend focus on every day. Alumend is the homegrown bioscience company that is making a name for itself as an anchor tenant of the USD Discovery District.

It's a lighthearted directive from the organization's board of directors that produces life-changing results by pushing its scientists to develop research into creative solutions for underserved clinical markets.
"It's science, yes—but it's applicable science," says Ryan Hansen, Alumend president and CEO and executive director at Avera Research Institute. Alumend is an applied research and development company operating out of the USD GEAR Center in Sioux Falls. By 2020, Alumend will be a long-term tenant in the USD Discovery District, an 80-acre corporate and academic research park under development in northwest Sioux Falls.

The idea of applied science is one that is embraced by Ron Utecht, Ph.D., Alumend's chief scientific officer and inventor of Alumend's two signature technologies. Despite more than two decades teaching in the classroom as a chemistry professor, Utecht has always felt the entrepreneurial itch—the desire to bring his scientific discoveries to life and directly impact somebody's quality of life.

"Unless you can apply the technology and make life better for someone, there's little excitement for me," Utecht said.
Core Technologies
Alumend's two patented technologies—light-activated naphthalimide chemistry and chitosan bioadhesive—are novel inventions that offer more natural methods of repairing and strengthening tissue.

The company's naphthalimide technology is currently being developed by Alucent Biomedical, a subsidiary of Alumend. It is marketed as Natural Vascular Scaffolding™ (NVS) therapy, a first-of-its-kind combination drug-device therapy designed to assist the body in naturally opening and maintaining arteries in people who suffer from peripheral artery disease (PAD). The treatment is in phase one of FDA human clinical trials.

Patients commonly rely on treatments like balloon angioplasties or stenting, which hold open arteries for improved blood flow. However, theseUSD Discovery District treatments have a 50 percent failure rate after two years. NVS can be performed in conjunction with balloon angioplasty to build a structure to keep the vessel open. This may replace the need for a stent and potentially reduce treatment complications, as well as unnecessary healthcare costs.

In addition to developing its NVS therapy through Alucent, Alumend is also in the research phase for chitosan bioadhesive, a natural, multipurpose biomaterial derived from the exoskeletons of shellfish.

This technology has already proven safe and effective in preclinical studies for ophthalmic applications, Utecht said, including the sealing of LASIK flaps and delivery of drugs to the eye. In the future, this technology may also be used for orthopedic and general surgery and as a tool for wound healing.

Both NVS and chitosan-based bioadhesive are considered "platform technologies" that Alumend hopes could prove invaluable in a variety of medical fields—for example, as a more effective therapeutic cancer treatment, where chemotherapy is delivered locally to a tumor instead of through an IV or orally.

"We can take the same technology and deliver drugs that can be programmatically released," Hansen said. "We think we can find an application in nearly every area of medicine."
A Partnership of Education and Industry
As Alumend's leaders continue to push the limits of discovery with its core technologies in its current lab space at the USD GEAR Center, they look forward to the benefits that will come as a tenant of the USD Discovery District, alongside other biotech companies such as SAB Biotherapeutics.

"It's building a foundation that will allow future growth," Hansen said. "Our partnership with the USD Discovery District really puts us at an advantage to launch, grow and further our technology and the success of our company by creating this environment. It's the beginning of something that's going to be much larger and much grander that's going to lead South Dakota into the future of the biotech industry."

Access to state-of-the-art lab space that has been custom-built for their need is crucial to the company's growth, Hansen said. But the benefits don't stop at innovative facilities. A shared space means shared research, a place where scientists not only collaborate, but learn from each other. Utecht said the USD Discovery District provides additional equipment and expertise to create innovation that is "rare anyplace else."

Hansen points to a number of incubators in the biotech field, and says the partnership between higher education and private industry is a model that has proven to be effective across the nation. It's also a critical component of the USD Discovery District, he says, as developing students in South Dakota is key to creating a workforce that can position the state as a leader in biotechnology.

"This is the start of a very prominent economic driver for the state of South Dakota," Hansen said.
"This is the right size situation, both the size of the university and the size of the state," Utecht said. "People have interest in our technology. We'd get lost in the noise in a larger institution."

USD President Sheila Gestring said the direct economic impact of the USD Discovery District will be significant for the state. The research park is projected to include 26 privately developed buildings with facility construction value exceeding $314 million, and will employ nearly 2,800 people. The research park is slated to be complete in 25 years. "USD is poised to be on the forefront of the next big discoveries, industries and businesses in South Dakota because of our commitment to innovation and entrepreneurship," Gestring said. "Our faculty and students are changing the future of health care through their cutting-edge research in engineering, science and technology."

Having students in USD's biomedical engineering program right next door at University Center-Sioux Falls is another meaningful ingredient in the partnership between education and industry. Nationally, Utecht and Hansen have witnessed a trend of students who are being trained to go into graduate programs, not into industry. That often results in students who may not understand industry regulations or the business side of research.

Dan Engebretson, chair of USD's biomedical engineering program in Sioux Falls, said he's already witnessed how the physical proximity of students to the USD Discovery District's tenants has been invaluable in connecting today's researchers with tomorrow's workforce.
"Our students have a much higher awareness of how research gets translated into industry," Engebretson said. "By working right next door to these companies, students and researchers bump into one another, have coffee. It allows students to see how research gets translated into practice on a daily basis."

"USD is really enabling the med-tech economy to start and grow," he added. "We're providing the ideas, the workforce, the space— it's all here."

Sam Young ('15 B.S, '16 M.S., anticipated M.B.A. '19), a chemistry associate at Alumend, can attest to the value of this partnership. Young is gaining experience in a variety of roles with the company because of his education and involvement in research at USD—from experiments in the laboratory to business development and analytics.

Young said his education in business and biomedical engineering gives him a unique and marketable skillset that will be valuable in helping bridgeUSD Discovery District the disconnect that can occur between business and R&D departments of innovative R&D companies. He hopes other students recognize the phenomenal opportunity the USD Discovery District offers in gaining industry experience ahead of graduation.

"While students are often familiar with scientific research heading into their first job, they may not be aware of the stark differences between academic research and industry research," Young said. " Oftentimes, academic research is grant funded and justified by making meaningful contributions to the knowledge base of the relevant field of science. Industry R&D must be justified by a return on the investment. While the return on investment is usually more complex than simply a financial margin, the financial return usually plays a large role in the R&D decision process."

Hansen believes Alumend's partnership with the USD Discovery District is the key to producing graduates who emerge better prepared – and able to meet South Dakota's biotech workforce demands—because of their hands-on experience in the industry.

"Nobody can deny the amount of talent produced in South Dakota, even as a small state," he said. "This is just the beginning. It's inspiring. South Dakota can be successful in biotech. To bring it all together in that private-public practice is what's going to define us and make us special."