USD Leads the Nation with Four Truman Scholarship Finalists
The University of South Dakota has proven itself to be a strong competitor in producing national scholarship recipients. The state's flagship university recently had four students selected as finalists for the highly competitive Harry S. Truman Scholarship – a distinction that only two other universities in the entire nation can claim.
USD is also the only university in South Dakota to have any Truman Scholarship finalists.
"To have four students selected as Truman Scholarship finalists is a testament to the type of students you will find at USD. They are leaders on campus today, preparing to be the leaders of tomorrow," said USD President Sheila K. Gestring. "They are dedicated to serving their communities – from their hometown to their home away from home in Vermillion and across the nation. I am so proud of these students for being named finalists for the Truman Scholarship."
The four students – Caleb Swanson, Caleb Weiland, Nicholas Kennedy and Carter Linke – were selected as finalists for the Truman Scholarship for their leadership qualities and dedication to public service. The Truman Scholarship is a merit-based award offered to students who wish to go to graduate school in preparation for a career in government, the non-profit sector or elsewhere in public service.
Swanson, Weiland, Kennedy and Linke are among only 199 students from over 700 applicants chosen as finalists.
"It's pretty rare for a school to have all of its Truman Scholarship applicants named as finalists," said Melissa Berninger, coordinator of Nationally Competitive Scholarships at USD. "Not only is this a recognition of the amazing work these students have done in their three years at USD, but also of the opportunities USD provides for students in setting them up for success."
Learn more about USD's finalists.
Caleb Swanson
"I am honored and humbled that the Truman Scholarship Finalists Selection Committee found that I possess the qualities of leadership, service and academic excellence worthy of a Truman Scholar," Swanson said. "I would like to thank all of the USD faculty and my peers who have helped me with the Truman application so far. Their help has been invaluable, and I couldn't have become a finalist without them."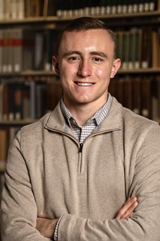 A junior double majoring in sustainability and political science, Swanson is involved in several organizations at USD that have helped prepare him for this opportunity. He is an Honors student, an athlete on the men's swim team and the president of USD's environmental club. He is also involved with the Student Government Association.
"I am grateful for the support and opportunities for engagement that have been given to me during my time at USD," Swanson said. "I believe getting involved with other passionate students and faculty members in efforts to make USD a better community for all best allowed me to adopt and practice the core values of service and leadership the Truman Scholarship looks for."
After completing his undergraduate education, the Mitchell, South Dakota, native hopes to take a few gap years to work on environmental protection policymaking efforts in Washington before going to graduate school. He then plans to get a joint degree with an M.S. in environment and resources and a J.D. with a focus on environmental law.
His long-term goal is to become an environmental attorney for the Department of Justice enforcing the nation's environmental legislation.
"Being selected as a Truman Scholar would help finance my graduate education while also opening the door to countless other opportunities and experiences, further ensuring my success and impact as a future environmental attorney," Swanson said.
Caleb Weiland
"Being selected as a finalist for the Truman Scholarship is a distinct honor," Weiland said. "Being from rural South Dakota and having the ability to share my story and vision in public service is an exciting opportunity. Being a finalist for the Truman Scholarship proves that there is an untapped potential in rural America.
"I am excited to represent the Coyote Community and the state of South Dakota in St. Paul [Minnesota] for final Truman interviews," he continued.
Hailing from Beresford, South Dakota, Weiland is a junior studying political science and communication studies. He currently serves as the Student Government Association president, president of the South Dakota Student Federation and director of recruitment for the Pi Kappa Alpha Federation.
"Consistently, USD has propelled my interest in public service and leadership," Weiland said. "Serving as student body president and having the ability to advocate for policy changes that address student concerns has solidified my drive to be a public servant.
"From implementing the SafeRides program to advocating for a multi-million-dollar investment in youth mental health services at the South Dakota State Legislature, I have used my classroom knowledge to enhance my educational opportunities outside of the classroom."
When he finishes his undergraduate degree, Weiland plans on pursuing a joint master's degree in public policy and a J.D.
"The Truman Scholarship can be a catalyst to achieve my education dreams, and regardless of the outcome, I have grown as a person and a leader throughout this process," Weiland said.
Nicholas Kennedy
"To be selected as a finalist for the Truman Scholarship puts my academic and extracurriculars in perspective," Kennedy said. "It is definitely a major milestone in my academic career, and I'm honored that I was selected as a finalist."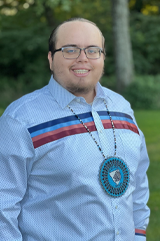 Coming from Lawrence, Kansas, Kennedy is a junior double majoring in Native American studies and history. While on campus, Kennedy has been involved in Tiospaye Student Council and started the Sungmanitu Oyate H'oka, a Native American drum group. He has also been involved at the Native American Cultural Center (NACC) and was a member of the Wiyuskinyan Unpi Tipi, a living learning community on campus.
"My time at USD has prepared me well for this opportunity," Kennedy said. "Being involved at the Native American Cultural Center as well as the USD Honors program has really enriched my experience."
After completing his undergraduate degree, Kennedy plans to earn a J.D. with a certificate in American Indian Law.
"The Truman Scholarship would be a great opportunity to network in the federal government, and I would be able to research and work on different issues affecting tribal communities," Kennedy said. "If I am awarded a Truman scholarship, I would be part of, and have access to, a large network of distinguished leaders in public service. In addition, law school is quite expensive, so if I am awarded the Truman, it would really assist me in going to work in the public service sector."
Carter Linke
"I was humbled to be selected as a Truman Scholarship finalist," Linke said. "The Truman Foundation is looking for students who can be real change agents, and I'm grateful they see that in me. As a student at USD and a resident in Vermillion, I've learned to love public service and advocacy. Their recognition reinforces that my love for public service is the right next step in my life after I graduate."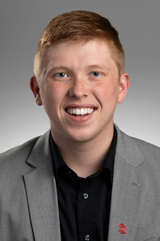 Linke is originally from Woonsocket, South Dakota, and is a junior double majoring in political science and media & journalism. On campus, he is the student success manager and founder for the First-Generation Student Organization, director of recruitment of Pi Kappa Alpha, a presenter for Study Away 1010 and a student in the Honors program.
"During my first weeks at USD, I immediately was introduced to leadership opportunities on campus and in the community," Linke said. "I was given great mentors, and their mentorship followed me in everything I did and encouraged me to get involved in everything I could.
"The university has the state's best mentors, and I can't name them all. As a first-generation student, it has been invaluable to have such a great team pushing me to be the best version of myself at all times," he continued.
Upon graduation, Linke intends to pursue a master's degree in strategic communication and enter a career in digital advocacy. He hopes to work with advocacy groups within the state to help shape political behaviors and attitudes in Pierre.
"I can't thank enough people for their support as a student at USD. As I applied for this scholarship, I was reminded of the support Vermillion has to offer," Linke said. "Melissa Berninger helped each of USD's finalists and scholars get to where they are today. Her mentorship was priceless, and her constant reassurance and encouragement is just one of many examples of how USD supports their students."
Each finalist will go through an in-person interview process in their home states later this month.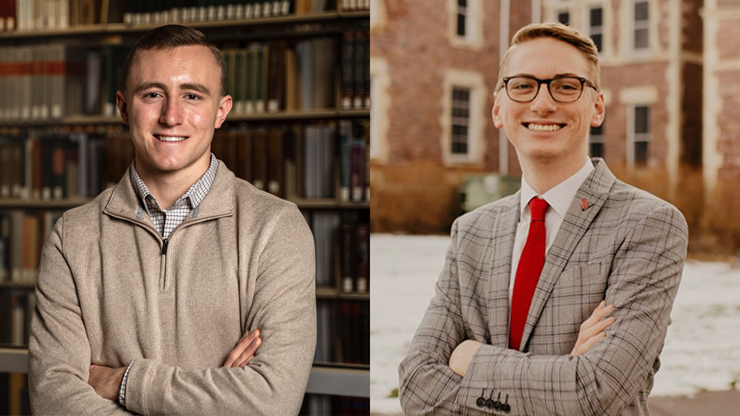 The University of South Dakota is proud to announce that two undergraduate students – Caleb Swanson and Caleb Weiland – have each been awarded $30,000 Truman Scholarships.