USD Names Timothy O'Keefe as New Beacom School of Business Dean
The University of South Dakota has announced Timothy O'Keefe, Ph.D., as the new dean of the Beacom School of Business. He will begin June 22.
"We are excited to welcome Dr. O'Keefe to the Beacom School of Business," said USD President Sheila K. Gestring. "His experience and leadership will be invaluable as we continue to provide our students with a world-class business education. With Dr. O'Keefe at the helm, the Beacom School of Business is poised for continued success and growth."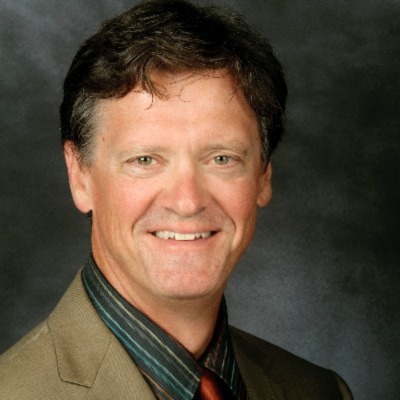 "I am thrilled to be joining the University of South Dakota and to be serving as dean of the Beacom School of Business," O'Keefe said. "USD has a long, rich history and proud tradition, but more importantly it has an exciting and bright future. It's humbling to have the opportunity to be part of USD's future, to eventually be part of its history and tradition. The Beacom School of Business is the class of institution I have dreamt of leading for years—AACSB-accredited at a flagship institution, with a national reputation for excellence. The faculty and staff are driven, dedicated and focused on student success. Bonnie and I are delighted to make Vermillion our home and to become active members of the community."
O'Keefe is a seasoned leader with over 40 years of experience in higher education. During that time, he spent 20 years in higher education administration, dedicating himself to improving student access, retention, and learning.
O'Keefe served as dean of the College of Business and Economics at Longwood University in Farmville, Virginia, from 2017-2022. While there, O'Keefe initiated and led efforts to increase enrollment in the Master of Business Administration (MBA) program, which resulted in over 3,000% growth—from a low of 19 students to over 600 in two years.
Prior to joining Longwood University, O'Keefe held academic and administrative positions at the University of North Dakota (UND) from 1999-2017, including professor of information systems and entrepreneurship, executive director and chair of the School of Entrepreneurship, chair of information systems and business communication, and MBA program director.
During his tenure as MBA director at UND, enrollment increased by approximately 40% and graduation rates grew from approximately 70% to over 90%.
O'Keefe led both Longwood University and UND through accreditation processes with the Association to Advance Collegiate Schools of Business (AACSB), the highest standard of achievement for business schools worldwide. The USD Beacom School of Business has an AACSB International Accreditation distinction.
O'Keefe also has experience as an entrepreneur, co-founding and leading ComMark, Inc. – an Internet consulting company based in North Dakota – between 1995-2013.
A first-generation student, O'Keefe was raised in Crystal, North Dakota. He earned his Ph.D. in Computer Information Systems and Quantitative Analysis in 1996 from the University of Arkansas College of Business, where he was also an AACSB National Doctoral Fellow. He earned his MBA from Moorhead State University in 1985 and his Bachelor of Arts in business administration from Mayville State University in 1981.
O'Keefe was one of four finalists who interviewed on campus in April. The national search was led by a committee chaired by Bruce Kelley, Ph.D., dean of the USD College of Fine Arts.
The University of South Dakota has identified four finalists in its national search for the next dean of the USD Beacom School of Business.