USD to Host Native STEM Portraits Photo Exhibition Through Dec. 1
Now through Dec. 1, the University of South Dakota is hosting the "Native STEM Portraits Photo Exhibition" in the Muenster University Center. The photo exhibition explores the experiences of Native undergraduate students, graduate students, and faculty and professionals in science, technology, engineering and mathematics (STEM).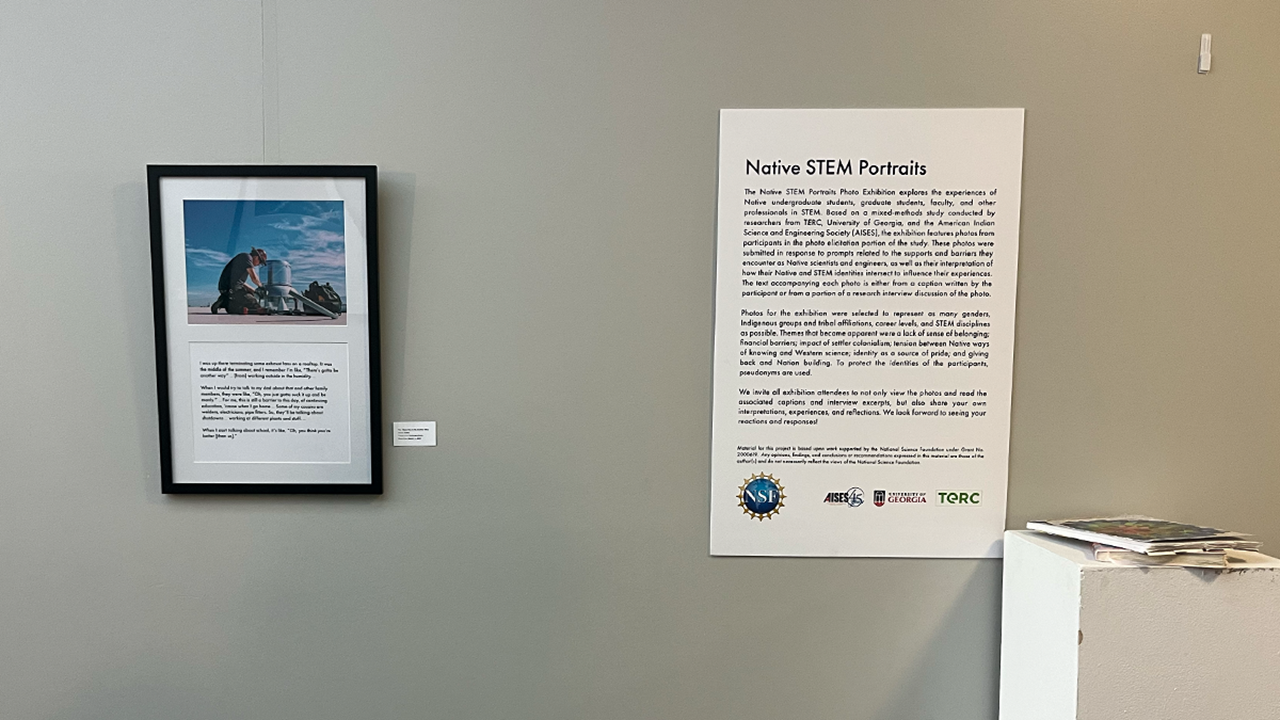 USD's University Art Galleries, the Department of Sustainability & Environment, Native Student Services, the Institute of American Indian Studies, the Native American Studies program, USD's American Indian Science and Engineering Society (AISES) chapter, USD's Society for the Advancement of Chicanos/Hispanics & Native Americans in Sciences (SACNAS) chapter, and the National Science Foundation-funded Grounding Science project worked together to bring this exhibition to USD.
"I hope that this exhibit will provide affirmation to Native American students and provide greater perspectives on how we can create more space for Native American people in the sciences at USD," said Meghann Jarchow, Ph.D., chair of the Department of Sustainability & Environment and principal investigator of Grounding Science.
"The University Art Galleries recognizes the importance of cross-disciplinary collaborations, honoring Indigenous identities and providing meaningful exhibitions across our campus spaces," said Amy Fill, director of the University Art Galleries.
The exhibition will feature 16 photos from participants based on a study conducted by researchers from TERC, AISES and the University of Georgia.
The photos were submitted to the study in response to questions related to the support systems and barriers the participants encounter as Native scientists as well as their interpretation of how their Native and STEM identities intersect to influence their experiences. Captions or quotes from participants are included with each photo to illustrate what the participants were thinking about or feeling as they created the imaged.
"The combination of photos and quotes powerfully demonstrates the strength and resilience of Native scientists that is often ignored in STEM spaces," said Maria Ong, Ph.D., principal investigator from TERC. "We cannot wait for others to see these beautiful photos that we are sure will resonate with their own experiences."
About the Project
The Native STEM Portraits project is a longitudinal study that seeks to investigate the experiences and stories of Native STEM students, faculty and other professionals in order to identify and make visible how they encounter, navigate, respond to, and are changed by the cultures, systems, and processes that either support or hinder the persistence of Native individuals in STEM higher education. The project particularly focuses on the fields of computer sciences and engineering; biological sciences; and mathematics, physics, and earth sciences. It is funded by the National Science Foundation under the HRD-ECR Core program under award number 2000619.