Welcome to the Coyote community.
Here you will find resources, ways to get involved, university traditions and more. This is just the beginning. You will soon encounter the curiosity and passion of our students, the vibrancy of our community and the unwavering sense of Coyote pride that shines through everything we do.
You are a part of something big at USD. We are so glad you are here with us.
Big Things Are Happening at the
University of South Dakota
Learn more about what makes USD special.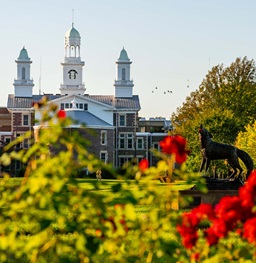 Employment and Careers at USD
Each of our employees plays an important part in USD's success and has the opportunity to change the lives of students. USD provides opportunities and facilities associated with large institutions while maintaining a close-knit feel. We're glad you want to be a part of our university community.
USD is an equal opportunity employer. We use an online employment system for South Dakota Board of Regents institutions. Use this system to search for openings at USD, complete an application and attach application materials.
View Job Openings at USD