Proposals & Awards
Review the processes and resources associated with proposals and awards.
Proposals & Awards
Proposals which may result in an award to the university must be submitted through the Office of Research and Sponsored Programs. Proposals that will result in an award directly to an individual faculty member need not be submitted through USD, but faculty should be aware of any potential conflict of interest with respect to their employment by the SD Board of Regents. Grant specialists will assist PIs in prospecting for funding opportunities, providing templates and assistance in budget development, and spot checking for RFP compliance.
Our office will also assist with external review of proposals that have significant university-wide or programmatic impact if requests are made sufficiently early. Sponsored programs will work with the PI to ensure compliance with university and BOR policies, determine the interested parties through whom the proposal must be routed for approval, and initiate and monitor progress through the electronic routing process. ORSP will submit the fully approved proposal to the relevant funding agency as well as coordinate acceptance of awards, review of award terms and conditions, submission of required award amendments, and preparation of subaward documents. Required award amendments and documents for subawards will be jointly prepared by the PI and ORSP.
Resources & Information
Find additional details below, and reach out to us at orsp@usd.edu with any questions.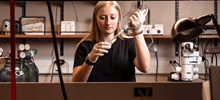 The Office of Research and Sponsored Programs supports and expands competitive research and creative scholarship at USD. The office oversees USD's research function, assisting faculty and researchers, generating student opportunities, and establishing and administering policies governing the conduct of research and overseeing the management of research programs.