Theatre Scholarships & Auditions
Freshmen Talent Scholarships
A limited number of freshmen talent scholarships are available to incoming students who declare theatre as their major. Recipients must:
Register for two theatre classes (six credit hours total) each semester
Maintain a 2.5 overall GPA
Participate in at least one university theatre production each semester
Participate in an interview and audition or submit art/technical portfolio
Students applying for a freshman talent scholarship should complete the admissions and auditions process below.
These are awarded by faculty to sophomore, junior and senior theatre majors for technical work in university theatre. Contact the theatre department at
theatre@usd.edu
for questions about technical assistants.
All programs, policies and procedures described are subject to change. All statements in this publication concerning requirements, dollar amounts, conditions or other matters are for informational purposes only and are subject to change without notice.
Admission is based on talent, academic ability and potential for success in a theatre-related career.
Apply to USD
No notification of admittance or scholarship award can be made until you have been admitted to USD. Early application enhances opportunities for scholarships and graduate assistantships. While it is recommended that you apply by Jan. 15, we accept undergraduate applications on a rolling basis throughout the year. Graduate student applications are preferred by March 15.
Visit Campus

We recommend a campus visit to interview with faculty, tour facilities, meet students and, when possible, see a production. If you prefer to audition/interview on campus without submitting materials online via ACCEPTD, please contact:
Submit Audition
We have partnered with ACCEPTD, an online service that makes it possible for us to preview your audition and application materials. The upload fee is $25 payable to ACCEPTD.
Undergraduate Students
All applicants should include a headshot/photo and resume.
B.F.A. Acting: Two contrasting one-minute monologues

B.F.A. Design/Technology: Portfolio featuring examples of creative and/or technical work

B.F.A. Musical Theatre:


16-32 bars from two contrasting songs (one up-tempo musical theatre song and one musical theatre ballad)
One one-minute contemporary monologue

B.F.A. Theatre: Follow instructions for either Acting or Design/Technology
Graduate Students:
All applicants should include a resumé, three letters of recommendation and a statement of professional objectives

M.F.A. Design/Technology: Portfolio featuring examples of creative and/or technical work

M.F.A. Directing:


Written statement of directorial approach to a full-length play
Sample pages (scene) from a work script/promptbook
If available, video from a scene directed
Departments & Facilities
Explore the departments, facilities and centers that contribute to your education in theatre.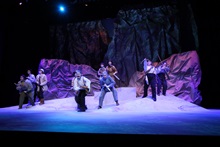 Whether you are interested in a career in acting, musical theatre, design technology or a related field, the real-world experiences and connections you find in the Department of Theatre will help you get there.