Nursing Center for Simulation and Interprofessional Development
Facility
Cultivate informed decision-making skills and foster collaboration among health care professionals in a facility that leverages advanced technology using immersive simulations.
Nursing Center for Simulation and Interprofessional Development
Lee Med, Lower Level 35
University of South Dakota
414 East Clark Street
Vermillion, SD 57069
Office Hours
Monday - Friday
8:00 a.m. - 5:00 p.m.
The Nursing Center for Simulation and Interprofessional Development offers immersive simulations with advanced technology to develop informed decision-making skills and foster collaboration among health care professionals.
Simulation
A key part of our curriculum is simulation which allow you to have hands-on learning experiences where a patient's condition changes and progresses over time. The Simulation Center mimics various health care settings such as hospitals, clinics, and labor and delivery rooms to fully immerse you in the clinical experience in a safe learning environment.
Our campuses use cutting-edge technology to create innovative and realistic patient care scenarios. This technology includes newborn human simulators that cry, hiccup, move their arms and legs and even have seizures. The children and adult human simulators can be programmed to have problems like asthma, infection, cancer, cardiac arrest or even traumatic injuries.
As a student, you will play an active role in determining how to best care for newborn, children and adult models and see first-hand how to improve or change your decisions to respond to a patient's needs.
Interprofessional Education
Recognized as a regional leader in interprofessional education (IPE), our faculty and students participate in a variety of IPE learning experiences. These real-life immersion experiences range from small group patient care simulation exercises to providing health care to people within our local communities and even international service learning and clinical immersion trips.
Our IPE activities allow you to:
Showcase your leadership and communication skills
Learn to care for people from various cultural and socioeconomic backgrounds
Learn how each health professional team member contributes to quality health care



Departments & Facilities
Explore the departments, facilities and centers that contribute to your interprofessional education.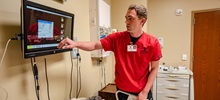 Our department offers undergraduate and graduate degrees in nursing, supporting today's health care workforce and delivery of quality patient care.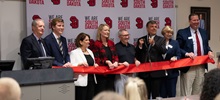 The Parry Center for Clinical Skills & Simulation is a state-of-the-art learning environment that allows collaboration among students and safely simulates real-patient experiences.