Painting
Explore a broad spectrum of media to express your ideas visually, building on your own unique strengths as an artist to find your personal creative direction.
Discover your community
Gain the knowledge and tools you'll need to become an informed, competent and creative artist by becoming a painting student at USD. Bridging both the technical and conceptual approaches to painting, our program offers you a rigorous and supportive environment that encourages creative thought and personal growth through research, experimentation and critical discussion. You'll learn to develop a thoughtfully executed and skilled body of paintings and to contextualize your work through readings, field trips and research.
Degrees & Offerings
Art: Painting (MFA)
Master's
As a graduate painting student, you will have opportunities to participate in assistantships, dedicated studio and workstations, and leadership roles within the art community at USD. You will take master-level studio courses that challenge you to dig deeper and grow creatively, with a focus on preparing you for a life as a creative leader and professional artist.
Program Details
Graduate
College
Department
Contact
Graduate Admissions
Departments & Facilities
Explore the departments, facilities and centers that contribute to your education in the only College of Fine Art in the state.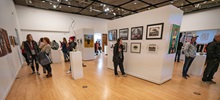 The Department of Art will provide you with unique and applicable real-world experience and connections that enable you to immerse yourself in an environment built for personal and creative discovery.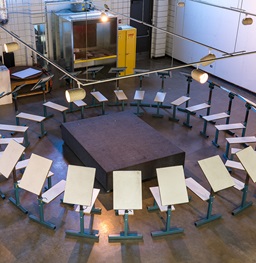 Our Facility
Here are some of the facilities and resources available to painting students:
Large, naturally lit critique spaces
Large light control system spaces for studio projects and figure painting
Free-figure model sessions
Access to video and audio editing equipment and professional-grade digital cameras and light kits
Well-ventilated spray booths
Laser cutters
Undergraduate and graduate individual studios
Woodshed facilities to create canvas and panel supports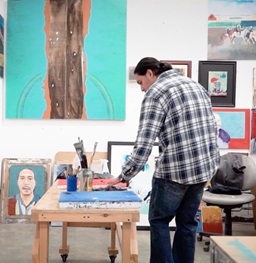 The Best Studio Spaces 
Earning your MFA is dedicating time to grow as an artist. At USD, graduate students get dedicated studio space to work. You'll find passionate, accessible faculty and a supportive community of peers for continued inspiration.
Meet Keith Braveheart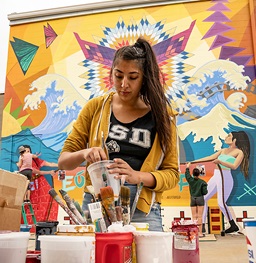 Discover Your Community
Everybody is an artist and holds the ability to create art. Find out what it means to be part of a community that comes together to tell an interesting story through art. Learn more about community-based mural making.
Listen to USD's Mural Expert
Exceptional Student Work
Students are encouraged to merge their work in painting with other art forms at USD such as community art, interactivity, installation art and more. This process is reinforced through visiting artists, peer interactions and regular exhibitions in the galleries across campus and in the community.