Sculpture
Express your ideas visually with strong conceptual development, visual and problem solving skills through strong studio practice, creative thinking, and exhibition opportunities across the region and nation.
Experiences that stick with you
From traditional sculpture processes to advanced technologies, your sculpture courses will explore cast metals, metal fabrication, woodworking, mixed media, carving, mold-making and installation projects with traditional and contemporary materials and processes. You'll have the opportunity for growth and development of individual aesthetics, concepts, technical abilities and a critical understanding of the discipline of sculpture as applied to the production of contemporary art.
Degrees & Offerings
Art: Sculpture (MFA)
Master's
As a graduate sculpture student, you will have the opportunity to participate in assistantships, dedicated studio and workstations, and leadership within the art community at USD. You will take master-level studio courses that challenge you to dig deeper and grow creatively, with a focus on preparing you for a life as a creative leader and professional artist.
Program Details
Graduate
College
Department
Contact
Graduate Admissions
Departments & Facilities
Explore the departments, facilities and centers that contribute to your education in the only College of Fine Art in the state.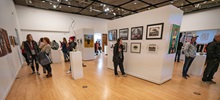 The Department of Art will provide you with unique and applicable real-world experience and connections that enable you to immerse yourself in an environment built for personal and creative discovery.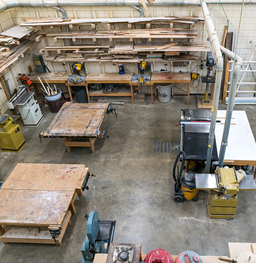 Our Facility
Here are some of the facilities and resources available to sculpture students:
7,046.67 sq. ft. sculpture studio
Fully equipped woodworking area
Saw stop safety table saw, band saws, panel saw and abrasive chop saw
Variable speed drill press
Horizontal edge sander and combination sander 10" jointer, 15" spiral-head plainer
Fully equipped metal fabrication area 220v MIG, TIG welders, 115v MIG welder, plasma cutter, a gas forge, medium-duty oxyacetylene carts, pedestal grinders, abrasive belt grinder, Hossfeld bender, hand and handheld power/pneumatic tools
Dedicated mold-making area
Large individual graduate studios
Installation indoor and outdoor exhibition spaces across campus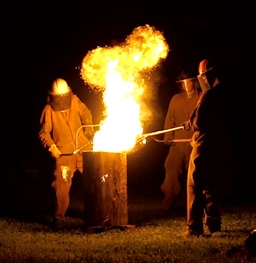 Little Pour on the Prairie
For the past eight years, the Little Pour on the Prairie has delighted a community of artists, educators, enthusiasts and spectators with breathtaking sights of an iron pour. The Little Pour on the Prairie, South Dakota's first public iron pour, has made a name for itself in the iron casting world, and since its creation, more people flock to the community-based event every year. Anyone can participate in the Little Pour, this year it had participants from nine different states from as far away as Oregon.
Check out the Little Pour on the Prairie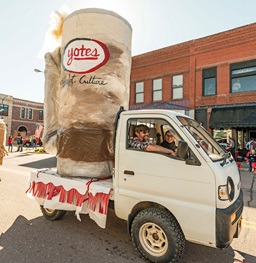 Get Involved. Sculpture Culture
As a sculpture major at USD, you can get involved and become a member of the Sculpture Culture student group on campus. Sculpture Culture provides opportunities in the local design community, creates a community of your own and builds leadership skills that will be invaluable as they move into the professional world. Members attend weekly meetings and collaborate on design projects.


Exceptional student work
You are encouraged to merge your work in sculpture with other art forms at USD, such as installation art, interactivity, environmental art and more. This process is reinforced through visiting artists, peer interactions and regular exhibitions in the galleries across campus.