State Government Leadership Excellence
Enhance the decision-making and leadership skills needed to grow in your position as a government manager in the State of South Dakota.
Grow as a Leader in South Dakota State Government
As a high-level manager in a state office, you have immense responsibility to protect the public health and the environment, maintain the rule of law, support the economy and keep the community safe. This unique program is for State of South Dakota government employees who have been nominated and selected to participate in the certificate program through the state. This graduate certificate advances your abilities to manage resources and people and lead organizational change by mastering the principles of effective leadership. This 15-credit-hour post-baccalaureate certificate combines distance learning technologies and intensive face-to-face seminars/courses to minimize time away from work. USD faculty with extensive experience in government policy, communication and state and local government teach the five courses in the certificate program.
Become a motivated and inspired leader in your state government organization with the state government leadership excellence certificate.
Degrees & Offerings
State Government Leadership Excellence
Certificate
The certificate is designed to provide interdisciplinary leadership and management skills to selected state government managers. The program focuses on a series of graduate level courses which includes a capstone experience that demonstrates the student's cumulative learning and development and reflects leadership abilities. The courses will meet a series of desired competencies for state government managers, as outlined by the South Dakota Bureau of Human Resources.
Program Details
Graduate
College
Contact
Graduate Admissions
Departments & Facilities
Our faculty are experts in their fields, bringing practical experience in government, law and the nonprofit sector to the classroom.
Communication is at the center of everything we do. Explore the role communication plays in our personal relationships, professional experiences and public leadership through the Department of Communication Studies.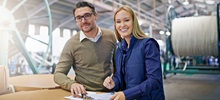 As the business world continues to grow and diversify, our students graduate with both a firm knowledge of business essentials and the experience they'll need to apply that knowledge to an exciting, ever-changing field.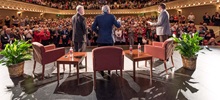 Whether you are interested in a career in government and politics, law, the criminal justice system, international relations or a related field, the real-world experiences and connections you find in the Department of Political Science will help you get there.
MEET OUR TEAM
We know navigating graduate school can be a detailed process. If you have questions, we are here to help you every step of the way. Our dedicated team will be able to address questions or concerns that you may have about the policies, assistantships, graduation and more.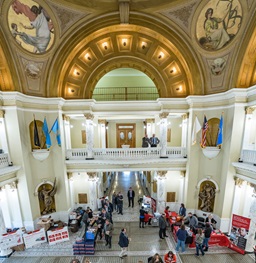 Degree Transition
Courses in the leadership series are part of the following graduate programs at USD and will count as earned credits towards earning your master's in the future.
Master of Science in Administration (M.S.)
Executive Master of Public Administration (EMPA)
Master of Arts in Interdisciplinary Studies (M.A.)
Master of Business Administration (MBA)
Master of Public Administration (MPA)
Master of Professional Accountancy (MPA)
Participants interested in those degrees should contact their State Government Leadership Excellence advisor to learn more.