Technology Development and Entrepreneurship
Stand out among your peers with the knowledge and ability to take your ideas to market.
Gain industry-relevant experience
Featuring a blend of STEM education and real-world training in business analysis and technology evaluation, the technology development and entrepreneurship graduate certificate is a value-added credential that offers tangible support for graduates facing a competitive job market. The program offers you a unique opportunity to form partnerships with industry leaders and receive a stipend in the form of an assistantship while completing your advanced degree.
The current technologies that need developed are:
Vaccine manufacturing in USD's certified Good Manufacturing Practices (cGMP) lab
Drug loaded implantable polymer medical device
3D cell culture systems
Colorectal cancer treatment
System to search and organize big data
Gene editing for plants
Think critically across disciplines, solve practical problems and network with regional inventors, business leaders and area experts who provide education beyond the classroom. The academic fields for the certificate include, but are not limited to, biomedical engineering, business, chemistry, basic biomedical sciences, biology, computer science and physics. This program is available only to current USD students pursuing a master's degree or higher.
Degrees & Offerings
Technology Development and Entrepreneurship
Certificate
Vermillion Main Campus and Sioux Falls
This 12-credit, four graduate-course certificate can be completed over two years when taking one class per semester and can be completely embedded into the master's program in public administration.
Program Details
Graduate
College
Contact
Graduate Admissions
Departments & Facilities
Explore the departments, facilities and centers that contribute to your education in technology development and entrepreneurship.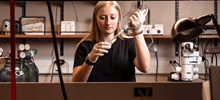 The Office of Research and Sponsored Programs supports and expands competitive research and creative scholarship at USD. The office oversees USD's research function, assisting faculty and researchers, generating student opportunities, and establishing and administering policies governing the conduct of research and overseeing the management of research programs.
Receive a stipend while completing your degree
USD. working in collaboration with Sanford Health, has established the Technology Readiness Acceleration Center (TRAC) to focus on commercializing innovations, supporting entrepreneurship and developing research for emerging markets. The program offers students an opportunity to form partnerships with regional industry, participate in technology development and receive a competitive stipend while completing their advanced degree.


Learn More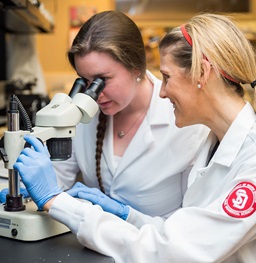 Network with Industry Leaders in the Region
Gain real-world experience by working in both the laboratory as well as the commercialization side of research to become better equipped to start your own business, launch a med/bio tech startup and develop cutting-edge research for market readiness.
Surprisingly Affordable
Whether you've recently completed your undergraduate degree, or you want to kick your career up a notch, graduate school is the next logical step. The good news is there is funding for both online and on-campus students to get you through your program.
| | GA (Resident*) | Resident | Online | Non-Resident |
| --- | --- | --- | --- | --- |
| Tuition (1 cr.) | | | | |
| GAF Fee (1 cr.) | | | | |
| Total | | | | |
More About Tuition & Fees
Tuition rates are subject to change and may vary depending on the program or department. Visit the Graduate Tuition & Costs page for more information.
* Graduate Assistant (GA) rates are available for resident, non-resident and online students.
** Resident rates may be available to you through the SD Advantage, Child of Alumni or Western Regional Graduate Program. To see if you quality, visit usd.edu/grad-tuition.