Women, Gender & Sexuality Studies Biennial Conference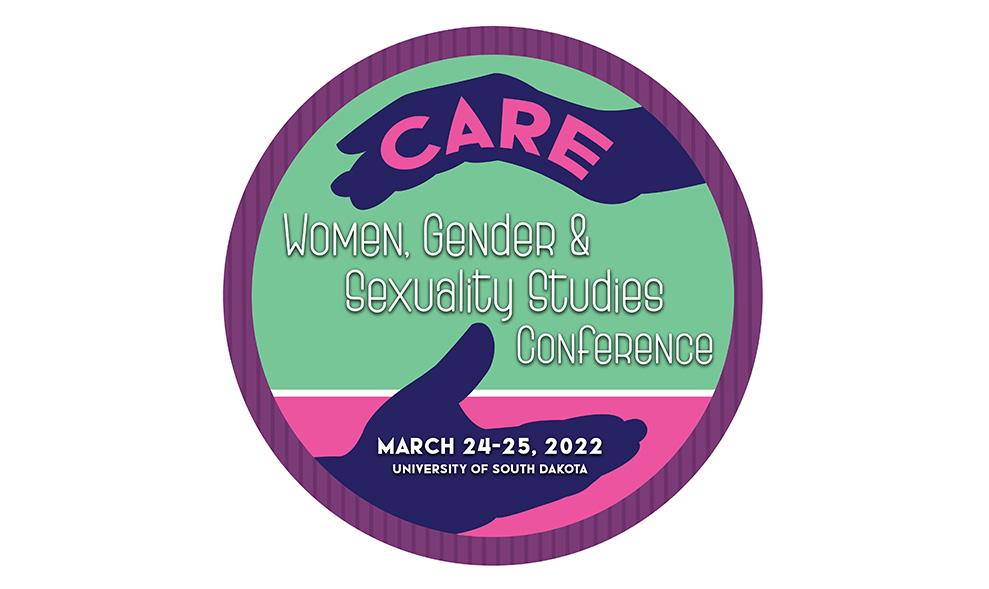 Care is a deeply gendered issue in our society. Women have historically played a central role in caregiving, notwithstanding the class, race, ethnic, geographic, religious and actual gender diversity in patterns of care. In the past year and a half, the COVID-19 pandemic has highlighted and heightened existing care obligations and created new ones. Some of these care responsibilities are obvious, while more are hidden. This year, the University of South Dakota's Women, Gender & Sexuality Studies program invites people across all disciplines to present their work on CARE for a conference and art exhibition.
The 2022 conference will feature keynote lectures by award-winning historian Jennifer Holland; Mental & Chemical Health Therapist of Tate Topa Consulting, LL, Lenny Hayes; and CV Harquail, a feminist management scholar, consultant, speaker, teacher, tool maker and author.
Registration will open February 1. To make this conference accessible to all participants, there will be no registration fee.
Modality and Covid-19 Safety: Organizers are planning an in-person conference at the University of South Dakota in Vermillion, SD with opportunities for hybrid participation. Masks will be recommended and available for all participants. Free Covid-19 rapid testing will also be available in the Muenster University Center.
2022 Conference At-A-Glance
To view a draft of the complete conference program click here.
Keynote Speakers
CV Harquail
"(How) Can a Business Practice Real, Authentic Care?: Insights from Feminist Entrepreneurship and Feminist Organizational Studies."
CV Harquail, Ph.D., is a feminist management scholar, consultant, speaker, teacher, tool maker and author. She helps entrepreneurs build transformational, justice-oriented businesses using feminist business practices. Her recent book, "Feminism: A Key Idea in Business and Society" (Routledge, 2020), is the first to analyze business from a feminist perspective and to propose a feminist business praxis. CV is the co-founder of FeministsAtWork.com (a feminist business practice consultancy) and co-founder/producer of the Entrepreneurial FeministForums.com and the Feminist Enterprise Collective. She designed the Feminist Business Model Canvas and Feminist Business Toolkit. She serves as a mentor and design team member in the Fifth Wave Feminist Business Accelerator, an initiative of the Canadian Film Centre's Media Lab. She offers workshops on all facets of feminist entrepreneurship, feminist business and feminist business praxis as well as topics in inclusive, collective feminisms. She has published her award-winning research on organizational identity and identification, systems of engagement, positive organizing, collective meaning and change advocacy in journals such as "Administrative Science Quarterly," "Academy of Management Journal, Academy of Management Review" and "Organization Studies," as well as many edited books.
---
Lenny Hayes
"The Impact of Historical and Intergenerational Trauma on the Two-Spirit Native LGBTQ Community"
Lenny Hayes is owner and operator of Tate Topa Consulting, LLC and is currently in private practice specializing in marriage family therapy. He has extensive training in mental and chemical health issues that impact the Two-Spirit/Native LGBTQ and Native community. Hayes has traveled nationally and locally training and presenting on the issues that impact both the Two-Spirit/Native LGBTQ individual and community. These issues include the impact of historical and intergenerational trauma on this population, violence of all forms, child welfare issues and the impact of sexual violence on men and boys, which is a topic that is rarely discussed. Hayes is the former Missing and Murdered Two-Spirit Project Assistant for Sovereign Bodies Institute. Lenny is also a 2020 graduate of the Human Trafficking Leadership Academy Cohort 5.
---
Jennifer Holland
"In the Name of Women: The Evolving Politics of Care in the Anti-Abortion Movement"
Jennifer L. Holland is an Associate Professor of History at the University of Oklahoma, specializing in the history of reproductive and sexual politics in the twentieth-century North American West. She got her PhD from the University of Wisconsin and her MA from Utah State University.
Prof. Holland is the author of Tiny You: A Western History of the Anti-Abortion Movement (2020), which received the W. Turrentine Jackson Prize and the David J. Weber Prize, both from the Western History Association, and the Armitage-Jameson Prize from the Coalition of Western Women's History. She is also the book review editor for the Journal of Women's History and the director of the Summer Institute for Teachers of Oklahoma History. Recently, her research has been featured in outlets such as the Washington Post, The Guardian, The Nation, and The Progressive.
---
Thank you to our generous sponsors and affiliates:
Beacom School for Business

Center for Teaching and Learning

College of Arts and Sciences

Department of English

Department of History

Department of Political Science

I CARE USD

Institute for American Indian Studies

Native American Student Services

Native American Studies Program

Philosophy Program
School of Health Sciences
SPECTRUM Gender & Sexuality Alliance
USD Art Galleries
Women, Gender & Sexuality Studies Program