Archaeology
Explore the world of the past from the perspectives of classics, ancient history and anthropology.
Why Study Archaeology?
Through the archaeology minor, you will investigate the physical remains of our history to build a better understanding of our past and present. You will delve into the evolution of human civilization and the history of our environments by learning to excavate and interpret remains left by past cultures. This program has dedicated facilities, extensive course options, and a summer field school to train future archaeologists.
Degrees & Offerings
Archaeology
Minor
A minor in archaeology will help you understand how human behavior and cultures have changed over time. You will build this understanding by taking courses in archaeology, anthropology, history, and classical humanities. You'll learn about archaeology through courses that teach about historical cultures and archaeological techniques. You can also look forward to getting your hands dirty during excavations at the archaeology field school and while assisting faculty in research.
Program Details
Undergraduate
College
Department
Contact
Admissions
Departments & Facilities
Our faculty have expertise in medical anthropology, medical sociology, epidemiology, forensic anthropology, religiosity, globalization, archaeology and more.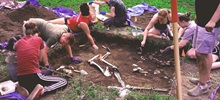 Human behavior. Biology. Culture. Societies. Social change. Explore what brings us together and what makes us unique on biological and social levels through the Department of Anthropology & Sociology.
Faculty & Staff
Get to know faculty and staff in the Department of Anthropology & Sociology. Our faculty are experts in their fields, contributing to scholarship in archaeology, radiocarbon dating, medieval epidemics, paleodemography, religiosity, globalization, sociology of education, the family, medical sociology, sociology of the law and more.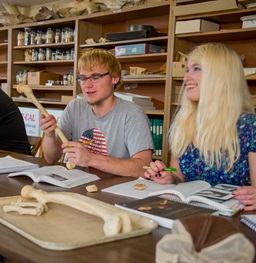 Archaeology Lab
USD is the region's leader in archaeology, as demonstrated by our dedicated Archaeology Laboratory (ARCHLAB) – a robust research facility for the anthropology program at USD. The ARCHLAB is home to laboratories, curation facilities, wet lab, specialized library, field equipment and more.