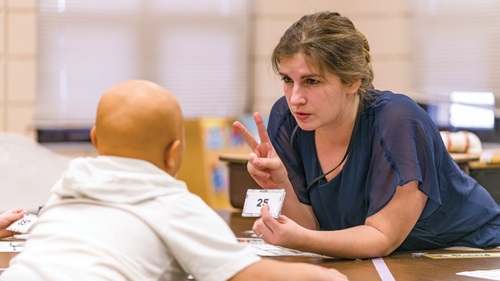 Child/Adolescent Development
Gain an understanding of changes across childhood and adolescence with a minor in child/adolescent development.
Why Study Child/Adolescent Development?
Through the child/adolescent development minor at USD, you'll gain in-depth knowledge of the developmental process in childhood and adolescence, then examine that development within the lifespan. The curriculum is based on Bronfenbrenner's Ecological Systems Theory, which looks at a child's development as a function of interactions with their environments (immediate, social, cultural and global). You'll have the opportunity to explore your own development and the development of others through engaging coursework taught by expert faculty. You'll also choose elective coursework that relates to your interests and career goals, giving you the chance to explore additional contextual factors that affect child and adolescent development. The knowledge you gain in this program will serve you well in a variety of careers, including those in education, human service organizations, pediatric nursing, juvenile justice, speech language pathology, social work and more.
Expand your understanding of the developmental process in childhood and adolescence at USD.
Degrees & Offerings
Child/Adolescent Development
Minor
Vermillion Main Campus and Online
A minor in child/adolescent development requires 18 credit hours. This comprises a required core of 12 credit hours and six hours of electives across a range of disciplines. Your options for courses include Lifespan Development, Ecology of Child and Adolescent Development, Psychology of Adolescence and more.
Program Details
Undergraduate
College
Department
Contact
Admissions
Departments & Facilities
Explore the departments, facilities and centers that contribute to your education in teacher residency & education.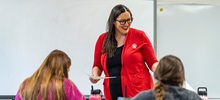 We'll train students to make a difference and impact the lives of others as mental health counselors, school psychologists, or human development and educational professionals.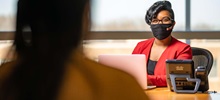 The Department of Public Health and Health Sciences emphasizes collaborative learning, equipping students with a rich understanding of the health care field and preparing them to excel in careers such as advocating for health policy, promoting health through education, managing health data analytics and leading collaborative health care teams. The department offers degrees at the associate, bachelor's, master's and doctorate levels.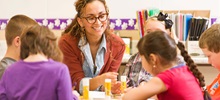 The Division of Teacher Residency & Education is focused on preparing effective, responsive teachers who can meet the needs of all students in today's schools. Through unique features such as a robust yearlong residency, an emphasis on technology and curriculum that recognizes a variety of learners, our division offers an enriching education for educators and leaders.
Faculty & Staff
Get to know your professors in the Counseling and Psychology in Education Division.

The faculty and staff of the Division of Counseling and Psychology in Education train highly competent professionals seeking to make a difference as community and mental health school counselors, school psychologists and human development and educational psychology professionals.