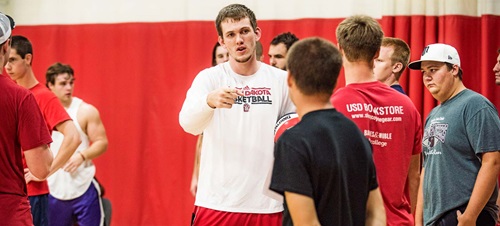 Coaching
Understand how to succeed as an effective coach and lead any team or group with a minor in coaching.
Why Study Coaching?
As a coaching minor at USD, you'll hone your leadership and sport psychology skills relative to coaching a team or group. The 18-credit hour minor will expand and refine your ability to inspire, strategize and motivate - no matter what level of athletics you're aiming to work with. This program also perfectly supplements a degree in Kinesiology and Sport Management, whether your focus is exercise science or sport management.
Become a leader who can empower athletes both individually and as part of a team as a coaching minor at USD.
Degrees & Offerings
Coaching
Minor
A minor in coaching provides hands-on experience coaching PE classes and provides a wide range of Kinesiology and Sport Management classes to round out a developed curriculum. Courses include Kinesiology, Introduction to Coaching Men and Women, Exercise Physiology and more.
Program Details
Undergraduate
College
Department
Contact
Admissions
Departments & Facilities
Explore the departments, facilities and centers that contribute to your education in kinesiology and sport management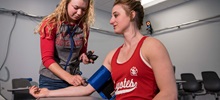 The Division of Kinesiology & Sport Management offers some of the most popular programs at USD. Home to state-of-the-art technology and nationally-recognized faculty, our division provides students with the networking connections, resources and research opportunities they need to progress in or launch careers in the business and science of movement and sport.
Faculty & Staff
Get to know your professors in the Division of Kinesiology & Sport Management. Our faculty are experts in their field, contributing research and scholarship in legal liability in sport, risk management in sport and athletics, the role of organizational behaviors in creating more inclusive sport and physical activity spaces, the relationship between gait performance and health disparities, and more.