Data Science
Answer real-world questions with data-driven solutions through USD's data science program.
Why Study Data Science?
In USD's data science certificate program, you will gain foundational knowledge of programming and hands-on experience with applied data science. Here, your education goes beyond the textbook; through real-world projects ranging from health care informatics to risk management, you'll learn how to build data-driven decision-making solutions that address our most pressing challenges.
With this certificate, you will graduate with basic training in computing and machine learning – making you more competitive in the job market as you pursue careers in academia, government or industry.
Degrees & Offerings
Data Science
Certificate
Vermillion Main Campus and Online
The data science certificate focuses on the use of data mining tools for all possible data types, regardless of their sources. Coursework covers scientific computing, applied machine learning, data visualization, ethical issues of AI-guided tools and data science projects. This program is open to computer science majors and non-computer science majors.
Program Details
Undergraduate
College
Department
Contact
Admissions
Departments & Facilities
Our department is home to programs, resources and services that benefit our students, communities and academic discipline. The USD Department of Computer Science's award-winning faculty's research and teaching areas are primarily focused on algorithms, artificial intelligence, computer vision, machine learning, pattern recognition, data science, information retrieval, Internet of Things, cyber security and big data.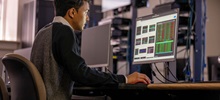 Learn to develop and manage technology that changes the world in the Department of Computer Science.
FACULTY & STAFF
Get to know the faculty and staff in the Departments of Computer Science and Marhe. Our faculty are experts in their field, contributing research and scholarship in algorithms, artificial intelligence, machine vision, machine learning, pattern recognition, data science, information retrieval, internet of things, cybersecurity and big data.