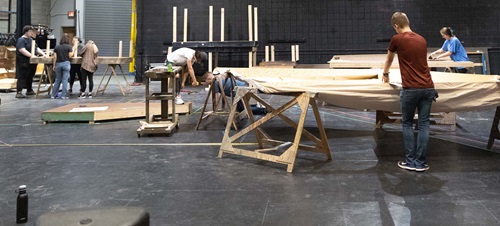 Design Theatre/Technology
Develop critical thinking and problem-solving skills while overcoming the challenges of live theatre.
Why Study Design Theatre/Technology?
As a design theatre/technology major at USD, you will analyze complex theatrical demands and create an effective plan of execution to solve the logistical needs of the script and the demands of staging the design. Here, a blend of intensive classroom instruction and practical experience will help you hone your skills while exploring the broad field of design and technology.
Our program provides you with the standards of graphic representation using traditional hand methods, as well as state-of-the-art technologies used in computer-aided drafting and computer rendering. You'll benefit from experienced mentors who will guide you as you create portfolio materials and develop job-seeking skills.
Skillfully orchestrate and execute theatrical design as a design/technology major at USD.
Degrees & Offerings
Theatre: Design Theatre/Technology (BFA)
Bachelor's
This program of study is intended for those with an interest in theatre design and technology, with emphases in costuming, scenic, lighting and sound, and technical direction. Students may be admitted into this specialization with permission of the theatre faculty after completing an interview and audition or portfolio presentation.
Program Details
Undergraduate
College
Department
Contact
Admissions
Known For Excellence
With qualities like small class sizes, specialized programs and incredible student opportunities, USD is not your typical university. What makes us unique is what makes your education exceptional.
USD has the only College of Fine Arts in the state offering master's degrees with full accreditation through NAST.
Our partnerships with the National Music Museum, University Art Galleries and Black Hills Playhouse give students unmatched experiences.
Departments & Facilities
Explore the departments, facilities and centers that contribute to your education.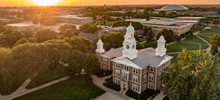 The Black Hills Playhouse, a division of the University of South Dakota College of Fine Arts, is a regional theatre located in Custer State Park.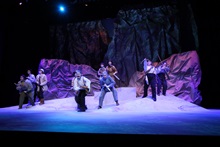 Whether you are interested in a career in acting, musical theatre, design technology or a related field, the real-world experiences and connections you find in the Department of Theatre will help you get there.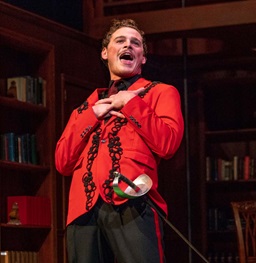 Chase Your Dream Career
Leading artists, artisans and technicians serve as guest artists for USD's Department of Theatre. From Tony Award-winning choreographers to master puppeteers to cutting-edge automation, we celebrate the amazing wealth of knowledge our fellow artists from across the country and around the world bring to Vermillion and our students.