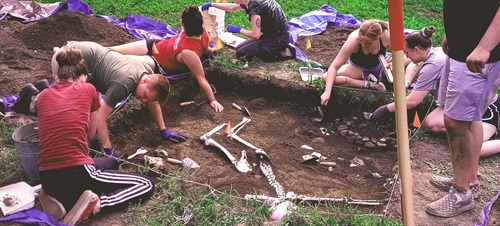 Forensic Anthropology
Take the next step toward your career in forensic investigation with a certificate in forensic anthropology.
Why Study Forensic Anthropology?
Forensic anthropology coursework equips you with knowledge in analytical methods so you can analyze a crime scene and process large amounts of relevant forensic data. Demand for expertise in forensic anthropology and forensic sciences is growing rapidly. This certificate is particularly useful for students interested in careers in medical examination, law enforcement, criminal investigation and forensic archaeology.
Enhance your knowledge in the study of human remains, skeletal analysis and techniques in bioarchaeology with a certificate in forensic anthropology. Your training will prepare you to determine various factors about the deceased, including age, sex, height, weight and health.
Degrees & Offerings
Forensic Anthropology
Certificate
Vermillion Main Campus and Online
You can earn a forensic anthropology certificate by completing courses in Biological Anthropology, Forensic Anthropology, Human and Animal Osteology and Introduction to Forensic Science. These courses will provide you with broad knowledge about the discipline and will give you practice in the scientific analysis of skeletal remains. This certificate provides credentials for students with an interest in forensic investigation, students interested in working as crime scene technicians, and students who are planning to pursue post-graduate education in legal or forensic science fields. The certificate will also prepare students for graduate work in anthropology or criminal justice.
Program Details
Undergraduate
College
Department
Contact
Admissions
Departments & Facilities
Our faculty have expertise in medical anthropology, medical sociology, epidemiology, forensic anthropology, religiosity, globalization, archaeology and more.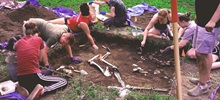 Human behavior. Biology. Culture. Societies. Social change. Explore what brings us together and what makes us unique on biological and social levels through the Department of Anthropology & Sociology.
Faculty & Staff
Get to know faculty and staff in the Department of Anthropology & Sociology. Our faculty are experts in their fields, contributing to scholarship in archaeology, radiocarbon dating, medieval epidemics, paleodemography, religiosity, globalization, sociology of education, the family, medical sociology, sociology of the law and more.