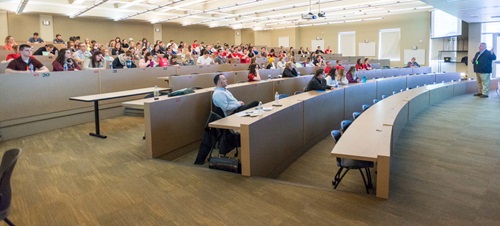 Health
Learn the dynamics of health in modern life in a rapidly changing world and the relationships between health and people.
Why Study Health?
With a health minor at USD, you'll study the dynamics of the human body as well as the relationships it has with emotional health, human sexuality, family planning, disease control and environmental health. Then, use this understanding to expand your knowledge of how health works and how the human body reacts to different environments, substances and stimuli. You'll learn how to solve problems related to human functioning and learn marketable skills for a career in kinesiology and sport management or health sciences.
Position yourself as a knowledgeable health professional with a health minor at USD.
Degrees & Offerings
Health
Minor
A minor in health offers an 18 credit-hour curriculum focused on health education and how to improve personal health in a variety of ways. Courses include Foundations of Health Education, Nutrition, Stress Management and more.
Program Details
Undergraduate
College
Department
Contact
Admissions
Departments & Facilities
Explore the departments, facilities and centers that contribute to your education in kinesiology and sport management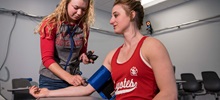 The Division of Kinesiology & Sport Management offers some of the most popular programs at USD. Home to state-of-the-art technology and nationally-recognized faculty, our division provides students with the networking connections, resources and research opportunities they need to progress in or launch careers in the business and science of movement and sport.
Faculty & Staff
Get to know your professors in the Division of Kinesiology & Sport Management. Our faculty are experts in their field, contributing research and scholarship in legal liability in sport, risk management in sport and athletics, the role of organizational behaviors in creating more inclusive sport and physical activity spaces, the relationship between gait performance and health disparities, and more.