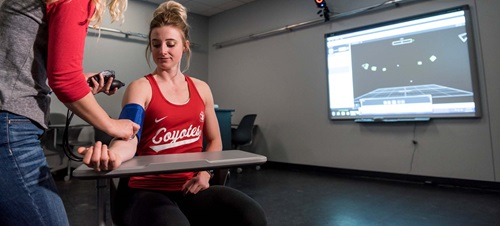 Sport Medicine
Gain specialized knowledge in the treatment and prevention of injuries related to sport and exercise through the sport medicine minor.
Why Study Sport Medicine?
Through the sport medicine minor at USD, you will learn how to help athletes and other active patients improve their movement and performance. Our program offers a unique set of courses including Exercise Physiology, Prevention & Care of Athletic Injuries and Stress Management – learning opportunities that give you the foundation you need to work toward a career in sport medicine.
Become a reliable, resourceful and caring professional as a sport medicine minor at USD.
Degrees & Offerings
Sport Medicine
Minor
Through the sport medicine program, you'll gain specialized knowledge concerning the treatment and prevention of injuries related to sports and exercise. The minor includes courses aimed at developing foundational and practical skills necessary to understand the sport and exercise industry. You'll also gain practical skills used by health professionals to treat individuals as they work toward improved movement and performance.
Program Details
Undergraduate
College
Department
Contact
Admissions
Departments & Facilities
Explore the departments, facilities and centers that contribute to your education in kinesiology and sport management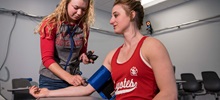 The Division of Kinesiology & Sport Management offers some of the most popular programs at USD. Home to state-of-the-art technology and nationally-recognized faculty, our division provides students with the networking connections, resources and research opportunities they need to progress in or launch careers in the business and science of movement and sport.
Faculty & Staff
Get to know your professors in the Division of Kinesiology & Sport Management. Our faculty are experts in their field, contributing research and scholarship in legal liability in sport, risk management in sport and athletics, the role of organizational behaviors in creating more inclusive sport and physical activity spaces, the relationship between gait performance and health disparities, and more.