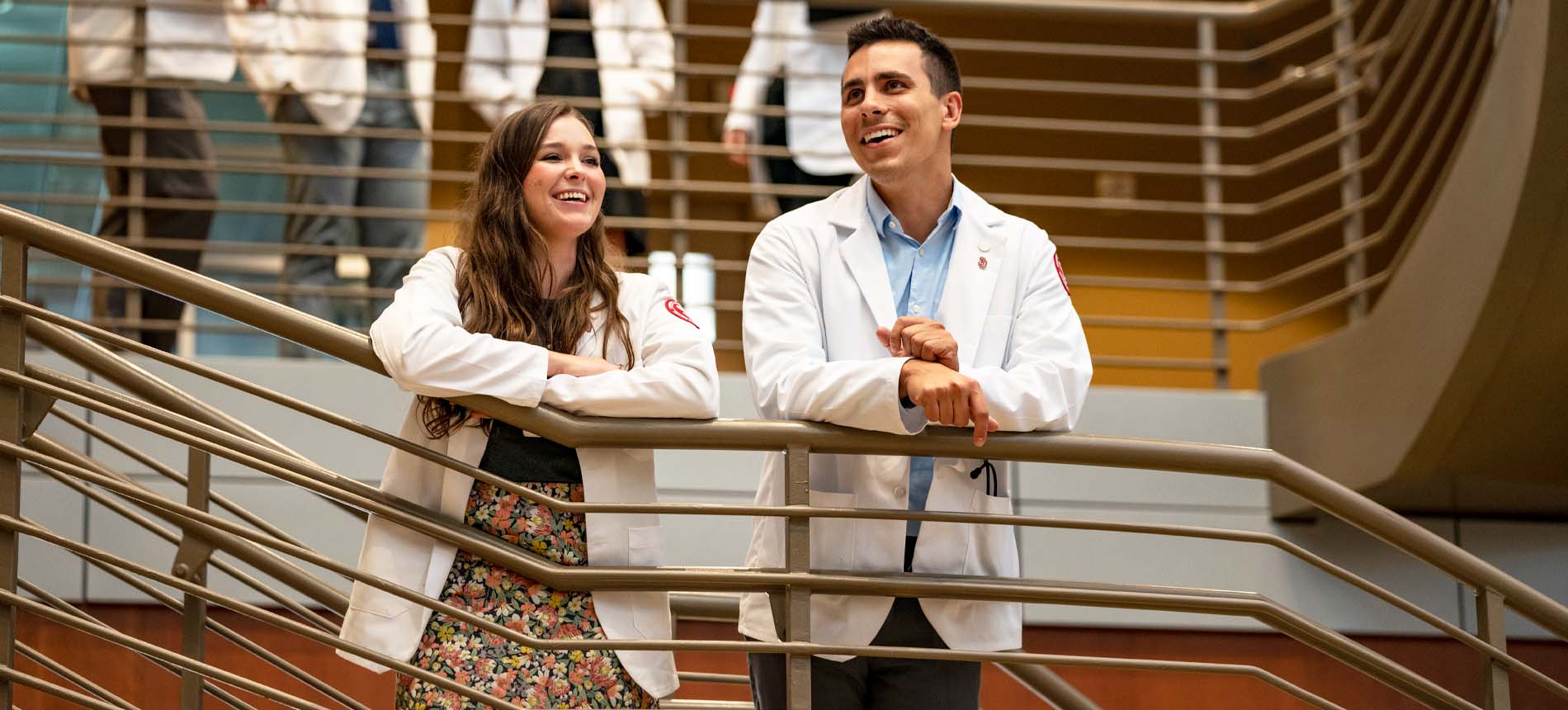 South Dakota Area Health Education Center
Center/Institute
We connect students to careers, professionals to communities and communities to better health.
South Dakota Area Health Education Center
Sanford School of Medicine
1400 W. 22nd St.
Sioux Falls, SD 57105
Office Hours
Monday - Friday
8:00 a.m. - 5:00 p.m.
AHEC Philosophy
The national AHEC program was developed by Congress in 1971 to recruit, train and retain a health professions workforce committed to underserved populations. With the objective of eliminating health profession shortage areas, the national program was designed to encourage universities and educators to look beyond their institutions and partner with communities to promote cooperative solutions with local benefits.
The South Dakota Area Health Education Center (SD AHEC) fosters a continuum of interdisciplinary health professions education focusing on the health care needs of the most underserved in our state. This is accomplished through academic-community partnerships in collaboration with state agencies and organizations to improve the supply and distribution of a quality health care workforce.
Faculty & Staff
Get to know the faculty and staff in the AHEC. Our faculty are experts in their fields contributing research and scholarship in health care and leadership.
FARM
The Frontier and Rural Medicine (FARM) program initiative at the University of South Dakota Sanford School of Medicine helps to further address the health care needs of South Dakotans who reside in our mostly rural state. The AHEC Program Office, Yankton Rural AHEC and Northeast AHEC assist FARM students in community engagement and with their required community projects.
Medical Student Partnership Program
Every spring, second-year medical students from the University of South Dakota Sanford School of Medicine spend three weeks in rural South Dakota communities for a required preceptorship. During their preceptorship, the medical students visit local high schools to interact with the students and talk to them about their educational journeys. The South Dakota Area Health Education Center (AHEC) coordinates the opportunity for the medical students to interact with local high school students. The medical students talk with students about classes they took in high school and college to prepare for medical school, discuss what it is like to be a medical student and to take care of patients. The medical students also discuss multiple health care pathways, encouraging high school students to ask questions relating to health care.
HOSA: Future Health Professionals
HOSA: Future Health Professionals is a student organization whose curriculum is aligned with Career Technical Education standards. Its focus is to recruit students into the health care pipeline. Through local and state chapters, South Dakota HOSA provides education activities and procedures encompassing health care careers and topics for students in a number of courses. Currently, there are 235,000 members nationwide. South Dakota has become the 48th state to affiliate with HOSA.
Scrubs Camp
Scrubs Camps are free, hands-on health career day camps for South Dakota high school students. Presented by the South Dakota Office of Rural Health, Scrubs Camps take place in numerous communities across South Dakota. Students will have the opportunity to experience a wide variety of health careers through activities and discussions.
USD Healthcare Careers Summer Camp
Sanford School of Medicine hosts an annual Healthcare Careers Summer Camp in Vermillion to help high school students pursue a future in health care by exploring a range of career options.
Summer Program Undergraduate Research
The University of South Dakota and Sanford Research are home to the Summer Program Undergraduate Research (SPUR), a unique opportunity for American Indian undergraduate students to receive hands-on research experience and mentoring in a cross-disciplinary training program (biomedical or behavioral research).
USD School of Health Sciences
As the health care industry experiences unparalleled growth, it is more important than ever that you graduate with the best training and real-world experience. At the School of Health Sciences, you are in the right place to launch your professional career. You already know you want to help others. We help you discover and excel in the health care program that fits you best. To learn more about all the health pathways offered at USD please visit the USD School of Health Sciences.
South Dakota HOSA
South Dakota HOSA was established in 2012 as an initiative of the University of South Dakota Sanford School of Medicine and the South Dakota Area Health Education Center in response to the great need for future health professionals in our state.
The goals of South Dakota HOSA are three-fold:
Envision: Expanding and nurturing students' awareness of all the health care careers available to them, while molding them into South Dakota's future health professionals.

Energize: Becoming proactive in helping counselors develop a robust personal learning plan for students interested in becoming a future health professional (ie: education, shadowing and service).

Engage: Offering students opportunities to expand their understanding, create projects and demonstrate skills through HOSA's competitive events program.
South Dakota Higher Education Health Care Degree Programs
Several South Dakota higher education institutions offer various health care degree programs. See a matrix of the degree programs available at each institution. Each program indicator provides a direct link to information about that particular institution's program.

2010 SD Educational Needs & Priorities Survey Report
The South Dakota Area Health Education Center (AHEC), along with the Yankton Rural Area Health Education Center, developed and dispersed the faculty survey in February 2010. The survey asked respondents to indicate specific education needs in 10 areas identified on the survey. These question areas were: administration, quality of service, models of care delivery, patient care certifications, specialty clinical care, cancer care, aging services, regulation, environment of care and education delivery method.
South Dakota Health Occupations for Today & Tomorrow (HOTT)
South Dakota HOTT is a collaborative effort between the South Dakota departments of Education, Health, Labor and the Board of Regents to focus on health career information and opportunities for South Dakotans.

Exploring Health Careers
This website provides extensive information on a wide variety of health careers. This award-winning site is a multi-disciplinary, interactive site designed to explain the array of health professions and provide easy access to students seeking information about health careers.

South Dakota Department of Labor
The South Dakota Department of Labor provides information on the schools and training providers in the state. This information helps prospective students and their families to determine schools and programs that fit the student's personal needs and career goals.

Occupational Outlook Handbook
The U.S. Department of Labor provides occupational outlook and statistics. Information from the site includes training and education requirements, salary earnings, expected job prospects and workplace environment.

AMA's Careers in Health Care
The American Medical Association's health care careers directory lists information for over 80 careers in health care and more than 8,000 accredited educational programs in those fields.

Over 30 years ago, South Dakota had an Area Health Education Center (AHEC) with five offices statewide. This original AHEC was supported by grant funding until programmatic changes at the federal level altered the funding mechanism. This left South Dakota's original program with little monetary support, although the Yankton Rural AHEC remained a viable organization.
Following a statewide summit of stakeholders in 2008, work began on securing a grant to reestablish an AHEC in South Dakota, which was submitted in January 2009. Notification of the initial three-year award was received in August 2009.
The South Dakota AHEC program office was established in September 2009, within the University of South Dakota Sanford School of Medicine's Department of Family Medicine. An advisory board and advisory panel were named. The board meets quarterly and the panel meets once per year. The Yankton Rural AHEC was re-established as an officially recognized center at this time, with its own advisory board and advisory panel in place.
In the fall of 2010, the program office made the decision to use a Request for Proposals (RFP) process in naming the second AHEC. The RFP was distributed widely, resulting in four applications with the South Dakota AHEC Advisory Board awarding the grant to the Collaborative for a Northeast South Dakota AHEC following a lengthy proposal review and site visit process. An advisory board and advisory panel were subsequently named.
A five-year competitive continuation grant was submitted to the Health Resources and Services Administration (HRSA) in February 2012. The University of South Dakota Sanford School of Medicine was notified by HRSA in August 2012 that the South Dakota AHEC had been awarded a five year continuation to further the valuable work of developing and supporting the state's health care workforce.
The South Dakota Area Health Education Center is funded by Health Resources and Services Administration Bureau of Health Workforce cooperative agreement #U77HP26850 through Title VII of the Public Health Service Act. Additional funding to support South Dakota AHEC is made possible through the contributions of its academic and community partners.