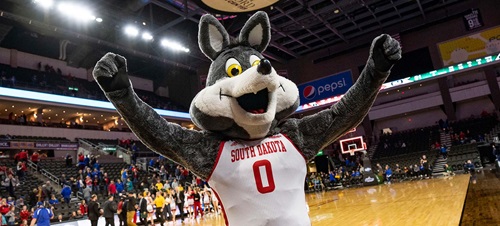 Charlie Coyote
When it comes to spirit, Charlie Coyote is the definition of it. Charlie loves the Yote-Life and wears it proudly on his fur.
Charlie Coyote is the face of the University of South Dakota. We are committed to creating an exciting experience with both the student body and the Vermillion community. If you do see him, be sure you give him a high five.
If you want Charlie to attend your event, please complete the Appearance Request Form below. There is an hourly charge to have Charlie Coyote at your event. That amount will be included when we contact you to confirm your event.
Get Recruited
The USD Spirit Teams are looking for individuals who have the spirit, creativeness and desire to bring Charlie to life!
If you think you have what it takes to be one of the greatest representatives of the University of South Dakota then we need to hear from you. Qualifications are below.
Be present at athletic and non-athletic events
Display character through emotions, animation and crowd interaction
Must be 5'6" or taller
Must interact well with children
Must be accountable, timely and responsible
Attend meetings with advisors
Program Benefits
Half Housing Scholarship
Paid Travel Expenses
Summit League and Missouri Valley Conference Experience
Paid wages while working as Charlie Coyote
Supportive Administration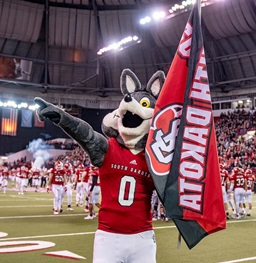 Get Involved
If you are a current student at the University of South Dakota, you can join Charlie as a Coyote super fan by becoming a Coyote Crazy.


Become a Crazy