Accounting Alumna Remembers Time at USD, Reflects on Work She Does Today
From the state's flagship business school to the fifth largest accounting firm in the nation, University of South Dakota alumna Carlye Johnson '14, '15 says the thing she loves most about her career as a public accountant is that she's always learning.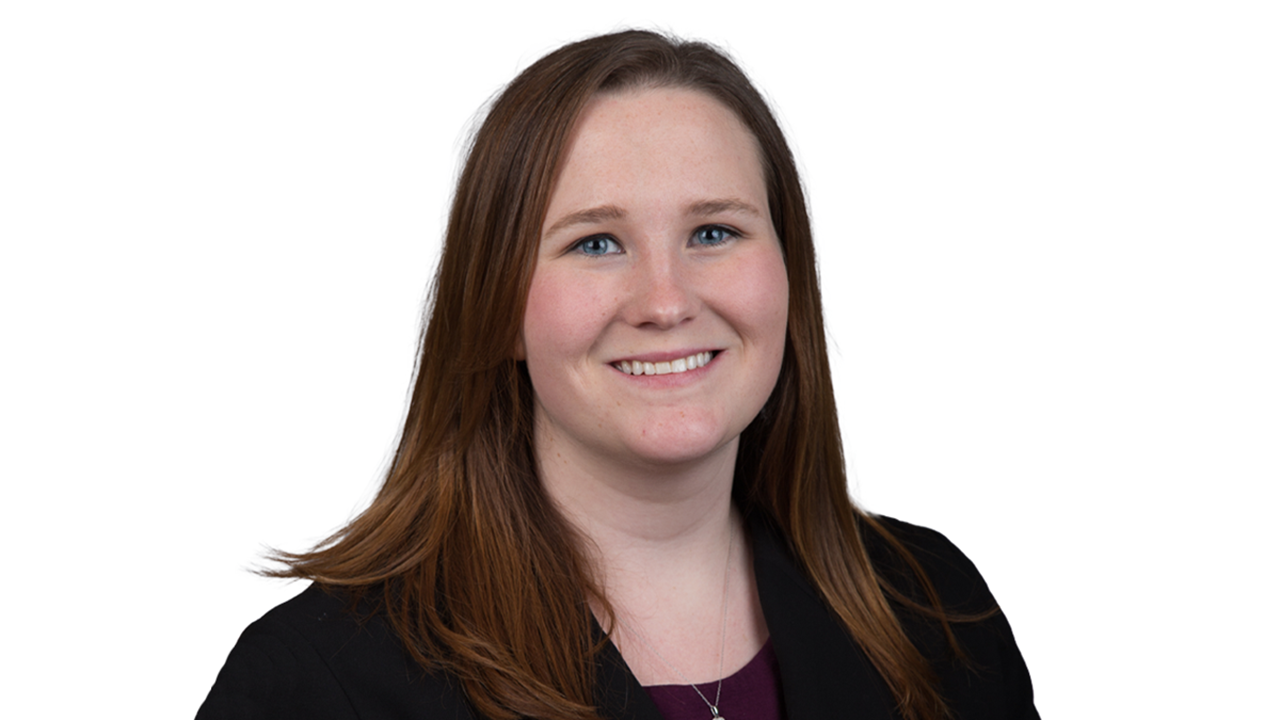 Whether she's learning about accounting principles, industry practices or how to work with, manage and mentor others, Johnson never allows herself to get too comfortable, and she constantly pushes herself to learn and grow as an accounting professional.
A Madison, South Dakota, native, Johnson graduated with her Bachelor of Business Administration in 2014 and her Master of Professional Accountancy in 2015. After completing an internship with RSM US LLP, Johnson was offered a full-time job there as an assurance manager. A licensed Certified Public Accountant (CPA), Johnson has been with the firm now for seven years and specializes in manufacturing, construction, not-for-profits and employee benefit plans industry clients.
Johnson stays connected to her alma mater in a variety of ways. She actively participates in recruiting on campus through interviews, Meet the Firms, the South Dakota CPA Showcase, Beta Alpha Psi presentations, the Summer Accounting Institute and more. Johnson also serves on the USD Accounting Advisory Committee and keeps in touch with accounting faculty. She occasionally attends sporting events and enjoys cheering on the Coyotes.
We asked Johnson about her time at the state's flagship business school and how it propeller her successful career. This is what she had to say.
What experiences did you have during your time at USD that prepared you for the work you do today?
I interviewed on campus for an internship with RSM US LLP while studying at USD during my senior year. The Beacom School of Business faculty, staff and alumni are a huge part of why RSM US LLP recruits and interviews on campus. At the end of my internship, I was offered a full-time position. It was amazing to be able to complete my Master of Professional Accountancy (MPA) knowing I already had a job lined up after graduation. My coursework allowed me to successfully complete my CPA exams and excel in my first few years at the firm. I now serve on the Accounting Advisory Council for the USD business school where I'm able to give back to the accounting program by providing insight on trends in the profession. I cherish the lifelong friendships I have been able to build with former faculty, current faculty and classmates.
In your opinion, what kind of an impact does USD have on the accounting field in South Dakota?
I believe that USD is playing a key role in building the pipeline of future CPAs and accounting professionals. The accounting undergraduate and graduate programs truly prepare students for the CPA exam and lay the foundation for the technical background needed in the profession. They bring private companies and public firms to actively recruit students, and many of these professionals are from South Dakota. Many USD accounting graduates have found a home in South Dakota because of their experiences at the university.
What are you most proud of in your work at RSM US LLP?
I am most proud of the relationships I've built with colleagues and clients. While we are in a very technical profession, everything we do is for people and with people. My goal has always been to build authentic relationships, and it has been rewarding to see those relationships grow throughout my professional career.
What advice would you give to students in the accounting field?
I would say to study for and take your CPA exams as soon as possible because getting back into a studying routine while working full time is challenging. Additionally, start networking as early as possible with potential employers, practice interviewing and ask questions to show that you're curious and want to learn.
What is your 'why?'
My 'why' is to provide support and opportunities to others so that they can become their best selves, purse their passions and live out their values.
What is a moment from your time at USD that you will never forget?
Several of my professors joked that I needed a cot in the business school because I spent so much time there. My USD experience was highlighted by many opportunities at the Beacom School of Business that allowed me to gain leadership experience and expand my classroom knowledge to the real world by interacting with professionals.
I was actively involved in several clubs in the business school including Beta Alpha Psi (BAP) and Society for Human Resource Management (SHRM), where I served in various leadership roles including president of both organizations. Some of my fondest memories in college occurred while touring CPA firms, attending the BAP Regional meetings and competing in a SHRM competition in Milwaukee, Wisconsin. I also worked as a tutor for the business school and volunteered as an accounting tutor through BAP. It was very rewarding to be able to pass along the education I had gained to my fellow classmates to help them through the curriculum. The accounting faculty and a variety of other business school professors served as great mentors for me in navigating what career path would be a good fit for me, encouraging me to pursue leadership roles and helping push me outside my comfort zone. Too many of them touched my life to cover in a few short sentences. I will forever be grateful for their impact on my education, career and life.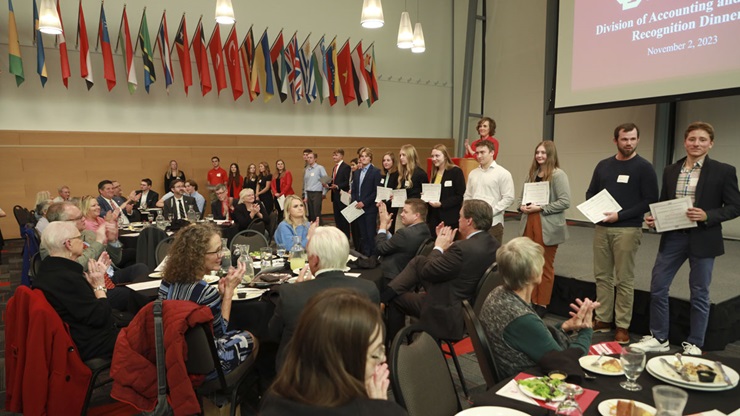 The University of South Dakota Beacom School of Business accounting and finance division honored the academic and career achievements of several alumni and students at a recognition dinner held on Nov. 2
As a two-time graduate of the University of South Dakota Beacom School of Business, Jacob Wurth understands firsthand the value of an education from the state's flagship business school.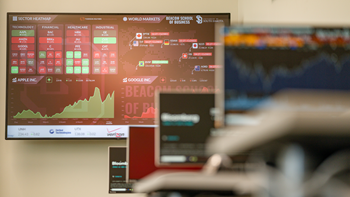 Since its founding in 2001, the Beacom School of Business student-managed investment organization, Coyote Capital Management, has prepared hundreds of students for career success.