Raven Leader and USD Alumnus Nods to Beacom for Launching His Accounting Career
As a two-time graduate of the University of South Dakota Beacom School of Business, Jacob Wurth understands firsthand the value of an education from the state's flagship business school.
"The accounting program at USD is top notch when it comes to preparing students to have an immediate impact when they graduate," said Wurth '02. "You know that when you have a USD student apply for a position, you are getting someone who is a hard worker, works well in a team setting and has a strong technical background and a willingness to learn new things."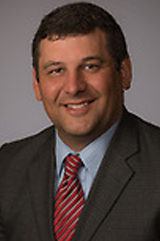 Wurth, who holds a B.S. in business administration and an MPA from USD, also praised the business school for opening doors to experiential learning opportunities and internship experiences for students, mentioning that he held two internships at Deloitte in Minneapolis, Minnesota, during his time at USD over two decades ago.
"That work experience helped me to further understand what I was learning in the classroom at USD and apply it to a real-life work environment," said Wurth. "I then worked full-time at Deloitte until moving back to South Dakota. I still apply the fundamentals I learned through my internships in my current work."
Wurth presently works as the director of accounting and treasurer at Raven Industry in Sioux Falls, a role in which he's responsible for overseeing the accounting, treasury and compliance functions in the organization for the U.S., Canada, Europe, Brazil and Australia regions.
When he's not working, Wurth enjoys spending time with his wife Jill '02, who also holds two degrees from the Beacom School of Business, and coaching his three children, Lindsay, Sadie and Sam, in their various sporting events. Outside of their activities, Wurth enjoys attending sporting events, including Coyote events, and has a goal to make it to all 30 major league baseball stadiums: he's currently at 21.
We asked Wurth about his time at USD, how he stays connected to his alma matter and what he's most proud of in his work today – this is what he had to say.
What is a moment from your time at USD that you will never forget?
9/11 happened while I was in graduate school, and I will never forget that day, staring at the TVs at home and in the commons area. We ended up having an accounting class that night with Dr. Buttars, and all of us in the class talked about the events that occurred that day. By this time, all the accounting graduate students knew each other well, and being able to be around friends and classmates during a time like that will always stick out to me.
How do you stay connected to USD?
Most recently, I have been participating in the Beacom School of Business mentoring program that started in 2020 to help guide active students discern key areas of importance in their future careers. I am also active in on-campus recruiting for accounting internships at Raven. I also enjoy guest speaking in accounting classes. From time to time, I have been able to present to the accounting organization, Beta Alpha Psi, and be a host during Raven's presentation during the Summer Accounting Institute.
What do you think the USD advantage is?
USD has the professors, facilities, curriculum and professional organization to develop students who can follow a variety of directions after college, ranging from working at Big 4 accounting firms, to regional and local accounting firms, even to the private sector, like Raven. The connections to outstanding businesses in the region that heavily recruit at USD help make this happen, and the career center at USD helps promote and facilitate careers to students. It is easy to become just a number at a large university, but USD helps students find their path and opens doors for them to shine.
What are you most proud of in your work at Raven?
I am proud of assembling and leading a high-performing accounting and finance team at Raven. We take pride in providing value to the business and creating business partnerships to drive growth and efficiencies. Also, I am proud to be a part of an organization that is leading the way in solving great challenges with precision technology in the autonomous agriculture space.
What advice do you have for students interested in the accounting field?
Most people pick the accounting profession because they are good at math and like to solve problems. I tell students accounting is more than those characteristics. Accountants need to be able to communicate complex problems in a concise way to people who might not understand accounting.
You can develop these skills be being curious, asking questions that no one else in the room wants to ask and by being a contributor on key projects. It's easy to go to class and listen to lectures or listen to someone lead a meeting, but find ways to contribute during these events, and you will learn and grow as a student, accountant and person.
How do you think the Beacom School of Business stands out in the state and region?
The Beacom School of Business has always stood out by having the best professors in the region – professors who have had real experiences and are able to relate to both students and alumni. Dr. Davies, Dr. Ragothaman and Dr. Korte helped cultivate my career, as well as my wife's, during our time at USD and for the 20 years afterwards.
Also, recently the business school has done more with Coyote Business Consulting, and their data analytics program is starting to take off by adapting to what businesses need to grow.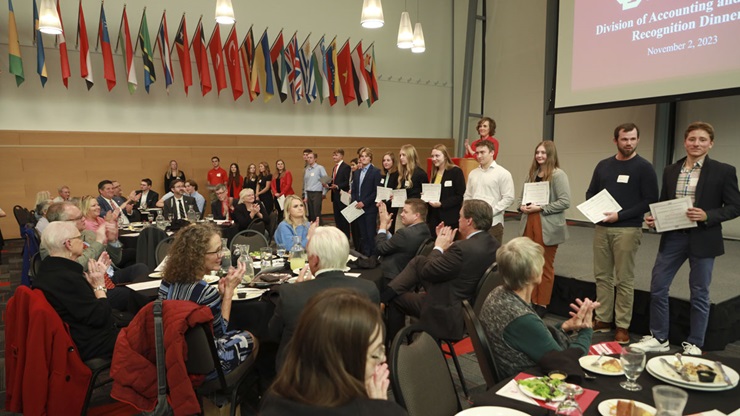 The University of South Dakota Beacom School of Business accounting and finance division honored the academic and career achievements of several alumni and students at a recognition dinner held on Nov. 2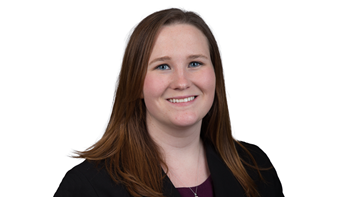 From the state's flagship business school to the fifth largest accounting firm in the nation, University of South Dakota alumna Carlye Johnson '14, '15 says the thing she loves most about her career as a public accountant is that she's always learning.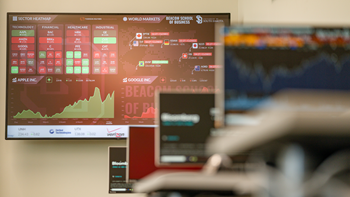 Since its founding in 2001, the Beacom School of Business student-managed investment organization, Coyote Capital Management, has prepared hundreds of students for career success.