Leader of Sustainability at USD Honored with Schwartz Distinguished Faculty Award
Meghann Jarchow, Ph.D., associate professor in the Department of Sustainability & Environment, is the seventh recipient of the Truman and Beverly Schwartz Distinguished Faculty Award at the University of South Dakota. She will hold the award until 2026.
The Schwartz Award is given every third year to an outstanding tenured faculty member in the College of Arts & Sciences who has demonstrated an exceptional level of creativity and productivity in scholarship, teaching and service, and who shows great promise of continuing such achievement.
"This is such a wonderful honor," Jarchow said. "Dr. and Mrs. Schwartz were both so committed to education, and I hope to continue their legacies of research, teaching and service."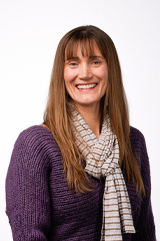 Jarchow, a highly respected and productive researcher and educator, has been with USD since 2012 and currently serves as chair of the Department of Sustainability & Environment.
Jarchow's research is focused on rural landscapes in the region and sustainability education. She has contributed to numerous publications on the intersection of social values and plant ecology, landscape modeling and sustainability education. She is the co-editor of a recently published book, "Creating Resilient Landscapes in an Era of Climate Change: Global Case Studies and Real-World Solutions," which was selected to be made open access. Jarchow also recently joined the Editorial Board of BioScience, a high-impact journal in the field.
A recipient of the President's Award for Research Excellence in 2022, Jarchow has been a strong advocate for sustainability education and has been engaged in a wide range of service activities aimed at growing and developing the sustainability program at USD. Her contributions to the university have been instrumental in securing $8.5 million in programmatic grants and expanding the sustainability program to include a Department of Sustainability & Environment, master's and Ph.D. degrees in sustainability, and undergraduate and graduate certificates in related fields.
As the recipient of the Schwartz Award, Jarchow plans to use her award stipend to fund undergraduate and graduate research, sourcing student research supplies and equipment, providing summer wages to students who are conducting research and supporting student travel to professional workshops and conferences.
This award exists thanks to the generosity of Truman '56 B.A., '91 honorary doctorate, and Beverly Schwartz, '56 B.S.Ed. Truman Schwartz became a Rhodes Scholar, earned a Ph.D. in chemistry from M.I.T., worked in the industry and then taught for many years at Macalester College, publishing extensively in the fields of physical chemistry and chemical education. Beverly Schwartz was a middle-school teacher in St. Paul, Minnesota, where she taught students with learning disabilities.
The University of South Dakota is set to host the annual Upper Midwest Association for Campus Sustainability (UMACS) Conference, "Taking Action Today: Voices, Resources, and Partnerships for Change," on Sept. 22-23.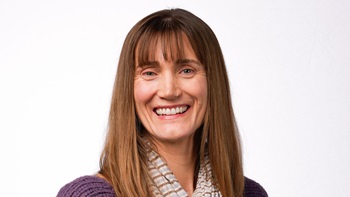 Meghann Jarchow, Ph.D., chair of the Department of Sustainability and Environment, recently spent 10 days in North Sumatra, Indonesia, as part of a reciprocal exchange for the Youth Southeast Asian Leaders Initiative (YSEALI) program.
The University of South Dakota has earned a STARS bronze rating in recognition of its sustainability achievements from the Association for the Advancement of Sustainability in Higher Education (AASHE). STARS, the Sustainability Tracking, Assessment & Rating System, measures and encourages sustainability in all aspects of higher education.