South Dakota Shakespeare Festival Presents 'Othello'
The South Dakota Shakespeare Festival is pleased to present a professional production of "Othello" in Vermillion's Prentis Park June 16-19.
"Othello" is adapted and directed by Tara Moses, a citizen of Seminole Nation of Oklahoma, Mvskoke, and a current MFA candidate in directing at Brown/Trinity Rep. She has set this production in the year 2176 on the first day that full sovereignty has been restored to Native Nations.
"This production of Othello allows us to explore the complications, nuances, and realities of true solidarity," Moses said.
Cody Floyd, a recent graduate of the University of Alabama's BFA acting program, takes on the role of Othello and says that during the process, he has enjoyed having the opportunity to play and explore.
"Tara allows every artist to feel seen and heard," Floyd said. "It is so refreshing to come into a space where nothing is 'right' and leave with a true sense of knowing that community was a part of this production."
Chingwe Padraig Sullivan, an MFA acting student at Brown/Trinity Rep plays Iago and says that an actor needs to be sympathetic to the character they're playing.
"This version of Iago is truly the most sympathetic I've ever seen him. This Iago is not a mustache twirling villain, but instead a person who has fought all their life for a future when they can finally be free," Sullivan said. "But, when it seems as though that freedom has arrived, Iago watches the community they built deny a place for him and others like him. Iago is still a villain, but one of tragic circumstance, not birth."
Performances take place at 7 p.m. June 16-19 in Vermillion's Prentis Park. Starting one hour before each performance of the full-length Shakespeare production, the festival will feature vending of food, beverages and souvenirs in Prentis Park.
The production will also be streamed for free online June 23-26. Additional various outreach, education, and music events will also take place during the week of the festival. Details are available at
www.sdshakespearefestival.org
. All programs are free donation, and no tickets are required.
The 2022 season and production are dedicated in honor and gratitude for the life and work of Mary Merrigan, a staunch supporter of the SDSF, who made immeasurable contributions to the Vermillion area community.
Devon Glover, "The Sonnet Man," will perform June 15 in Vermillion's Prentis Park as part of the South Dakota Shakespeare Festival's "Celebration of Shakespeare."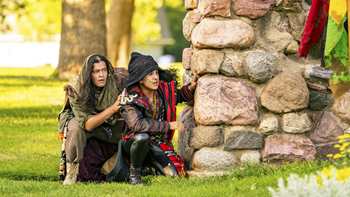 The South Dakota Shakespeare Festival (SDSF) is excited to present a week-long "Celebration of Shakespeare" in Vermillion June 11-18.
The South Dakota Shakespeare Festival is pleased to announce the date of its fundraising gala, "Wine with Will," on Friday, March 24 from 7-9 p.m. at the Neuharth Conference Center on the University of South Dakota's main campus.