In Memory of Professor Tom Horton
Thomas "Tom" Horton, a longtime University of South Dakota Knudson School of Law professor, recently passed away surrounded by his family on Nov. 15, 2022.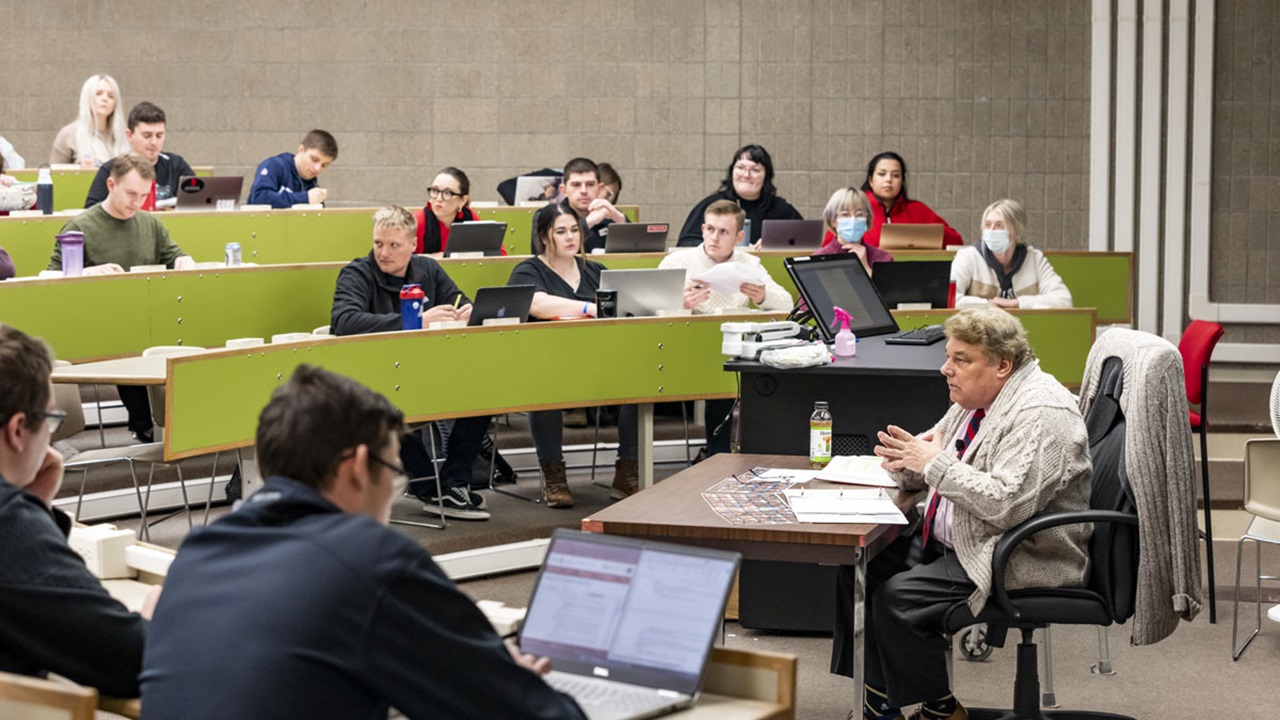 "Tom was a distinguished scholar, an admired colleague, an inspiring teacher and a beloved family member and friend to many," said USD President Sheila K. Gestring. "At USD, we were fortunate to witness Tom's expertise and benefit from his influence for more than a decade."
"Tom was a giant, powerful presence in our lives, the lives of so many students and the life of the law," said Knudson School of Law Dean Neil Fulton. "We feel the proportionately giant, powerful absence of our beloved friend and colleague."
Horton graduated from Harvard University in 1977 with a B.A. in biological sciences. He earned his law degree in 1981 from Case Western Reserve University.
He began his 28-year legal career as a judicial law clerk for Judge William K. Thomas in the U.S. District Court for the Northern District of Ohio. Because of his fond memories of his time as a law clerk, he encouraged his students to apply for clerkships, jumpstarting many successful careers.
It was after his clerkship that Horton began his accomplished career as an antitrust trial lawyer. He held partnerships at international law firms -- Howrey & Simon and Orrick, Herrington & Sutclife -- and served as a trial attorney at the Federal Trade Commission and the antitrust division of the Department of Justice. Horton also led a memorable campaign for the U.S. House of Representatives for the Democratic Party in Virginia in 1996.
"Tom was famous for his vigorous style of cross-examination," recalled Fulton. "In fact, he earned the nickname 'The Barracuda,' based on his work in a televised antitrust investigation in Rhode Island. That nickname is no surprise to any student or faculty colleague who debated an interesting point of law with him.
"But Tom's ferocity of demeanor stood on a deep kindness of heart for all his students and colleagues," Fulton added.
In 2009, Horton joined the law school faculty and found a home at USD.
For almost his first full decade at USD, Horton taught trial advocacy and coached the law school's trial team. The teams Horton led competed successfully and honorably across the nation, often beating much larger schools along the way.
Horton's dedication to his students did not go unnoticed. Students selected Horton three times as the John Wesley Jackson Award winner as outstanding law school faculty member. Horton received the USD Belbas-Larson Award for outstanding faculty. Because of his contributions to trial advocacy, he was named the inaugural Heidepriem Trial Advocacy Fellow.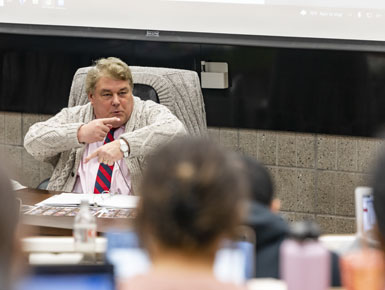 Horton's commitment to students went beyond that of the law school – he also taught for the USD Honors Program shortly after his start at USD. He developed a deep commitment to the program and inspired undergraduate students and helped them imagine the possibilities for their future. Many students who took Horton's seminar on the history and policy of antitrust in the United States, went on to law school with his encouragement. With a deep passion for and belief in education, he also inspired Honors students to continue learning in other directions – with some of his best students choosing medical school or other graduate study at USD.
"Tom was proud of all his students, though slightly confused why 'everyone' didn't want to be a lawyer," Fulton said. "Most of did when we spent time around him."
Horton developed a national reputation as one of the foremost scholars around antitrust and was regularly quoted on antitrust issues ranging from the Microsoft case to economic competition in China to consolidating the meatpacking industry. Horton published dozens of articles in law reviews, other academic journals and industry periodicals.
He was particularly proud of the several articles he authored jointly with students, and often facilitated many students turning the papers written for his classes into work that was published.
When not at work or school, Horton was an avid nature lover, dedicated Cleveland sports fan, patron of the arts and active member of his communities. He was an accomplished jazz drummer and took drum lessons from the legendary Joe Morello. As a passionate supporter of Coyote athletics, Horton rarely missed a basketball or volleyball game.
Horton is survived by Karen Mackey, his beloved wife of 39 years; their four children: Allison (Jeffrey) Piedmont, Betsey Horton, Bobby Horton, and Caroline Horton; two grandchildren: Ryan and Andrew Piedmont; and siblings Robert Horton, Jr. (Lori Lowrimore), William (Sandra) Horton, and Nancy Horton (John Mudry). Horton was preceded in death by his parents Robert Horton and Lillian Brandow.
A local memorial service for Horton will be held on Tuesday, Jan. 3 at 3 p.m. in the Sanford Coyote Sports Center. The service will also be livestreamed on the law school's Facebook page.
Contributions in Horton's memory can be made to the USD Knudson School of Law or any animal/environmentally friendly charity of your choice.
Remembering Professor Horton
Several of Horton's past students, colleagues and friends sent notes in remembrance of Professor Horton. Below is just a sample of what was sent.
"It is hard for me to write a tribute that properly captures what Professor Horton means to me and the lasting mark he had on me as a student and lawyer. Like he was to many of my colleagues, Professor Horton was a trusted mentor, confidant and friend. I was privileged to learn from him in his classes and during my time on trial team. I have such fond memories chatting with him in his office after an antitrust class, or after a late session preparing for a trial team competition. But what I will remember most about Professor Horton was not the words said between us, but Professor Horton's unique ability to show his support. Unlike any other professor I've ever had, Professor Horton's belief in me made me, in turn, truly believe in myself. And his support was not a simple clerkship recommendation or extra note on your test: Professor Horton's support was booming, clamoring and powerful. His support was so deafening that its presence was unmistakable. It was that type of support that fills a room -- that you can feel. And it was in this way that he showed his support for me, which made me believe I deserved such support. I cannot thank him enough for that."
- Alayna Holmstrom, Class of 2018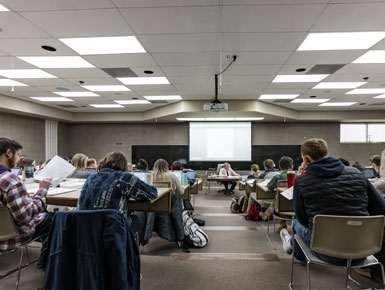 "Thomas Horton was a tremendous man, as I knew him. Professor Horton had a distinct way of reaching a single individual in a crowded room. He believed in his students when they didn't believe in themselves. Even more, he'd certainly let you know about it. It is amazing to think that such a distinguished, accomplished man took the initiative to make every person around him feel like the most important person he'd speak to that day. To a first-year student convinced they were out of their depth in law school, it meant the world. And it still does. Here's to Professor Horton, and to making a difference in the lives of so many."
- Tyler Bradley, Class of 2022
"I'm truly not sure where I would be in my law school career if not for Professor Horton. I remember communicating with my professors a week before classes started my second year of law school, letting them know I wouldn't be coming back for the semester because I wasn't able to find adequate daycare for my 1-week-old son. Professor Horton responded immediately, offering various plans of attack and pleading with me to continue with his classes. He invited me to bring my son to class with me because he didn't want me to fall behind and knew I would be successful. I was shocked by the amount of grace and kindness that he extended.
Professor Horton has had an immense impact on my law school experience, and it hurts my heart knowing I won't be seeing him roam the halls any longer. His legacy at USD law will live on forever. Thank you for all you've done, Professor."
- Gabriele Sayaloune, Class of 2023
Marilyn Trefz, lecturer at the University of South Dakota Knudson School of Law, and Anne Weyer '22, law school alumna, were named members of the inaugural class of the Association of American Law Schools' (AALS) Pro Bono Honor Roll by the AALS Section on Pro Bono and Access to Justice.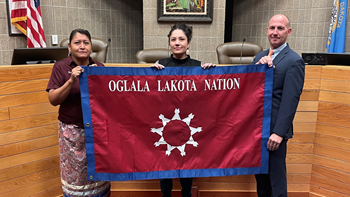 The University of South Dakota Knudson School of Law was recently gifted a tribal flag from the Oglala Sioux Tribe.
Walking into Thomas Horton's office in the University of South Dakota Knudson School of Law faculty wing, there's evidence of a distinguished career of hard work and passion.