Professor Emeritus Frank Pommersheim is 2022 Recipient of Lifetime Achievement Award
Frank Pommersheim, professor emeritus in the University of South Dakota Knudson School of Law, is the recipient of the 2022 Lawrence R Baca Lifetime Achievement Award. The award will be presented by the Federal Bar Association Indian Law Section at the 2022 Indian Law Conference, scheduled for April 7-8 in Albuquerque, New Mexico.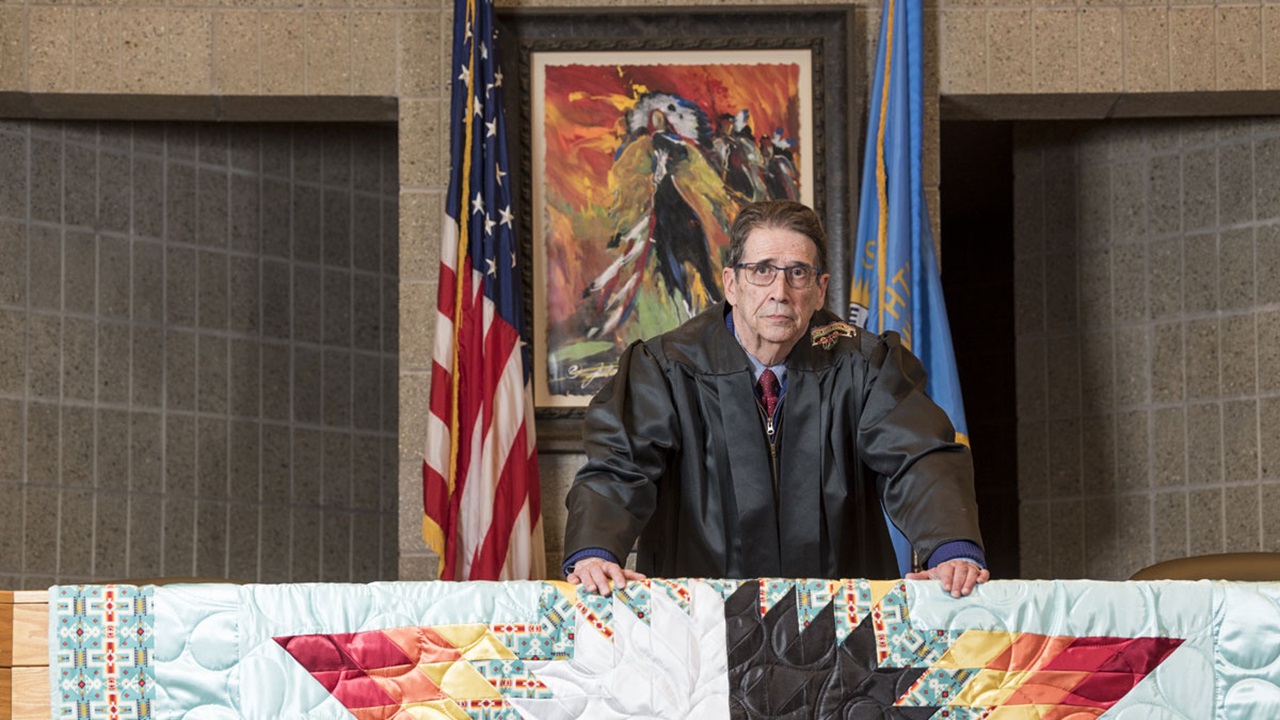 Pommersheim has worked in the field of Indian law for more than 40 years as an Indian law practitioner, scholar, educator and judge. He joined USD in 1984 after living and working on the Rosebud Sioux Reservation for 10 years. In 2019, Pommersheim officially retired from teaching at the USD Knudson School of Law, where he spent almost 35 years shaping the Indian law program.
Pommersheim has written extensively on Indian law, including "Braid of Feathers: American Indian Law and Contemporary Tribal Life" (1995) and "Broken Landscape: Indians, Indian Tribes and the Constitution (2012)."
Pommersheim served as mentor for the USD Native American Law Student Association for over 25 years. He mentored new law teachers, lawyers and deans about teaching, Indian law, justice, jurisprudence, and life and served as a counselor and friend to many, extending his influence over three generations of students and two generations of teachers.

In addition to serving as a professor, Pommersheim has served with distinction as a tribal court judge for 30 years, including as Justice of the Cheyenne River Sioux Tribal Court of Appeals; the Rosebud Sioux Supreme Court; the Flandreau Santee Sioux Tribal Court of Appeals; the Mississippi Band of Choctaw Supreme Court; and the Saginaw Chippewa Tribal Court of Appeals. He authored over 130 tribal court opinions, providing critical guidance to Indian and tribal law practitioners, including the first tribal court opinion quoted by the United States Supreme Court.

Over the years, Pommersheim has been recognized with many awards from the state, tribal and international community. He has also received star quilts from various tribal nations for his work in and for tribal communities. He received the USD Belbas-Larson Award for Excellence in Teaching, the South Dakota Peace and Justice Center Reconciliation Award, and the John Wesley Jackson Award as the Outstanding Professor of Law. In 2018, the Cheyenne River Sioux Tribal Council declared March 9, 2018 "'Chief' Justice Frank Pommersheim Day," in recognition of his contributions to the field and future of Indian Law.
To be qualified for the Lawrence R Baca Lifetime Achievement Award, the nominee must have worked in the field of Indian law for at least 20y years as a practitioner, judge, legislator, leader, scholar or educator; be of good standing and help in high esteem in their professional arena; and have made significant contributions to the field of Indian law through litigation, development of legislation, scholarship or the development of Indian law students or through tribal leadership.