Tribal Flag Dedication Ceremony Remembered
The University of South Dakota Knudson School of Law hosted a dedication ceremony in its courtroom for the nine newly installed flags representing the Native American tribes of South Dakota on Oct. 16.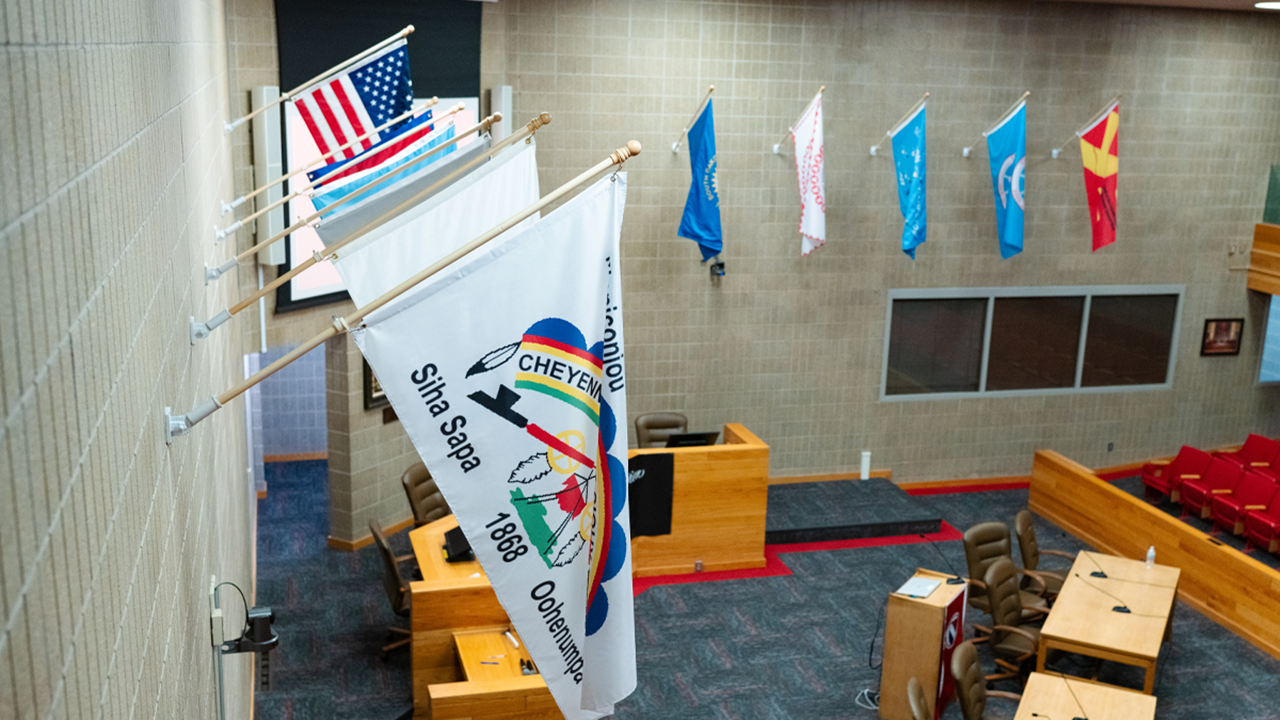 Event speakers include USD President Sheila K. Gestring; Knudson School of Law Dean Neil Fulton, J.D.; Maranda Herman '23, J.D.; Seth Pearman '12, J.D.; USD Native American Law Student Association President Marilyn Allen; and Judge Andrew Robertson '12, J.D.
Herman opened the dedication ceremony by recalling her first day of orientation at the USD Knudson School of Law. She recalled that Fulton started the school year by saying, "Welcome home."
However, according to Herman, she felt something was missing from her home at the law school. She approached her tribe – the Oglala Lakota Nation – and Fulton about gifting a tribal flag to display alongside the United States, South Dakota and Rosebud Sioux flags that were already installed in the courtroom.
As she looked around the room, admiring the nine tribal flags, Herman said, "It is good to see them all here. It is good to be home."
Fulton shared what this initial conversation with Herman meant to him. "As Maranda described what it would mean for her law school to display the flag of her tribe, I realized that our home was incomplete. It did not reflect all the judges, lawyers and people of South Dakota."
This conversation set the law school in motion as they began contacting tribes and collecting the flags for the USD courtroom.
Gestring spoke about the significance of the day. "Installing the nine flags of South Dakota's sovereign tribal nations in the USD Knudson School of Law courtroom signifies our commitment to our Native American students as well as our tribal nations," she said. "This courtroom is not just a place of learning for our future lawyer leaders. It is also a place that symbolizes the pursuit of justice and fairness. Here, the principles of democracy and the rights of individuals are taught and upheld."
Robertson spoke about this event as an acknowledgment and celebration of Native governments and their contributions. "These flags mean a lot. There's been wars over these flags. These flags mean not only a lot to us as U.S. citizens and as citizens of South Dakota but also to those of us who are tribal citizens," Robertson said. "Keep in mind, no matter who you are, they serve as a token of our shared history, of our pride and the principles of our people."
In a moving speech, Allen described what the flags symbolize to Native students walking through the law school doors. "Those flags are a great representation of how far we have come. The flags' presence in the courtroom also stands as a reminder to the community," she said. "We are still here, and we are pushing beyond the boundaries that were put in front of us. We are still here, and we are scholars. We are doctors. We are attorneys."
Prior to the ceremony, Fulton received a letter from Ryman LeBeau, chairman of the Cheyenne River Sioux Tribe, supporting and congratulating the law school. "This occasion signifies an important positive step forward in strengthening the relationship between our Cheyenne River Sioux Tribe and the educational institutions of higher learning within our traditional homelands," wrote LeBeau. "The presence of the tribal flags of the inherent sovereign nations in the Knudson School of Law will serve as a powerful symbol of our culture, history, and provides an opportunity to help enrich the knowledge of the people of South Dakota to remind everyone of the true history of the Lakota, Dakota and Nakota. Within our Lakota way of life, we have traditional laws that we upheld and continue to uphold to this day. We are inherent sovereign tribal nations, we have our own tribal constitutions, laws, and ways of governing.
"We commend you for your dedication to strengthening the ties between our Tribal Nations and the University of South Dakota Knudson School of Law," LeBeau continued in the letter. "We welcome any collaboration and opportunities to develop our mutual understanding of the relationships. Wopila Tanka (heartfelt thanks) for your commitment to honoring the original peoples of our Lakota, Dakota and Nakota homelands."