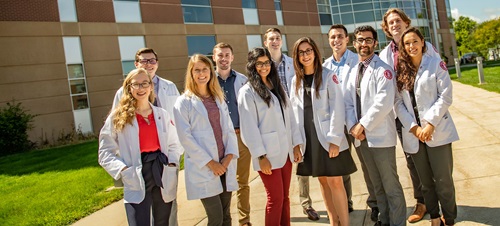 Physician Assistant Studies
Gain the classroom learning and real-world experience you need to succeed as a physician assistant. This master's program will prepare you with important medical concepts and supervised clinical experience in a wide variety of clinical areas as you prepare for your career in health care.
Fill an important role in health care.
Physician assistants (PAs) play an essential role on the health care team. These advanced health care practitioners practice in all areas of medicine, diagnosing injuries or illnesses, creating treatment plans, prescribing medications, researching treatments and ensuring high quality patient care.
As a physician assistant student at USD, you will gain the training, flexibility and agility needed to deliver the highest quality care to your patients. Our program offers a variety of strengths, including an evidence-based approach to patient care, curriculum that centers compassion in the health care setting, and an emphasis on primary care in rural populations. Plus, as a student in the state's only comprehensive health sciences, you'll have the opportunity to learn collaboratively with students in a variety of health sciences disciplines – uniquely preparing you to succeed on the health care team. Over the course of 24 months, you'll take your learning from the classroom to the clinical setting, gaining supervised clinical experience from licensed physicians and physician assistant preceptors in a number of clinical areas.
USD's master's program will equip you with a range of skills as you prepare to fill a critical need in the future of health care. You'll graduate ready to be the competent, compassionate professional your patients need.
Degrees & Offerings
Physician Assistant Studies (M.S.)
Master's
Our physician assistant program takes place in two phases: didactic and clinical. Your first 12 months is spent in the classroom on the Vermillion campus learning important medical concepts necessary to succeed. During the final 12 months, you will gain supervised clinical experience from licensed physicians and physician assistant preceptors in a number of clinical areas ranging from family medicine to surgery to emergency medicine.
Program Details
Graduate
College
Department
Contact
Graduate Admissions

Start Your Application Today
This graduate program utilizes a specialized CAS online application to complete the admissions process. To learn more about this program's unique application process, requirements and program deadlines, visit Specialty Graduate Program Applications.
Additional requirements exist for international applicants. For more information, visit International Admission Requirements.

Known for Excellence
With qualities like small class sizes, specialized programs and incredible student opportunities, USD is not your typical university. What makes us unique is what makes your education exceptional.
Graduates from this program have a 100% job placement rate.
USD's M.S. in Physician Assistant Studies is the only accredited program of its kind in the state of South Dakota.

Graduating PAs have a 93% first time pass rate over the past five years on PANCE national exam.
Departments & Facilities
Explore the departments, facilities and centers that contribute to your education in physician assistant studies.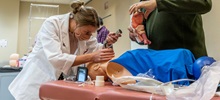 The Department of Physician Assistant Studies offers the only physician assistant studies program in South Dakota. Graduates of the program have experienced a 100% job placement rate, with many going on to practice in the state's rural areas. Our faculty provide expert training, preparing our students to become compassionate, competent physician assistants who are leaders and collaborators on the health care team.
Faculty & Staff
Get to know the faculty and staff in the Department of Physician Assistant Studies. Our faculty are experts in their field, contributing research and scholarship in physician assistant leadership, social determinants of health, emotional intelligence, family violence, placing and retaining rural health care providers and more.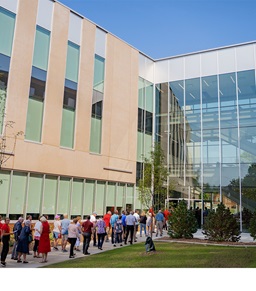 Learn in a State-of-the-Art Environment 
The world of health care is expanding and changing each day. At USD, we believe your learning environment should be as innovative and dynamic as this rapidly-growing field.

At USD, you'll learn in our Center for Health Education — a new building that houses modern classrooms, innovative technology, simulation centers, study spaces, health science labs, the Delta Dental Oral Health Center and more. Here, you'll find exceptional opportunities, training and support that will propel you into your career."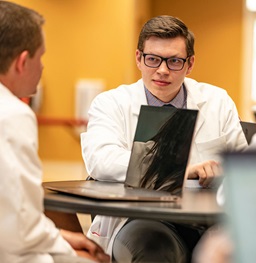 Become the Leader Your Patients Need
Your future patients have complex health care needs that extend beyond a single area of expertise. They should have an expert, compassionate care team that can work together to help them live healthy, fulfilling lives.
At USD, we prepare you not only to thrive in your unique career path, but also to collaborate effectively with health care professionals from a variety of fields. With the state's only comprehensive health sciences school and medical school, USD offers a learning environment that mirrors the health care industry – bringing you and your peers together to learn, study and practice as coordinated teams. You'll graduate with the skills, knowledge and connections you need to make holistic healing possible.
Tuition and Fees
Approved tuition and fees for the 2022-2023 academic year are as follows:
Estimated Total of Tuition and Fees
Year One, FA, SP, SU
Year Two FA, SP, SU
Total
Resident Tuition
$20,727.00
$29,514.00
$50,241.00
Minnesota Resident Tuition
$30,972.68
$45,099.00
$76,071.68
Non-Resident Tuition
$40,623.90
$62,391.00
$103,014.90
Tuition and Free Breakdown

Year One FA, SP, SU

Year Two FA, SP, SU

Total

Semester Hours
44
60
104
Resident Tuition ($340.15/credit hour)

$14,966.60

$20,409.00

$35,375.60

Minnesota Resident Tuition ($599.90/credit hour for Allied Health Courses, $534.16/credit hour for Non-Allied Health Courses) (2022-2023 rate - this rate changes in August for fall, spring courses.)

$25,212.28

$35,994.00

$61,206.28

Non-resident Tuition ($888.10/credit hour for Allied Health Courses, $654.05/credit hour for Non-Allied Health Courses)

$34,863.50
$53,286.00
$88,149.50
Health Sciences Fee ($103.50/credit hour)

$2,691
$6,210
$8,901.00
General Activity Fee ($55.30/credit hour) (only charged during Year One)

$2,433
$0
$2,433.20
Delivery Fee ($46.05) (only charged during Year Two)

$0

$2,763.00
$2,763.00
Anatomy & Physiology Course Fee

$508.20
$0.00
$508.20
Malpractice Insurance

$35
$35
$70
Life, Disability, AD&D

$93
$97
$190
Tuition and fees are subject to change by the South Dakota Board of Regents. *Minnesota reciprocity rates are not set until August and are provided for estimate purposes only.
*Health insurance is required and must meet minimum requirements set by Health Affairs. The amount listed is estimated and not the actual cost of the coverage.

For a detailed estimate of expenses for the upcoming year please view the current budget.
Notices
Tuition and fees are subject to change by the South Dakota Board of Regents
Questions regarding residency should be directed to the Registrar's Office
Students will incur additional expenses for travel, lodging and meals during the clinical phase of the program. These costs vary depending on your schedule
Financial Aid
We have financial aid programs to assist students who have financial needs. The Office of Financial Aid is prepared to supplement student contributions from its aid sources for qualified applicants. Counselors are available to assist students in obtaining financial aid from outside sources. It is very important that all financial planning arrangements are complete prior to entering the program.
Employment Policy
Physician assistant students are advised that employment during the didactic phase of the program is highly discouraged and not allowed during the clinical phase due to the heavy academic demands of the program.
Refunds and Withdrawal
The graduate catalog has more information about USD's refund policy and withdrawal policy.
---
USD's Physician Assistant Studies program has been accredited since 1995. Accreditation fosters quality educational experiences and helps to assure that the program is taught by qualified faculty, has the resources it needs to support the curriculum, meets its mission, has acceptable student outcomes, and provides accurate information to the public.