Coyote Career Kickstart: Connecting Rural Students to Tools for Success
Rounding out its first year, Coyote Career Kickstart: Rural Recruitment, Retention and Completion is helping rural and underrepresented students succeed by providing mentorship opportunities, academic support and access to paid internships.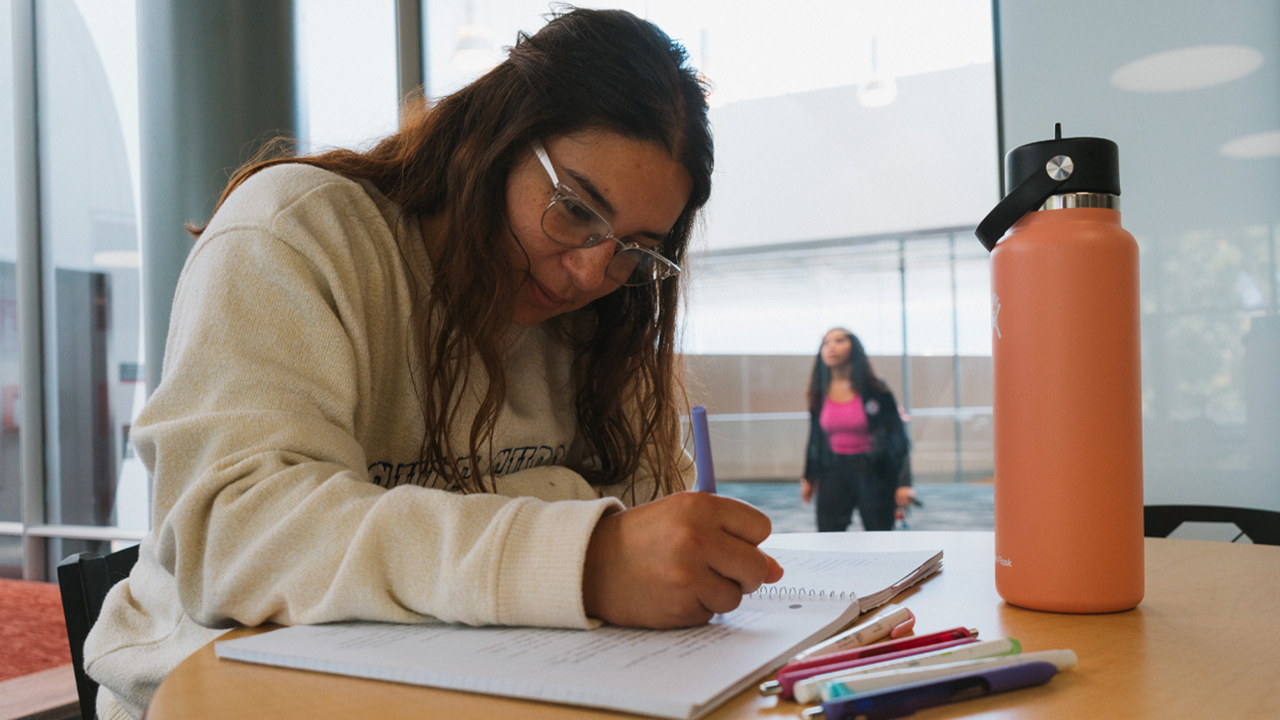 The program received a $1.1 million grant from the U.S. Department of Education last fall to create a holistic model for student success. Through this funding, the University of South Dakota has implemented several strategies to support rural students, including a cohort experience for incoming students; peer mentoring; alumni mentoring; face-to-face, virtual, and online, on-demand workshop offerings; and several in-person classes and experiences. All of these strategies are designed to provide students with opportunities to develop career competencies in low-stakes environments.
"Students from rural communities may not have the same access to the variety of employment and job shadowing opportunities that those from larger communities might enjoy," said Susan Hackemer, assistant vice president for Career Services & Student Success. "Kickstart's mission is to develop students' awareness of career readiness skills and to build a network that offers them opportunities to explore and learn those skills."
The funding has also mobilized the rural student success program in creating three positions – a recruiter, career counselor and coordinator – to support the goals of the grant.
Joshua Sanger, the program's career counselor, is currently teaching 80 students in a First-Year Experience (FYE) course. The grant's funding allows qualifying students to take the class at the externally funded rate of $40 an hour, making it more financially accessible to students.
The FYE course not only assists students with their transition to college, but it also lays the groundwork to understanding career competencies that employers are looking for and develops strategies to build on those competencies throughout students' college experience.
"The FYE course offers a welcoming, inclusive space in which students become more comfortable and confident as they learn to navigate their own educational experiences," said Sanger. "Students learn to recognize and leverage their own skills and competencies for future use in their careers.
"We also focus on personal and professional values, which guide students' future decisions regarding career choices," he continued. "The students demonstrate their own critical thinking skills, as they are allowed to question perceptions, others' points of view, and different mindsets of individuals and groups."
A key priority of the Kickstart program is to connect students with mentors who will help them reach their goals. Each first-year student in the Kickstart program is matched with one of 19 peer mentors for more personalized support while navigating the college experience.
Kickstart has also partnered with the USD Alumni Association to recruit alumni who are interested in connecting with current Kickstart participants. Upperclassmen in the program can request an alumni mentor, who they meet with in person or virtually throughout the semester to learn about the mentor's educational experience and their transition from USD to their career.
Tristan Rezac, who grew up in the small town of Dwight, Nebraska, is currently a junior pursuing a degree in kinesiology and sport management. He was paired with mentor Nick Fey '17, an assistant personal training leader at Life Time in Des Moines, Iowa. This mentorship has proven to be highly beneficial to Rezac, who hopes to pursue a career in gym management and is learning what it will take to reach his goals from someone in the field.
"To receive mentorship from a USD alum has not only given me professional help, but also a well-known connection I can use," Rezac said. "I feel incredibly lucky to have this opportunity and this amazing resource to use for my current and future endeavors. I've learned lessons like what I need to improve to make waves in the world of fitness education, specific ways to go about making lasting connections with people in my job field and how to be a better fitness professional overall."
Rezac and Fey connect twice a month over the phone or Zoom to check in and talk about any questions Rezac might have. As a former kinesiology student who came from a rural background, Fey appreciates the opportunity to mentor someone who's following a similar path.
"I went into college as a small-town, shy kid and left a confident adult with plenty of support from the university," Fey said. "I truly don't know many other universities that provide you such specific opportunities to get early experience in the fitness field like USD does.
"I was very lucky to have many mentors when navigating college, and I really don't know where I would have ended up without them," he continued. "I'm very grateful to be able to give back to other students – who like I once was – are trying to navigate this landscape."
In its first year, the Kickstart program has matched nine students with USD alumni mentors.
Program leaders are continuing to develop new initiatives to put students from rural backgrounds on the path toward college readiness and career success. Currently, the team is working on an employer outreach program to identify companies and organizations that are interested in offering students opportunities to develop career competencies and life skills through shadowing, volunteering, interning, interviewing, part-time jobs and more.