USD MSW Grad Makes a Difference in South Dakota and Tribal Communities
As an FBI victim specialist, Brittany O'Day '20, MSW, passionately serves victims, advocates for increased resources, and educates professionals and community members. With the University of South Dakota's Master of Social Work (MSW) program, O'Day was able to advance in her career and continue to follow her passion for serving others.
Through the Minneapolis Division of the FBI, O'Day serves in the Aberdeen, South Dakota, office where she covers northern South Dakota and tribal regions, including the Standing Rock and Sisseton Wahpeton Reservations.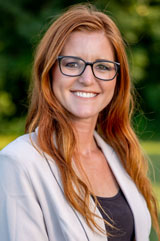 O'Day graduated from Northern State University (NSU) in 2012, with bachelor's degrees in Psychology and Sociology. She previously has served as a Family Service Specialist for Child Protection Services, a Rural Advocate with Safe Harbor, a Program Manager at the Counseling Center at NSU, and most recently, as the first Victim Specialist at the Brown County State's Attorney's Office.
Throughout her career, O'Day knew she wanted to get her master's degree, but colleges near her were limited in the graduate programs she wanted to pursue. She found the answer in USD's MSW program.
"I didn't want to narrow my scope with a counseling degree, and multiple colleagues advised me that the MSW is more versatile and would open more doors for my career later on," O'Day said. "I found the online MSW program at USD and was able to balance it with my family and a full-time job, and I just loved it."
O'Day said the USD MSW program provided her the framework to work with individuals and communities. "With my work as a victim specialist on the reservation, it is important to understand the environment, resources and the history," she said. "The MSW program helped me prepare and become creative with limited resources and how best to work with different populations. It also assisted me in engaging stakeholders on community needs and providing education to the communities I serve."
A native of South Dakota, O'Day believes an increased number of social workers who have a MSW in the state will be able to help victims receive the support and resources they need faster.
"People in rural South Dakota and on the reservations have to travel an hour to two hours just to get to their counseling services, and sometimes that's not feasible," O'Day explained. "Not only are they limited in services, but they are also limited in resources. There's a lack of qualified social workers. It would be great to see more people get trained in trauma therapy, so we could open more treatment centers. With more qualified social workers, we could offer more services to people who have experienced trauma."
As a victim specialist, O'Day works as part of a team to provide the best quality care to victims and survivors of crime.
"Developing working relationships with community partners is a crucial part of the job," O'Day said. "I work with a variety of teams, professionals, agencies and community members to address violence in our communities."
No two days are similar for O'Day. She goes from preparing and supporting victims in trial, spending hours in crisis intervention, connecting victims to resources and proactively educating the community.
"Every day is unique in my position, but I know every day when I go home that I have made a difference," said O'Day. "One of the best days are when we get a conviction or go to a sentencing hearing, and I can see the family feel like they were heard and believed, then they can go through a healing process and find closure to help them move forward."
Learn how USD is addressing the state's need for qualified social workers with its partnership with NSU.

Learn more about the MSW at USD.
The University of South Dakota is now offering new programs that will allow South Dakota's sociology students the opportunity to earn an accelerated Master of Social Work degree online or in Sioux Falls from USD.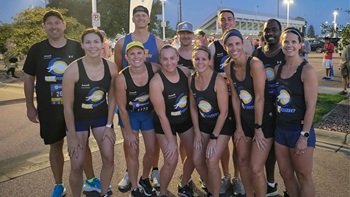 A group of 12 runners, including a USD assistant professor of occupational therapy and an alumnus, will participate in a fundraising run across the State of South Dakota later this month to support mental health, specifically, suicide prevention.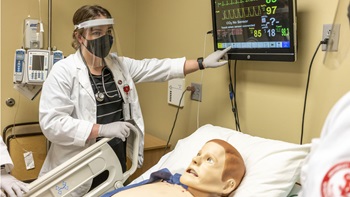 Picture this: A USD nursing student stands over a lifelike manikin that has an advanced computer system that simulates real-life conditions and reactions to medicine in the heart, lungs, stomach and more.