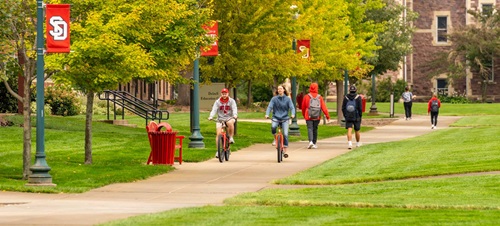 SUSTAINABILITY INITIATIVES
Sustainability is an ever-growing collaboration on campus to build healthy, fair, and resilient systems that help everyone thrive. By working together, USD aims to grow and become a more sustainable university.

Coyotes are dedicated to sustainability
Faculty, staff, and students can support the environment by minimizing their impact on campus and within the community. You have the opportunity to be involved and contribute to many sustainability initiatives on campus.
Recycling
Recycling has expanded to every corner of campus. Learn more about how to recycle on campus or become a part of the recycling team.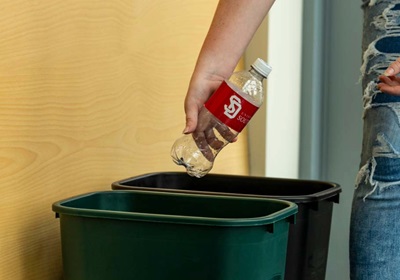 Students run our campus recycling program for paper, cardboard, cartons, cans, tubs, jugs, bottles, and jars. Watch what happens to our recyclable materials here. Learn more or submit a recycling request on Coyote One Stop. Check Coyote Careers for recycling job openings - it's a great opportunity for students to earn money, gain work experience, and reduce waste.
Games are an integral aspect of college and University education in the US, the Coyotes are not left out. The University of South Dakota and Vermillion's largest structure is the Dakota Dome. The game day recycling program has three areas of concentration:
Pre-game: Recycling containers are placed at strategic positions in the Dome. These containers are green in color and only receive single-stream recyclables.
Game-time: Recycling bins are set in the concourse areas, along with the bottle-shaped bins.
Post-game cleanup: At the end of the games USD recycling team (student workers) comes to pick-up the recyclables and empties the recycling bins.
All our single stream recyclables are then taken to Millennium Recycling for further waste processing. You can find more information here: https://www.millenniumrecycling.com/singlestream/
University housing actively participates in our sustainability efforts. USD resident halls are one of our priorities for recycling on campus due to the volume of recyclables generated from the residence halls. Each room comes with separate trash and recycling bins. Please take your trash out to the dumpster. Empty your recycling bin into the large green bin in the lobby of your residence hall. Please do not put recycling in bags.
Below is a guide on what we recycle and what we don't.
Recycling: (Everything Empty – No Food, No Liquid)
Paper
Plastic bottles, tubs and jugs
Cardboard and cartons
Metal cans
Glass jars and bottles
Trash:
Paper towels, tissues
Styrofoam
Straws or lids
Plastic cups
Clamshell containers
Pots and pans, silverware
Mirrors, ceramics, dishes, light bulbs
For more information visit: https://www.millenniumrecycling.com/singlestream/ to see where the collected recyclables go.
Learn more about sustainability at usd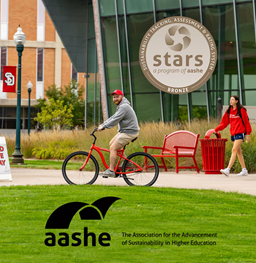 A Leader in Sustainability
The University of South Dakota is recognized by the Association for the Advancement of
Sustainability in Higher Education as a STARS Bronze Institution based on our
accomplishments in campus sustainability.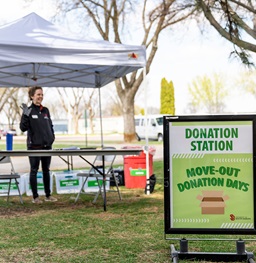 Move-Out Donation Days
Move-Out Donation Days helps prevent usable items from going to the landfill when students move out at the end of the year. This event, scheduled at the end of spring semester, provides students convenient donation options that show the benefits of reuse, waste reduction and local donation.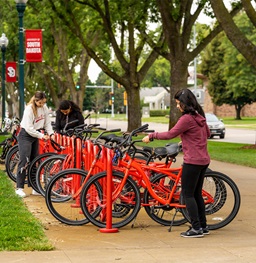 Bike Share
The Muenster University Center offers a fleet of red bicycles that students may check out for free from the front desk. Biking is a great way to get around! If you have your own bicycle, you may register it at the University Police Department for peace of mind.
Campus Sustainability Assessments
USD is a member of Association for Advancement of Sustainability in Higher Education (AASHE), Upper Midwest Association for Campus Sustainability (UMACS), and Post-Landfill Action Network (PLAN). To gage progress on sustainability initiatives, USD students have collected data for assessments.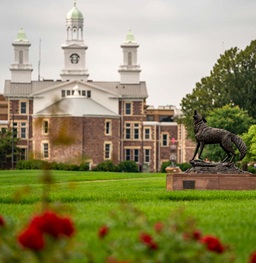 Dining/Buildings & Grounds
Coyote Dining strives for sustainability through responsible sourcing, plant-based options, waste reduction, and more. Learn more about dining commitments here.
Our Facilities Management staff maintain water bottle refill stations in every building, use green cleaning practices, and continually work to improve energy efficiency. We are a certified Tree Campus, and our landscaping includes attractive and drought-tolerant native prairie plants.
Vermillion Community
Our community features the Vermillion Area Farmers Market, Vermillion Community Garden, Heikes Family Farm CSA, Missouri Valley Recycling Center, Spirit Mound Historic Prairie, and Missouri National Recreational River. Visit
Greening Vermillion's website
to learn about other off-campus opportunities.