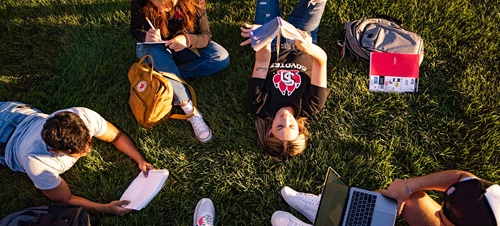 Event Planning & Scheduling
We provide support for event planning and space scheduling for on-campus events as well as non-university events. We coordinate facilities and services provided by other USD suppliers.
Allow us to set the stage for connecting alumni and friends, as well as students and faculty. Using our services you will have access to:
Variety of room setup styles
Various technologies including smart rooms, projectors and microphones
Campus catering and dining services
Housing, including residence halls and local area hotels
Space Scheduling
Learn more about how to schedule different spaces for events on campus.
To make a reservation, click on the "Make a reservation" link, and follow the prompts to log into 25Live. When you have logged in, click on "Create an event" in the middle of the screen and follow prompts through the process.
The Bailey and Kathy Aalfs Auditorium was an $8.2 million renovation that began in the fall of 2008. The restoration of the 38,000 sq. ft. auditorium has resulted in a state-of -the-art performance arts center which seats 1,288 (570 main level and 718 balcony).
First constructed in 1925, renovations included several mechanical and electrical improvements, including lighting upgrades for performances, enhanced electrical service to the building and better acoustics, accessible seating, new stage floors and improved sightlines.
The unaltered E.M. Skinner Opus 548 Organ was also part of the renovation and was brought back to life thanks to the project, which will provide the university community with an elegant and exciting venue for large events, including musical theatre, orchestras and musical ensembles, soloists, dance companies and lectures.
Funding for the renovation of Aalfs Auditorium included more than $3.5 million in private funding and an estimated $4.6 million from South Dakota HEFF funds.
If students, faculty, and staff would like to reserve the Bailey & Kathy Aalfs Auditorium, please use 25Live. Outside parties should contact Central Scheduling at 605-658-3554 for reservation inquiries. Reservations will be confirmed based upon availability of the space and at the discretion of Central Scheduling.
The conference room, concourse, or boardroom might be just what you are looking for. With everything from ample seating and dining capabilities, to intimate and private settings, the rooms can be configured in a variety of ways to fill your needs. To schedule an event complete the room reservation form.
Customized Setup
Round tables
Classroom tables
Theater style seating
Open square seating
Conference table
U-Shaped conference table
Octagon shaped conference table
Stage
Lectern
Audio/Video Services (charges may apply)
Large screen video projector for presentation or video viewing
Wireless Internet connectivity
Teleconferencing
Video recording of events
Skype conferencing
Live webcast capabilities
Contact us with any questions:
Al Neuharth Media Center
555 Dakota St.
Vermillion, SD 57069
605-677-5477
We proudly host numerous camps, conferences and special events throughout the year. With available on-campus housing, dining, meeting rooms, conference rooms and athletics facilities, we can accommodate a variety of event needs.
Camps & Conferences
A list of
summer camps and conferences
can be found online including registration information.
Request an Event
On-Campus Housing
Dining
For access to USD's all-you-care-to-eat location in the Muenster University Center, email dining@usd.edu
Dining can also assist you with any specific catering requests you may have. You can reach Dining at 605-677-5899 and Campus Catering at 605-659-0340 or by email at USDCatering.USA@sodexo.com.
Parking
You may need to arrange parking permits for those who are participating in your camp or conference. Our University Police Department will assist you in obtaining the correct permit for your event. You can reach the University Police Department at 605-658-6199 or by emailing universitypolice@usd.edu.
Scheduling/Room Reservations
Your event may require meeting space and our Central Scheduling office will assist you in ensuring those rooms are reserved and ready for you. Please be advised there may be a fee associated with your reservation, but our staff can assist you with making those arrangements. You can reach Central Scheduling at 605-658-3554 or scheduling@usd.edu.
Wellness Center
Our on-campus Wellness Center offers day passes, punch cards, or 30-day memberships, depending on the needs of your camp or conference.
Guest passes can be purchased by the camp or made available to individual participants. Contact Wellness Center staff at wellness@usd.edu or 605-677-8803 for details and pricing.
The University of South Dakota practices inclusive excellence. Inclusive excellence is about honoring and accepting diverse groups and individuals into all aspects of the USD community. We have a number of guests on our campus during the summer from an amazing variety of backgrounds and cultures. Remember, all of our guests are part of the USD community. Please treat everyone you meet with respect and kindness. As a guest on our campus, we invite and expect you to practice inclusive excellence with us.
The Muenster University Center strives to provide extraordinary facilities and services to students and faculty. Review the following forms and policies that apply to facility use on the USD campus.
MUC Table Reservation
The MUC Tabling area is a location for student organizations, departments, and external organizations to advertise and interact with the USD Community. Student Organizations and departments can reserve tables through USD Involved. External Organization tabling has a charge of $50.00 per day. Reservations for external organizations can be made through the Central Scheduling Office at
scheduling@usd.edu
.
The following guidelines apply to all table reservations in the MUC:
Please check your USD email for updates regarding your table and/or room reservations.
No food items may be sold or given away without prior approval from Campus Dining, usdcatering.usa@sodexo.com. Written approval must be emailed directly from the food service director.
Raffle requests must be made 30 days before the raffle begins.
Textbooks may not be sold within the MUC by any entity other than the USD bookstore.
If an outside vendor will be at the MUC on behalf of a student organization, the student organization must make all reservation arrangements.
All commission/table reservation fees due to the MUC must be paid on or before the last day of the reservation.
No sales or solicitation will be permitted the week before and during finals week.
Please contact scheduling@usd.edu or muc@usd.edu with any questions.
*Your table reservation is not complete until you receive a confirmation email.*